The first unreleased track taken from the sessions for Michael Jackson's landmark 1987 album Bad has arrived as part of the elaborate efforts that will celebrate the album's 25th anniversary. "Don't Be Messin' 'Round" dropped this week on CD at Walmart.com as the B-side to a rerelease of "I Can't Just Stop Loving You." The story behind the Latin-tinged track is an elaborate one recounted in extreme detail by Jackson biographer Joseph Vogel in the Atlantic. Key points:
• MJ recorded so much material for Bad, at one point he considered making it a triple-disc release
• He first penned "Don't Be Messin' 'Round" during his Thriller sessions with engineer Brent Averil and revisited it during the Bad sessions, when the song ballooned to eight minutes and MJ was forced to trim it down
• The song popped up again for consideration on Dangerous and HIStory, but never made the cut
• Jackson plays piano on the track • You can hear MJ giving orders to his colleagues on the song, and ad-libbing vocals
https://youtube.com/watch?v=gx0_r0ll3K4
September 18th's Bad 25 box set will contain more outtakes from the album — as the Atlantic reports, in order to be included, songs "had to be recorded during the Bad era (1985-1987), and they had to be developed enough to feel like a complete track." They won't, however, be polished up and altered the way songs from Jackson's first, poorly received posthumous release Michael were. As engineer Matt Forger told the Atlantic, the goal was to make the release "authentic" — "Something Michael would enjoy and be proud of."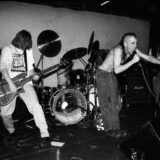 Michael Jackson's artistic achievements were so often paired with controversies in his personal life, and the arrival of "Don't Be Messin' 'Round" has likewise been accompanied by a fresh, strange lawsuit. An ex-convict in San Diego named Kimberly Griggs has decided now will be the perfect time to sue the King of Pop's estate for $1 billion, claiming to have had an "intimate relationship" with him. The sum, TMZ reports, is what Griggs, who "spent years in prison for burglary and robbery," says she's owed for the estate's exploitation of her personal life, which, she claims, Jackson chronicled in detail by songs on basically every chart-dominating Jackson record, including Bad, Off the Wall, Thriller, Dangerous, and his greatest hits compilation, Number Ones. Her lawsuit, which was handwritten, claims Jackson himself had promised her the rights to the songs that were about her.