Follow Charli XCX on the Brit Upstart's First Trip to the U.S.
Highlights include free hairnets, a Chihuahua named Barbie, and dancing to R. Kelly.
Though 19-year-old goth-pop hurricane Charli XCX has been performing and releasing albums since she was 14, it wasn't until this March that she made her way onto an American stage. After her a stint riding shotgun alongside Sleigh Bells in Europe (and just before she jetted down to Austin, Texas, for her inaugural SXSW performance), we followed the Hertfordshire-bred rising star (born Charlotte Aitchison) through her first few days in New York. From crash pads and downtown boutiques to Brooklyn supermarkets and the Knitting Factory (which hosted her Big Apple debut), the XCX caravan kept rolling. Ride with us.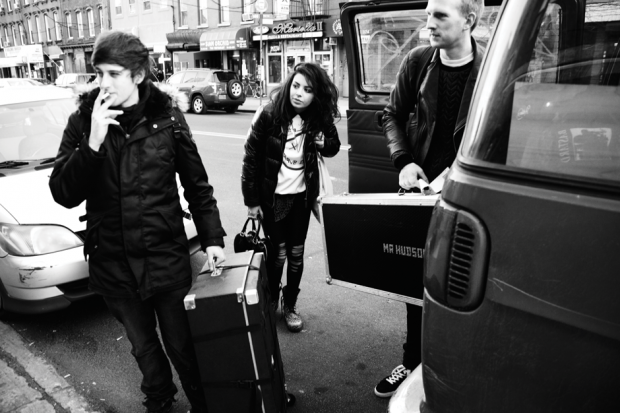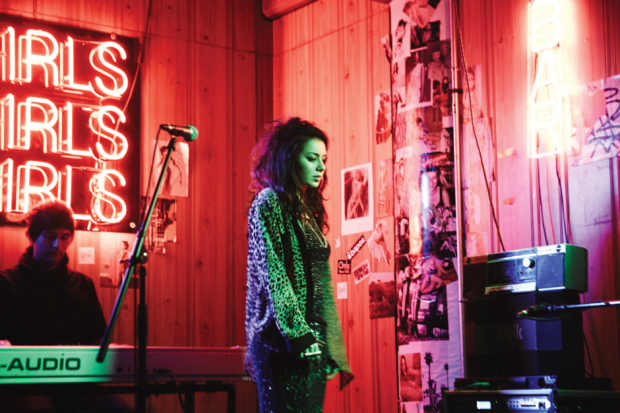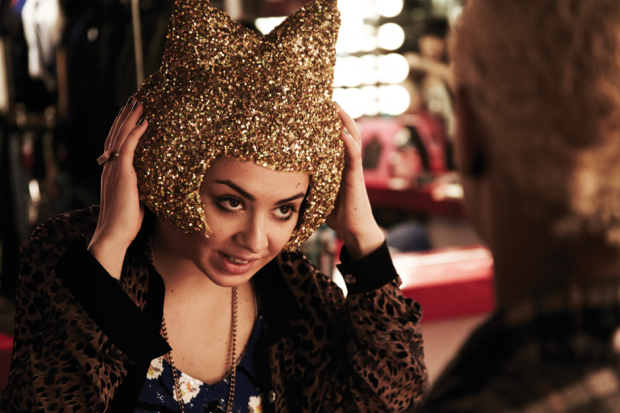 March 10, 2012
12:30 p.m.
We'd been on tour with Sleigh Bells, and our last night in Amsterdam we partied pretty hard, then flew to Philadelphia, got off the train, and did a show. We had crazy jet lag. Then we sped straight from Philadelphia to New York and walked up a ridiculous amount of stairs to get to Derek's place [the home of Derek Davies, cofounder of Neon Gold Records]. With all our bags and crazy keyboards and shit, we were pretty tired, but it's an amazing rooftop place in SoHo, so we had it pretty luxury, which is nice.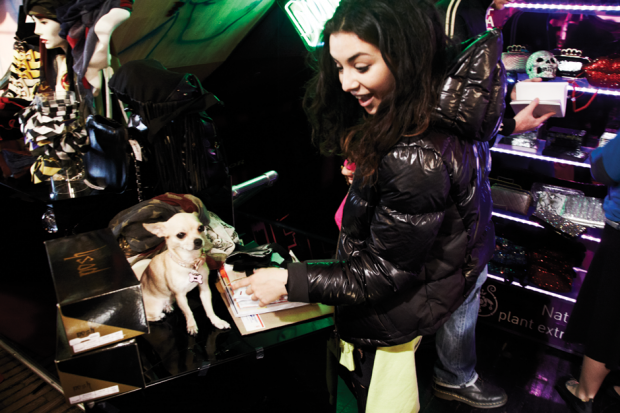 1:30 p.m.
I heard about Patricia Field through one of my friends, and I really liked the amazing styling in Sex and the City. That's a huge influence on pop culture and fashion that I definitely wanted to check out. There was this amazing in-store Chihuahua called Barbie, and it was like a little princess, trotting around the store. Kind of punky for a Chihuahua because, you know, they're usually quite precious.
Mexican is my favorite food in the world. If I moved to America, especially to L.A. or New York, I'd be ten stone heavier. I love guacamole — I could be an avocado and I'd be happy.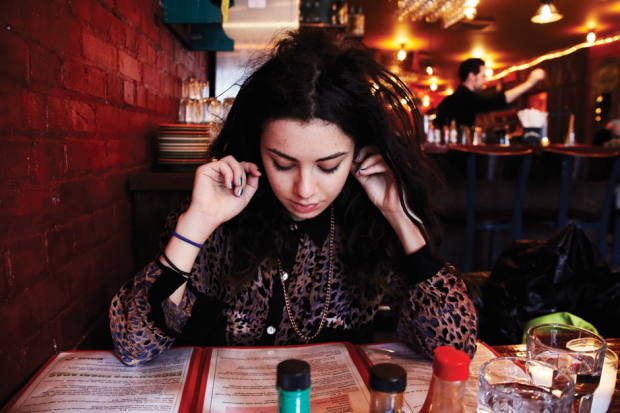 2:30 p.m.
We tried on these crazy wigs. Glitter wigs. I had glitter on my bra for the rest of my time in the U.S. because of these wigs. We also got free hairnets with the wigs, which is pretty cool.
5:30 p.m.
We had this wicked van taking us around. It kind of reminded me of Scooby-Doo meets Ghostbusters, a kind of crazy, rickety van we all thought we were going to die and fall out of. But it was cool. It kind of made me feel like I was in Guns N' Roses or something, like a band of trashy, rock'n'roll heroes. The soundcheck was wicked. I loved the venue, loved the stage.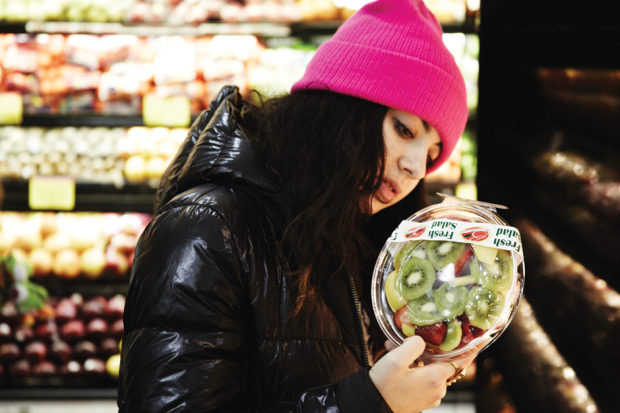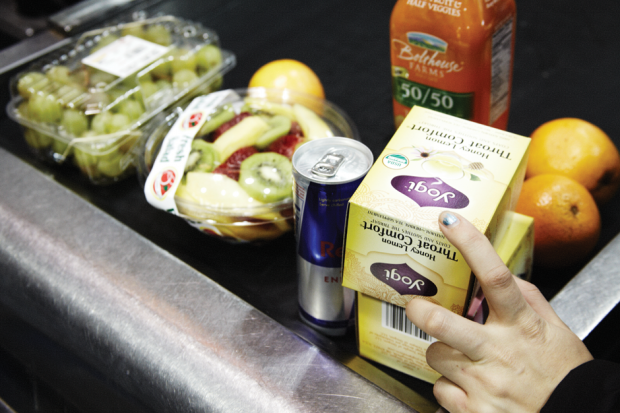 7:00 p.m.
How rock'n'roll I am: I went and bought some fruit and tea because I was feeling like I needed some vitamins. It's so weird because American supermarkets are so much more amazing than British supermarkets. They look like something out of a David LaChapelle shoot.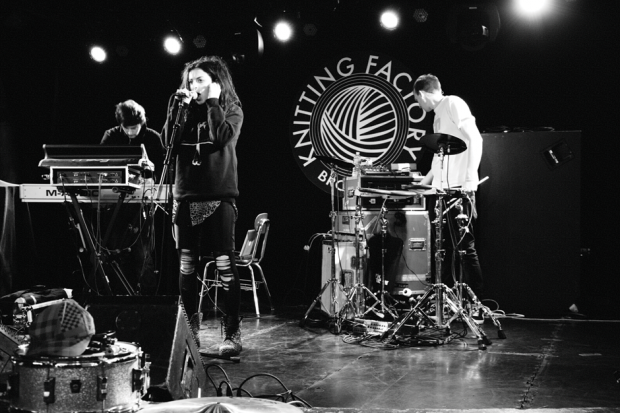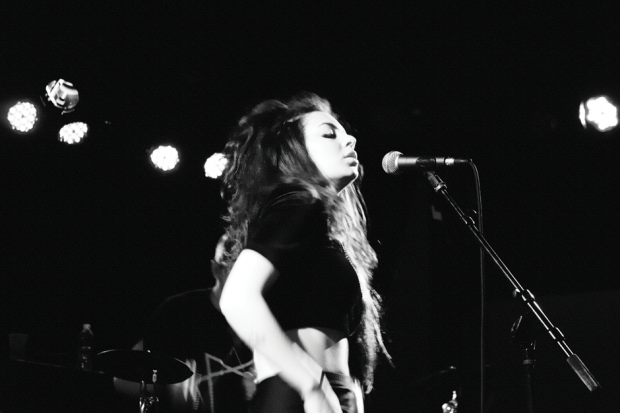 10:30 p.m.
That show [at Knitting Factory] was my favorite on the whole tour. I was surprised because New York is pretty trendy and cool, and I wasn't sure how they'd react to me. When I used to play in the [London] warehouse scene, I'd hold on to people's legs and try to make them get away from me, but I'd never let go. Even though it was not on that scale for this performance, I still really enjoyed the fact that they were kind of bouncing off me.
March 11, 2012
2:00 a.m.
The [after-party at] Tribeca Grand Hotel was kind of weird. It feels like a city inside a building, like it should be in Star Wars. Me and my drummer danced like absolute weirdos while getting drunk on this rubbish vodka. We played what became our song on the road: R. Kelly's "Bump N' Grind."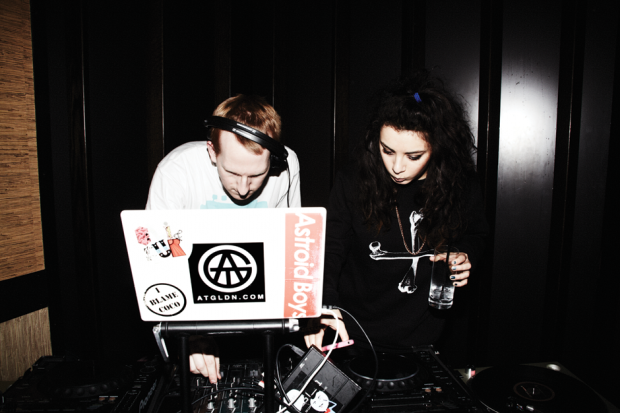 6:00 p.m.
Down in Milk Studios, we did an acoustic session for Neon Gold. I've been writing songs in a classic songwriter way, sitting at a piano. I really concentrate on making sure that even if the lyrics are dark, there are still pop melodies. I'm inspired by No Doubt and the Spice Girls, even Kate Bush.