With economies around the world struggling in recent years, the live-concert business inevitably has declined and adjusted. As a result, music festivals have proliferated, allowing attendees to see multiple acts, and promoters to charge lofty ticket prices. But the logistics of these large-scale events — managing hundreds of thousands of people over the course of a weekend, often during volatile weather conditions — are obviously vast and complex. And last summer, saw a startling number of festival-related tragedies, in particular the collapse of at least three oversize stages, which killed 12 and injured dozens of fans.
All of the disasters began with the sudden onset of violent weather or extreme heat, but the official cause of each incident varied. Alcohol or drugs, in combination with scorching temperatures, also contributed to a handful of deaths and thousands of people needing medical attention. We look back on some of the accidents that marred the 2011 festival season, examining the aftermath and what changes, if any, organizers have made for this year.
FESTIVAL: Indiana State Fair
LOCATION: Indianapolis, Indiana
INCIDENT: On August 13, as blasts of wind estimated at 60 miles per hour hit the site, the rigging on the festival's main stage crashed down onto a crowd waiting for the country-pop band Sugarland to play. Seven people were killed and another 45 were injured.
AFTERMATH: Two consulting firms hired by the state of Indiana launched an investigation into the cause of the collapse, and this past April, it was announced that the stage did not meet industry safety standards and the festival did not have an adequate emergency response plan in place.
REACTION: In May, festival officials announced a "restructuring" of staff, including the retirement of the facilities manager.
FESTIVAL: Pukkelpop
LOCATION: Hasselt, Belgium
INCIDENT: On August 18, violent wind and rain whipped the festival grounds during a set by Chicago indie rockers Smith Westerns. The stage toppled over, uprooting trees, and destroying tents. The death toll eventually rose to five, with dozens more seriously injured. Shortly afterwards, the band released a statement addressing the incident, in which a rack of lights fell a foot in front of guitarist Max Kakacek, before the band fled the stage. "We thought only the stage broke, not the tent. Amid the chaos it was hard to tell exactly what had happened, but after the rescue teams started coming in, it became clear that there were severe injuries."
AFTERMATH: The festival's insurers clumsily tried to blame plummeting record sales for the tragedy, claiming that artists are forced to create more elaborate shows to satisfy fans and justify high ticket prices, and the excessive equipment can overload stages. An official report simply dismissed it as an "Act of God."
REACTION: Less than two weeks after the disaster, a private foundation unaffiliated with (but "unconditionally supported by") the festival launched a relief fund to collect money for loved ones of those killed. It also doled out compensation to victims who spent at least one night in the hospital, along with those who suffered injuries not covered by their medical insurance.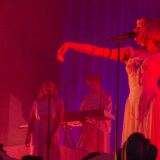 FESTIVAL: Ottawa Bluesfest
LOCATION: Ottawa, Canada
INCIDENT: On July 17, while Cheap Trick was thrilling the crowd with a version of their '70s smash "I Want You to Want Me," dark clouds rolled in. Soon, a massive storm descended, lashing the riverside site with rain and lightning, and the main stage collapsed. Three people were rushed to hospital, including a 46-year-old man who was pierced in the abdomen by a piece of the stage. At least four others were injured.
AFTERMATH: The province of Ontario launched an investigation into the collapse, but no official report has been released. Cheap Trick, meanwhile, canceled a subsequent outdoor show in Vancouver because the stage at that event was made by the same manufacturers of the Bluesfest stage.
REACTION: Festival organizers say they hired an independent engineer who specializes in outdoor structures to examine the stage for this year's event.
FESTIVAL: Brady District Block Party
LOCATION: Tulsa, Oklahoma
INCIDENT: As the Flaming Lips were getting set to take the stage in downtown Tulsa on August 6, heavy winds blew over some tents and knocked down a large video screen. No one was injured — frontman Wayne Coyne even reportedly ran onstage immediately after to survey the damage &#8212. But the stormy weather continued, not to mention the 110-degree heat, and ultimately $800,000 worth of instruments and other equipment were ruined.
AFTERMATH: Organizers cancelled the event and rescheduled a performance by the Flaming Lips for the following month — this time, indoors, at the Brady Theater.
REACTION: No Brady District Block Party concert is planned for 2012.
FESTIVAL: Bonnaroo Music & Arts Festival
LOCATION: Manchester, Tennessee
INCIDENT: On the festival's opening day last year (June 9), the body of a 32-year-old woman was found in a tent; officials suspected she died of heat-related illness. Days later, a 24-year-old man died of hyperthermia after he was airlifted to a nearby hospital, raising the festival's death toll to 10 since its 2002 inception. In total, approximately 1,500 of the 80,000 attendees were treated for heat-related illness throughout the four-day event.
AFTERMATH: Questions continue to be raised about why the death toll has been higher at Bonnaroo than at other festivals facing similar, stifling heat conditions.
REACTION: In addition to planting 110 trees this year, organizers installed extra structures for shade, and water stations were added throughout the campgrounds and festival site. Bonnaroo also ramped up the safety messages appearing everywhere from the ticket packages to the Jumbotrons, warning festivalgoers about dehydration and heat stroke. "Our hope is that by communicating consistent and thoughtful messages, we will encourage patrons to make good decisions about their health and well-being and that of their fellow attendees," a festival spokesman said.
FESTIVAL: Electric Daisy Carnival Dallas
LOCATION: Dallas, Texas
INCIDENT: After a successful inaugural year of this Electric Daisy satellite, an offshoot of the multi-day electronic dance-music festival promoted by Los Angeles-based Insomniac Events, organizers decided to hold a second installment, with attendance doubling to 21,000. By the end of the night of June 18, a 19-year-old man had died and approximately 30 others were hospitalized for heat, hydration, alcohol, and drug-related illness. "They're dropping like flies," a firefighter told the Dallas Observer.
AFTERMATH: The city slapped Insomniac, the event's promoter, with seven citations, including overcrowding and obstruction of justice.
REACTION: Insomniac has not announced a third installment of EDC Dallas. Electric Daisy's flagship Las Vegas extravaganza concluded this past weekend, with approximately 300,000 attendees and a variety of reported incidents. A 31-year-old Florida man was in "extremely" critical condition after being struck by a truck at 4:30 a.m. Monday as he exited the event and crossed the street in front of the Las Vegas Motor Speedway site. More than 400 medical calls were made over the weekend, and 17 attendees were hospitalized. Organizers also had to shut down Saturday night's performance at 1 a.m. (it was scheduled to run until 5:30 a.m.), due to high winds in the area.