Danny Brown Brings Sublimely Potty-Mouthed Set to SPIN Roof
Special guest ScHoolBoy Q along for the ride
Last night, Danny Brown, still running on the momentum of last year's Fool's Gold-released XXX (SPIN's rap album of the year), performed on our office rooftop — a short set full of screaming-all-the-lyrics love and a fairly off-the-chain vibe for a SPIN Live event sponsored by Thrillist and Jack Threads. A roof full of people bleated back "blunt after blunt after blunt after blunt" into the night air, the number of New Yorkers too cool to participate shrinking each time Danny threw the mic in the direction of the crowd.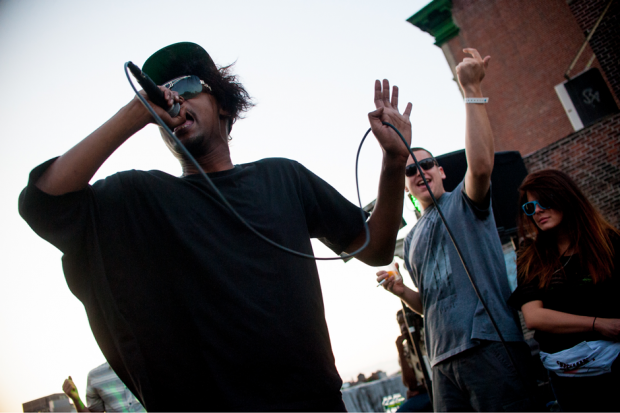 Brown went in on his strongest, weirdest stuff, leaning towards newer tracks (XXX deluxe edition track "Witit," his A-Trak and Juicy J collaboration "Piss Test"), anchoring the set around what can only be accurately described as a suite of pussy-eating songs. Before performing, "I Will," Brown sheepishly warned everyone that things were about to get a little "weird," and then he laughed his bratty smoker's cackle. He wasn't baiting the crowd, he was just making it known that he is well aware that "No shame in my game girl, look back at me / I don't give a fuck if it's shaved or it's nappy," might make a few people uncomfortable. This is a huge part of Brown's bratty, knowing charm, though. He's a foul-mouthed sweetheart who can navigate brutal tales of poverty, aggressive fuck-lotsa-chicks songs, and confessionals about all the pills he gobbles down.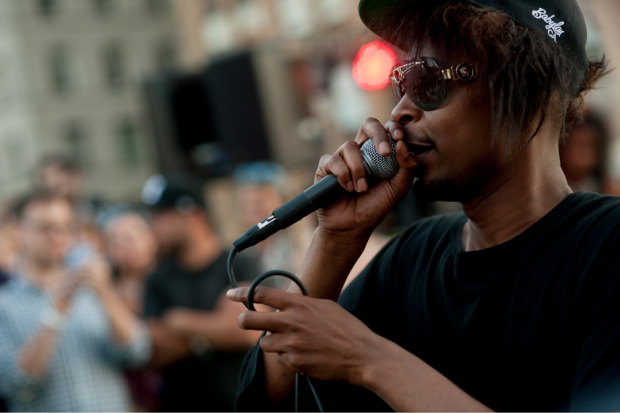 And as a presence, on a stage, spitting words out, Brown is unmatched. In a big black T-shirt and giant sunglasses, his smoothed-out Skrillex hair blowing in the wind, Brown lived up to his debauched, highly evolved, rapping rock star "adderal admiral" persona. Towards the end of the night, Brown brought out ScHoolBoy Q as the night's special guest, to run through "Hands On The Wheel," the highlight from his album Habits & Contradictions and currently an on-the-verge New York radio hit: It was made all the more special because it's the sort of thing that totally doesn't have to happen at an RSVP-only show like this.