Saturday's Bonnaroo headliners turned out strong sets, but it's hard to compete with the return of one of the most mysterious, magical R&B singers of our time.
Don't miss our most amazing live photos from Bonnaroo '12!
?uestlove's Superjam Featuring D'Angelo
The rumors had been circulating for the past couple of days, and as ?uestlove introduced the players he'd wrangled for this year's Superjam session, one name conspicuously kept popping up. While the funk-soul dream team had impressive pedigrees of their own — the Time, P-Funk, Prince, B.B. King, the Roots of course — most had at one point set foot in New York's Electric Lady Studios to work on a certain neo-soul classic called Voodoo. And finally, it happened. "I've been waiting 12 years to say this," said Questo with a widening smile. "Ladies and gentlemen, D'Angelo!" Backed by an all-star lineup, the once reclusive singer and multi-instrumentalist was confident, friendly and in top form, giving his first U.S. concert in nearly 12 years. The band stuck to covers, which allowed D ample leeway to show his range. He howled over Led Zeppelin's "What Is and What Should Never Be," cooed with Kendra Foster for the Beatles' "She Came in Through the Bathroom Window," screamed and yowled for Sly's "Babies Makin' Babies," and channeled James Brown for the Time's "My Summertime Thang," testing the band's mettle by demanding rhythmic hits at random moments while he lorded over the keys. At one point during Jimi Hendrix's "Power of Soul," as he stood at the front of the stage wielding a guitar, D'Angelo mumbled a couple of lines before admitting, "I don't know the words." He laughed and kept going as the audience roared — a great sign for the happy return of one of the most compelling and occasionally tortured artists of our time. When all was said and done, Questo hopped on the mic, as excited as the rest of us: "You were here! You saw it!" Looks like we won't have to wait another decade to see it again. CHRIS MARTINS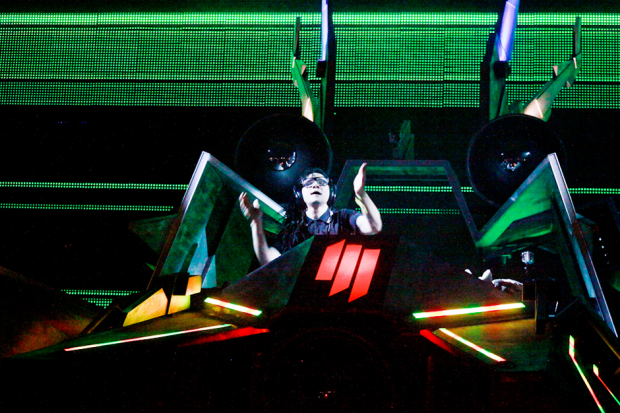 Skrillex
"Look, there's a fuckin' UFO right there," Sonny "Skrillex" Moore yelped, pointing (twice) to a distant light in the sky behind the crowd. It was an interesting observation coming from a guy waving his arms wildly, hopping around in a spacecraft himself. For his late night Which Stage set, the reigning king of wub did his thing from inside what looked like the Millennium Falcon, had it crashed through Lady Liberty's face. Given the often alien noises he conjures (like the Chili Peppers' set before him, Moore also suffered from unfortunate volume issues), though, the moment was especially surreal: extra terrestrial points out extra terrestrial to thousands of extra terrestrials. D.B.
Red Hot Chili Peppers
Halfway through "Monarchy of Roses", opening jag from the Peppers' headlining set last night, Chad Smith tossed a drumstick 15 fifteen above his head. Even from hundred of yards away, you could see it rise and fall better than you could actually hear anything. It was a glaring problem throughout the L.A. funk lifers' two-hour hit parade and short-lived chants of "louder, louder, louder" could be heard from time to time. Rightly so, as everyone seemed to be in their element. Flea vibrated from one side of the stage to the next, Kiedis (shedding his shirt but not his OFF! hat) sparred with his mic stand like a bare knuckle boxer, and Smith walloped his kit when he was hotdogging like he did during "Roses". But it was new guitarist Josh Klinghoffer, recent replacement for the great John Frusciante, who was most interesting to watch. Whether it was in the falsetto delivery of his backup vocal work or taking liberty with the intimidating guitar work left behind for him to work through, he seemed comfortable enough to inject some of himself into each song, to color outside of the lines. In that way, he fit right in. D.B.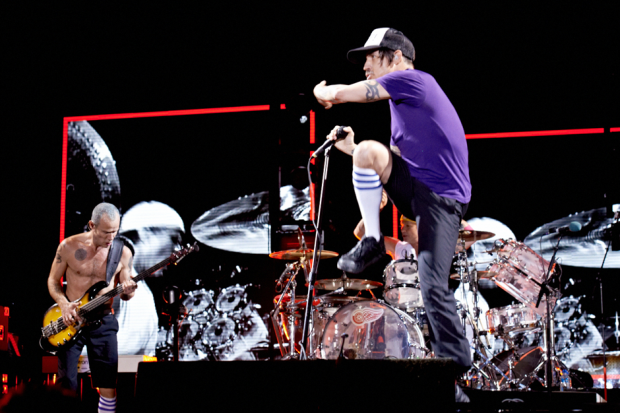 The Roots
Comedian J.B. Smoove may have introduced the Roots, but the Philly crew's early evening set on the main stage was no joke. Indefatigable drummer ?uestlove (who would perform again later on as part of the fest's annual Superjam) and the rest of the reining kings of late-night TV opened with a cover of the Beastie Boys "Paul Revere" as a tribute to recently deceased Adam Yauch. From there, the seven-member band eased into a series of smooth grooves, with occasional double-time detours by MC Black Thought and smart use of tempo-shifts when it felt like more members of the crowd needed to be dancing off the layers of dust. The Roots did all that while looking like they were having more fun than anyone at the festival, in turn giving the weather-beaten crowd a joyous, jazzy pick-me-up. LUKE McCORMICK
Santigold
Santi White's back-up dance duo regaled her with a flower petals and pom pom shakes as she marched onto the What Stage yesterday. It was a modest entrance for one of our most exciting pop stars: though obviously not on a (commercial) level with the likes of Katy Perry or Gaga or Nicki Minaj, White's homespun approach to both costuming and choreography are a vibrant extension of her considerable pop smarts. From new cuts like "Go," her set's opener, to older "hits" like "L.E.S. Artistes," it's a wonderful thing to be reminded, from song to song, just how many good ones she's already got to her name. It was neither hypersexual nor hypervisual, her band's Flintstones-like get-ups and her dancers' narrative flourishes never threatening the sovereignty of her every verse and chorus. D.B.
Danzig Legacy
Early on Saturday evening, Danzig brought a welcome dose of bad vibes to Bonnaroo. Flanked by two giant demon skulls staring out at the crowd from either side of the drum riser, the iconic, beefy frontman with the zombie-Elvis bellow, who was stuffed into a tight black T-shirt (he's a fair bit rounder than in his muscled '80s glory days), pounded through songs from all eras of his long career early Saturday evening in the That Tent. Solo howlers like the strutting "Twist of Cain" and the lurching "How the Gods Kill" were raging melodramas of macho tension and bluesy release. But the furious, over-the-top hardcore carnage of Misfits classics like "Bullet" and "Vampira" were the highlights, as Doyle von Frankenstein joined his old bandmate on brutal bludgeoning guitar. "This ain't Bon Jovi," Danzig said from the stage. No kidding. DAVID MARCHESE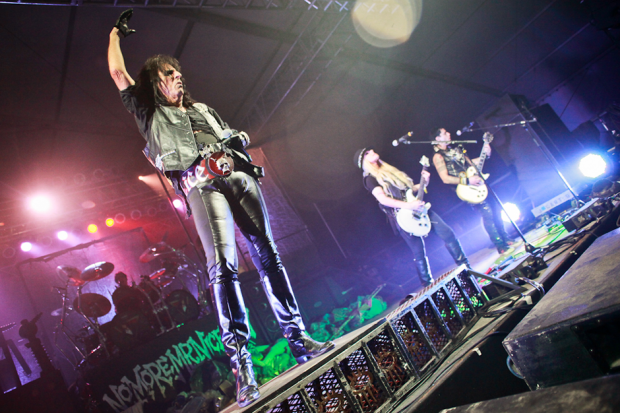 Das Racist
There's a distinct advantage to scheduling Brooklyn rap misfits Das Racist to play at 2 p.m. Though they seem intent on testing the limits of this statement, there are only so many beers and drugs a person can consume before the sun goes down. While a recent L.A. show found Kool A.D. vomiting onstage and Heems so twisted that he couldn't recall his own lyrics, the group's Bonnaroo set was nestled in that sweet spot between pleasantly buzzed and blitzed oblivion (we're guessing). Kool thanked "The Gathering of the Juggalos" for having them, kicking off an hour of sharply delivered rhymes and situationist mischief. They covered "Turn on the Lights" by Dungeon Family star Future, delivered tracks from their respective mixtapes ("Womyn" from Heems and "La Piñata" by Kool) alongside a new Das Racist song (chorus: "How could a beat slap so hard?"), and performed an anarchic version of fan fave "Hugo Chavez" with hype man Dapwell screaming into two mikes at once. But the deliciously weird high water mark came with "You Oughta Know," which the crowd heard but didn't see, since had Heems demanded that they turn their backs to the stage and stare at a fountain across the way. C.M.
Alice Cooper
Performing a few hours after Danzig in the That Tent, shock-rock godfather Alice Cooper offered up a far more playful version of evil entertainment. A giant inflatable Frankenstein lurched across the stage during the grinding "Feed My Frankenstein." Cooper, 65 years old and dressed in black leather, manhandled a female mannequin during the ode to necrophilia "Cold Ethyl." There was a mock guillotine execution and an on-stage scuffle between Romney and Obama impersonators. The tightly-packed crowd could be forgiven if the theatrics were the takeaway rather than the music, but Cooper didn't disappoint in the latter department either, as he (sounding great) and his flashy backing band ranged from tough '70s classics ("Elected" and "School's Out" were standouts) to the hair-metal pomp of "Poison." The rock lifer closed with a cover of Lady Gaga's "Born This Way" — by far the most awesomely shocking surprise of a morbidly fun and theatrical 90-minute set. D.M.
Bad Brains
Punk legends Bad Brains were playing for more than just Bonnaroo patrons during their early afternoon set at the That Tent on Saturday. Watching from side-stage were two of biggest stars to also perform on this day: Puscifer's Maynard James Keenan and the Red Hot Chili Peppers' Flea. Both saw the Washington, D.C., foursome Bad Brains deliver a set that seesawed thrillingly from absolutely crushing and frenetic hardcore blasts to sinuous, deeply stoned reggae. Though the band was slotted into a time when it seemed that more fans were interested in finding respite from the shade than in slamdancing or grokking Rasta wisdom, Bad Brains gave a masterclass in musical dynamics and genre-hopping versatility for their more famous fellow musicians. D.M.
Debo Band
This Boston-based outfit played to a largely empty The Other Tent yesterday afternoon, its forward-thinking take on traditional Ethiopian pop in direct competition with Das Racist a few food trucks away. But they knew what they where up against: every "new original" from the forthcoming Sub Pop debut was thoughtfully introduced to the few dozens nappers and dancers in the crowd. And with little energy to take in from the crowd, they found healthy reserves of just that in the songs. From horns-fueled jubilation to guitar-wrought sturm and drang and ten ton drums, within an hour they had the first few rows hopping and clapping like believers. D.B.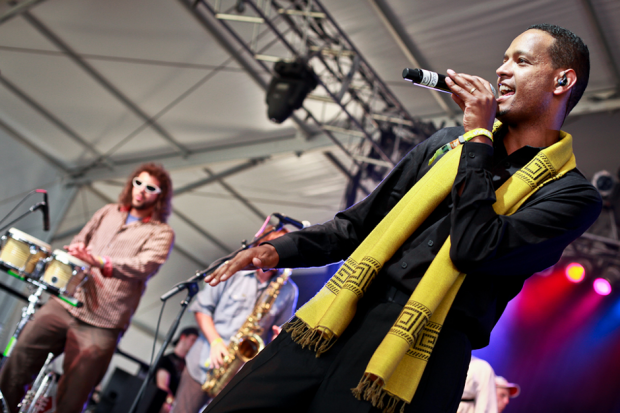 Khaira Arby and Her Band
Low attendance didn't stop the Malian queen of desert rock Khaira Arby from doing what she does best: reigning over her incredibly tight band with a high hypnotic cry that has to be heard to be believed. The 52-year-old took the stage in full regional dress — swaths of fabric, lime green and strawberry red — and smiled broadly at the 30-odd fans gathered there, then dove in. Rather than play traditional instruments, the group was geared up like a rock band, each essentially soloing for the entire length of the set. The flurries of notes from the dueling guitars varied from crisp and summery (à la Vampire Weekend, albeit in reverse) to droning and heavy — genuine psychedelic blues. While the small audience danced uninhibited, Arby smacked a large gourd and shouted shrill yawps toward the heavens, seemingly intent on piercing the tent top with her voice alone. C.M.