Chicago's Chief Keef, possibly the most hyped rapper of the moment, spent the best part of his five-song New York City debut rapping while looking down at the floor. Hiding behind a pair of thick white-rimmed sunglasses with a cropped mop of short dreads, the 16-year-old MC periodically looked out to the crowd, but mostly bowed his head while shouting out his rudimentary raps. This coy lack of engagement might have be born out of necessity: Every inch of the stage was crammed full with cronies and cameramen, the entire front wave of the crowd consisted of gawkers with permanently raised camera phones, the rumor that Kanye West was going to show up probably brought out even more reporters than usual. The diminutive Keef had no where else to move, let alone hide. Or it might have been an honest sign that, for all his hype, the rapper is aware of his stark limitations and limited catalogue of songs. Either way, as Keef allowed himself to be engulfed on stage by his entourage, the night became about the spectacle not the show: Is he a YouTube-gone-viral or an artist? A meme or a career waiting to happen? His live show doesn't suggest a promising answer just yet.
For anyone who's not been besieged by Keef's recent rise, he's a young and confident rapper who's currently on house arrest at his grandmother's crib (and, at some point, allegedly pointed a gun at a police officer). He managed to catch the ear of West with his song "I Don't Like," which he flipped into a G.O.O.D Music All-Stars remix, and which helped score Keef a record deal with Interscope. He's also a friend of the blogs; new songs and updates about his latest moves or Instagrammed pictures (on the morning of the show he revealed he likes to eat Mini Oreos for breakfast) are prime fodder to bump up page views. And he's achieved all of this with a rap style that, at times, you might kindly suggest bears resemblance to someone shouting out rap slogans while punctuating them with ad libs that sound like a barbed fox. Keef's most notable song, the aforesaid "I Don't Like," is catchy in a boisterous way, but as it's hooked around variations on phrases like "Fake shoes — that's that shit I don't like!"
For his part, Keef performed to a sold-out crowd at S.o.B.'s in a way that suggested he has the chops to pull off this amped-up, but lyrically pared-down, rap music. His voice carried through the venue, helped by the sparse production of his songs. But his set was also short to the point of being suspicious, and with the rapper content to stay put on stage and dwell in the safety of his oversized entourage, there was little to set songs apart. Watching him climb up out of the venue's downstairs dressing room area and snaking through the crowd to the stage, followed by a pack of photographers, was as entertaining as hearing him holler through his set.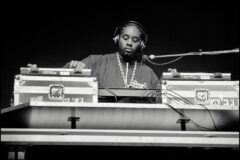 Keef's music and aura trades on a sort of nonchalant but very real menace. His most popular videos, for "I Don't Like" and "3Hunna," largely feature him shirtless (tonight he sported a denim jacket with cut-off sleeves that was presumably once owned by Debbie Gibson) and are shot in a lo-fi, almost documentarian manner that takes the viewer into his grimy hometown world. But turned into a handful of songs on stage, the menace came across more like teenage testosterone — excited but more than a little premature. Unlike A$AP Rocky, who has peddled a similarly nefarious back story (this time drugs in Harlem) and an Internet buzz to score his major label deal, Keef's performance suggested he lacks mainstream charisma. Rocky knows his charm: he's that pretty skinny motherfucker — "pretty flacko" in rap Spanglish — and his music exudes an expansive enjoyment. His last video, for "Goldie," has his galavanting around Paris; he still talks about his Harlem roots but his vision is beyond the block corner. But Keef's ambitions appeared strictly local tonight — the ruse of taking a trip to New York with his pals and mugging it up on stage for 20 minutes seemed more like a joke to tell to folks back home than the heralding of a new rap superstar.
There's a buzz and an intrigue about Keef right now, but it's as much about the press circus following him than his music. It's an emphasis that he might already be aware of, and at S.o.B.'s he seemed content to play second fiddle at his own show. Unless he starts to broaden his ambitions, Keef might find the spotlight has already moved on by the time he looks up.