Even before she became quirky electro-pop live wire Grimes, Claire Boucher found it impossible to smoke and brood alone on her balcony in Montreal's Mile End neighborhood without attracting attention. But now, as the city's most buzzed-about export, it's become a bit of a problem.
"Everyone walking by is like, 'Hey Claire! How's it going? What's up?' and I get knocks on the door all the time," Boucher says from her mom's Vancouver basement, where she's seeking solitude before releasing her 4AD debut, Visions (out now in the U.S.), and embarking on an extensive tour of North America and then Europe. "Mile End is nice, but my one concern is it's too social, and it's hard to get stuff done."
The pulsing heart of Montreal's loft scene is crammed into a three-block radius, where decades earlier a textile industry boomed. A few members of Godspeed You! Black Emperor and Arcade Fire — the scene's forebears — still call the area home, and an inordinate number of musicians are joining them: Eccentric crooner Mac DeMarco (formerly known as Makeout Videotapes); singer-songwriter Sean Nicholas Savage; and Braids, purveyors of ethereal dreamwave, live on the cheap, attend hastily arranged shows in scrappy venues, and glean inspiration for sounds steeped in a common DIY-pop aesthetic. "Everything I know about music I learned from my friends in the Montreal scene," Boucher says. "Every piece of equipment I use, I use because somebody there showed me how."
Mile End musicians might be best known for drenching their songs in wonky reverb, electronic fuzz, and layers of noise, but in recent years they've also weaved in catchy hooks, slick melodies, and bouncing beats. "Everyone is still getting totally wasted at 2 or 3 in the morning, but making bubblegum pop," Boucher says. "I don't know if it's because we have similar interests or just mutually influence each other."
Back in 2007, when Sebastian Cowan — now Grimes' manager and founder of Arbutus Records — opened Lab Synthèse, a live/work/play space, the area was a sea of empty lofts. The venue changed all that, attracting restless young artists from across Canada to the neighborhood. "The loft scene is the foundation of the music scene," Cowan says. "Any show that happened at Lab Synthèse, our friends would have to play. That grew a community. It was a really cool way to curate a scene." A steady stream of liquor tickets and subsequent police surveillance forced Cowan to shutter the venue after only two years, but Lab Synthèse had already made its mark.
"We still party together and create things together on the same block," says Rollie Pemberton, a.k.a. rapper Cadence Weapon, who recently migrated from Edmonton, a prairie city in western Canada that's also Alberta's capital. "The loft parties I throw and DJ are in this neighborhood, and the studio we record at is in this neighborhood. It's where all the action is right now."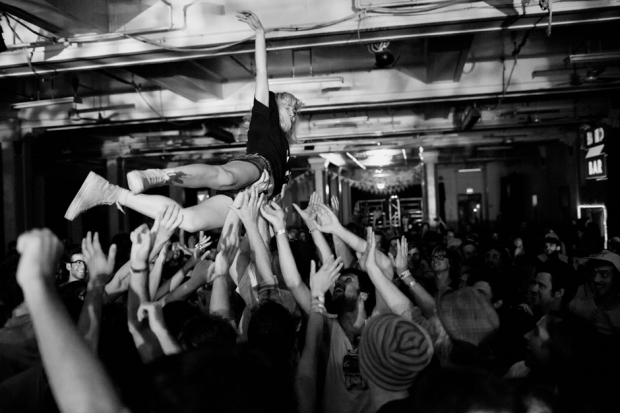 Required Listening:
The sounds of Montreal's party gone out of bounds
Blue Hawaii
Blooming Summer EP
Tonstartssbandht
An When
Mozart's Sister
Dear Fear EP
Doldrums
Empire Sound EP
Braids
Native Speaker
This story originally appeared in the May/June 2012 issue of SPIN.