Once again, SPIN jumps deep into the mud, sweat, and fried Oreos of the mighty Bonnaroo Music & Arts Festival. For 2012, we'll be skipping morning yoga and diving straight into the mosh pit for frenzied reports on the best of the fest's 100-plus performances. Here are ten highlights from Day 1.
Danny Brown
Danny Brown aims to please. During his set, the Detroit MC rapped on and on about pleasuring ladies and bypassed his by-now-expected cigarette break because the Bonnaroo crowd was wildin' out so hard. (Much appreciated, Mr. Brown.) Drawing from his spectacular XXX mixtape and a gaggle of earlier records, Brown had the audience bouncing the entire time he was onstage. Despite his early-evening, prime-dinnertime slot, the rapper also drew a massive crowd, quickly turning the sunburnt revelers into a sea of raised hands and bobbing heads, particularly during his cannabis carol "Blunt After Blunt." LUKE McCORMICK
EMA "Do you mind if we be noisy and rock the fuck out?" EMA singer-guitarist Erika Anderson asked the crowd in the Other Tent on Thursday afternoon. She heard a cheer in response. "I'm serious," she said. Then she proved it, as she and her four-piece band delivered a blistering, shrieking, guitar feedback-laden maelstrom that eventually settled into "Butterfly Knife" from last year's intensely lacerating Past Life Martyred Saints. Her confrontational stance was an unsettling, and welcome, change from the pervasive eager-to-please attitude of much of the acts playing on Bonnaroo's first day. She used her skull as a percussion instrument. She whispered and screamed and declaimed about vomit and rape. She grabbed her crotch. But her commanding stage presence and sheer unabashed, bad-apple vibe drew you in rather than pushed you away. Festival sets usually aren't this emotionally draining. Nor are they usually this good. DAVID MARCHESE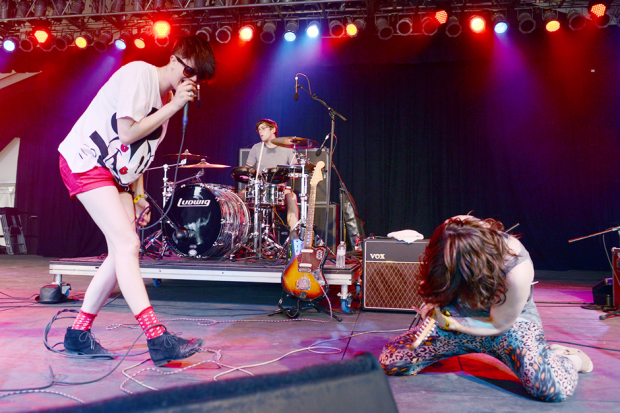 Kendrick Lamar
Maybe the pervasive Bonnaroo dust had something to do with it, but Compton MC Kendrick Lamar's voice sounded seriously gritty on Thursday night. During his set, the dude's flow was way gruffer than on record — a sonic quirk that just added to the palpable energy as he tore through favorites from 2011's Section 80 and a few select deep cuts from previous mixtapes. (The fans went wild for "Michael Jordan.") The crowd was Lamar's from the moment he stepped onstage, parroting back every meticulously crafted rhyme whenever the MC would point the mic in its direction. The 24-year-old spitter even got the only encore we witnessed on Bonnaroo's first day, coming back out to deliver "Cartoon and Cereal," already a strong contender for year's best rap song. L.M.
White Denim
Just beyond dusk, Bonnaroo got the closest thing to a jam band that Thursday's lineup had to offer: White Denim. For an hour, the Austin fivesome pulled from the tail end of their quietly growing songbook, milking every locomotive measure for its full, extended freakout's worth. After two in well over ten minutes, frontman James Petralli said hello for the very first time from a stage here — it was an introduction that probably should have been made years ago. Because judging by the enthusiasm with which their every monstrous groove was met, this wasn't a crowd that needed to be won. You wouldn't call them a garage-rock band anymore, and you probably wouldn't call them a festival band either. But a Bonnaroo band? After last night, it makes perfect sense. DAVID BEVAN
Alabama Shakes Playing before a huge, overflow crowd late on Thursday night, Southern rock chooglers the Alabama Shakes weren't quite more than the sum of their parts, but their parts were more than enough. The biggest and most important part of the retro-minded band's sound is frontwoman Brittany Howard's spine-tingling rasp. Every song, whether motorvating and confident ("Hang Loose"), or measured and melancholy ("I Found You"), features Howard simmering until that rasp explodes. That moment is always exciting, but the rest, all swaying organ, blues-rock guitar, and shuffle rhythms, are, at best, comfortingly pro forma. Alabama Shakes have a better sound than they do songs. But don't tell that to the hordes howling along with Howard. D.M.
Yelawolf
Halfway through his gut-ripper of a set, gifted fast-rapping Alabama MC Yelawolf had a confession to make: "Sometimes I just wanna say, 'Fuck hip-hop.' Sit back, drink some whiskey, ride around in a Chevy." To cynics in the Southern crowd it might've looked like pandering, but his declaration kicked off a singalong tribute session that quickly tapped into genuine emotion. While his DJ (2011 DMC World Champ DJ Vajra) cut "Riders on the Storm" into "Folsom Prison Blues," the Boy from 'Bama growled like Morrison and crowed like Cash before yanking off his lime green Chucks to crowd surf over Metallica's "Master of Puppets," and then coming back to crush André 3000's verse from "Bombs Over Baghdad." But the best part came with a dedication to the Beastie Boys: a medley of "Fight For Your Right," "Brass Monkey," "Intergalactic," and "Paul Revere" that found Yela doing a loving impression of MCA and the others while the audience chanted the name of the recently deceased rapper. CHRIS MARTINS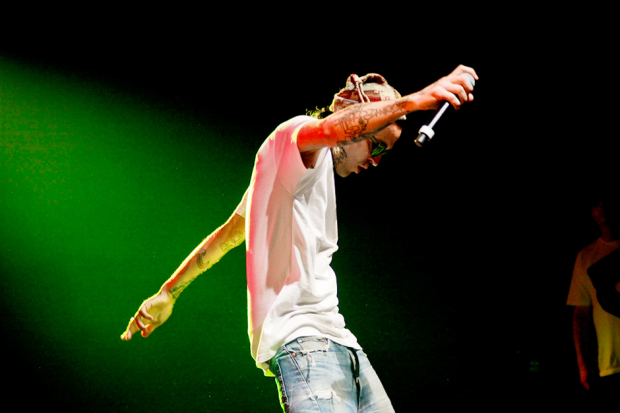 MiM0SA
While Bay Area-bred, Los Angeles-based DJ and producer Tigran Mkhitaryan is often identified as a dubstepper, it's something of a misnomer for the man known as MiM0SA. As he clearly demonstrated to the writhing throng of Bonnaroovian night owls that spilled from the Other Tent after midnight, his heart is in hip-hop — swag rap, bass beats and effects-riddled hyphy topped off with a little wobble for good measure. Drake, Dipset, and E-40 were all part of his ever-shifting percussive stew, as was more far-out fare. Caught up in the heady mix: a chipmunk soul sample sourced from Bollywood, synthetic textures cribbed from early house music, and a whole lot of crunched-up 8-bit glitch. The audience was, in the parlance of our times, all the way turnt up, a living testament to the barely sated appetite for electronic music at this fest. C.M.
Mariachi El Bronx
Fiery. Impassioned. Punched up. As it turns out, it's easier than one would imagine to leap the stylistic gulf between the revivalist hardcore of L.A.'s the Bronx and traditional Mexican songcraft of their alter ego Mariachi El Bronx. Of course there were some very key differences. The outfits, for one: all eight players decked head to toe in black suits with ornately embroidered fringe, plus golden ribbon ties and dark black shades. Also the fact that when the axe-slaying Joby J. Ford shreds in this band, it's on an acoustic guitar (or an accordion) while horns swell, violin soars, and percussion bursts like syncopated fireworks. And then there was the conga line, which broke out spontaneously in the midst of the tightly packed crowd, then snaked through what would be the mosh pit, up and out through the mid-section of the tent while the song "Norteño Lights" fluttered and shimmered like a desert oasis. "I seen y'all out there," said gregarious singer Matt Caughthran toward the end of their afternoon set. "Some of y'all motherfuckers are just like us — a little premature, gonna end up in the bushes before it gets dark out." C.M.
Phantogram
On record, Phantogram's music is moody and ethereal — midnight soundscapes for moments of solitude. Live on Friday night, they turned up the amps, hit the drums hard, and delivered rousing big-chorus pop for the masses. Guitarist Josh Carter and singer-keyboardist Sarah Barthel, both dressed all in black, shed their shrinking-violet studio vibe for muscularity and showmanship, exhorting the crowd to clap and prowling the stage. The one soft moment came with the twinkling ballad "Mouthful of Diamonds." Even then, the crowd's singing along with every word turned this inward song into a call to arms. Guys, do the next record live-in-the-studio. The people have spoken. D.M.
Big Gigantic
Though Dominic Salli's saxophone could be heard from the other side of the festival grounds in just about any direction, it was lost in the mix the closer you crept toward That Tent during his Boulder-based "livetronica" duo's set. Perched inside a wall of LED lights, Salli and drummer Jeremy Salken brought together all walks of frizzled life, attracting both glowstick-waving EDM kids and friends to Dave Matthews. Though their Daft Punk-meets-Dave bit whipped the crowd into a serious frenzy (particularly on the heels of a meaty drop), only the concept was memorable. The beats were soft, the jazz was soft, the edges were soft, too. D.B.