When Adam "MCA" Yauch passed last month, probably his most-quoted lyric was from the Beastie Boys' 1994 hit "Sure Shot": "I wanna say a little something that's long overdue / The disrespect to women has got to be through / To all the mothers and the sisters and the wives and the friends / I wanna offer all my love and respect 'till the end." MCA was reconciling his group's sexist past, with its beer-spills on boobies and other infractions, but it was also resonant for their change of spirit. A few high-profile obituaries discussed his feminism, but few referenced Kathleen Hanna, riot grrrl original gangsta and longtime partner to fellow Beastie Adam "Ad-Rock" Horovitz, who no doubt had at least a little influence on their politics. Last night, though, when the Horovitz made his first public performance since MCA's death — at a benefit show for Russian riot grrrl band Pussy Riot — he honored the whole sentiment, DJing an awesome, mostly women-made set of rap, dancehall and electronic punk. Shout to intersectionality!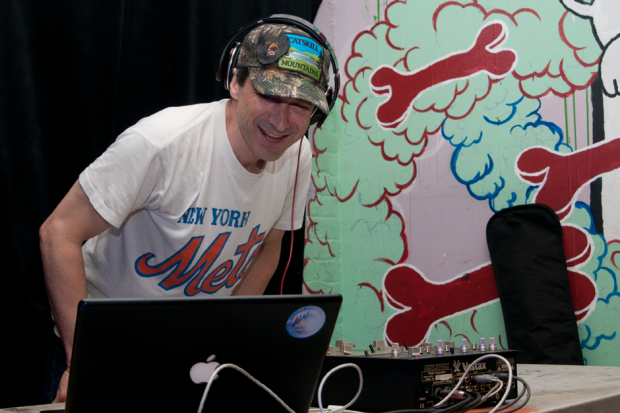 The benefit, held amid the dimly lit, Marissa Pasternoster-painted backdrop of Brooklyn DIY venue Death By Audio, was filled with punk women and men wearing neon balaclavas to honor Pussy Riot. The latter punk performance crew has been targeted in Russia for protesting Putin the day before his election, and three of its members — Maria Alekhina, Nadezhda Tolokonnikova, and Ekaterina Samucevich — now face up to seven years in prison for simply voicing their opinions. Many punk scions have spoken out in support of the riot grrrl-influenced Pussy Riot, including Bikini Kill's Tobi Vail and Chicana punk goddess Alice Bag, and the proceeds from the show went to Pussy Riot's legal fees, so it was appropriate that Brooklyn feminist band Shady Hawkins opened their set with a song called "Not My Comrades," led by the vibrato growls of lead singer/Tumblr star Suzy-X. The show had all the vibes of a late-'90s West Coast punk basement show, with the aesthetics to match, and appropriately riot grrrl was in the air. Held by national feminist artist/musician organization Permanent Wave, the night's spirit dovetailed with the year's resurgence in protest, both physically (Occupy, London, the Arab Spring and Putin riots among them) and artistically (witness Killer Mike's recent political state of the union, R.A.P. Music).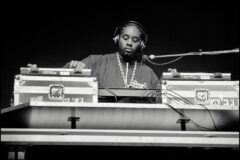 Riot grrrl den mother Hanna was not physically present, but her vibes were heavy in the building. When a rep from Permanent Wave introduced Ad-Rock and shouted out his wife for her support, he grinned, then launched into one of the best-ever riot grrrl DJ sets, blending Bikini Kill's "Alien She" into Adina Howard's "Freak Like Me," Bratmobile's "The Real Janelle" into Girl Unit's "Wut," and dropping in tracks like Kid Sister's "Switch," Rasheeda's "Bubblegum," and Skrillex's "Scary Monsters and Nice Sprites." The crowd pogo'd, though their allegiances were obvious: they never got crunker than when Ad-Rock played tracks led by his wife (which was also deeply endearing). Ladies from the next band, Heliotropes, jumped up onstage and danced in their own balaclavas, and when the Beastie dropped Le Tigre's "Deceptacon" for his closing track, with its appropriate lyric "See you later," the vibe was less "ski mask way" and more slumber party.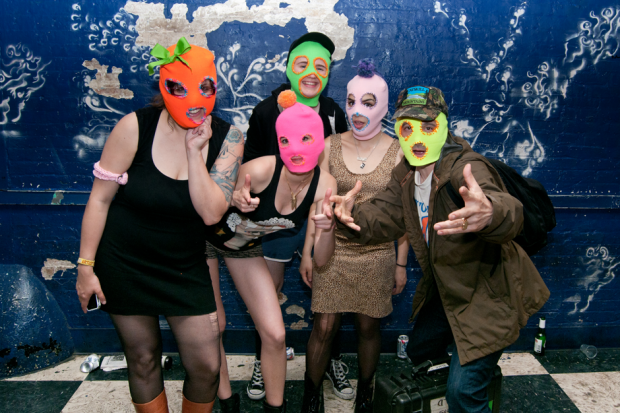 Twenty years after riot grrrl, it's interesting to see how cyclical a movement can be — halfway through the show I self-consciously thought about how I now have the same baby bangs as I did back then, not to mention that members of Shady Hawkins are also in a Babes in Toyland cover band, or the distilled shred-guitar and moany vocals of opening band TinVulva that aesthetically shouted out all their mothers before them. But what's remarkable about history repeating is that sometimes it's the best qualities of a movement that stay alive — and last night's feminist heart, activist spirit and corporeal power showed that if riot grrrl taught us anything, it was that these alliances will always keep us strong. Free Pussy Riot!