Though Waka's career certainly has been driven by outside forces, it's also a natural by-product of his energy — he self-diagnoses as ADD and is both mercurial and personable enough to hit eight or nine clubs in a night when he's home. He's also quite savvy about his identity as an entertainer. "In the beginning, I didn't know where [rap] was gonna lead me," he says. "People was like, 'Oh, Waka Flocka's the new Lil Jon. All his music crunk!' And I was like, my shit ain't crunk, man. This shit gangsta. But I listened to it, and I was like, damn, that shit is crunk, hardcore street music. So I just started branding crunk music again. I just found my lane."
Solidifying his lane also led Waka to take a yearlong break between Flockaveli and Triple F Life. "I wanted to craft my hustle," he explains. "I wanted to drop a lot of mixtapes, with no promo, to see what kind of music my fans love. So I figured out what people love me for — ad-libs, the crunk, the energy of my voice! I didn't want to be distracted by people saying, 'Waka's not lyrical.' I didn't want to lose my path by trying to be lyrical. Hell, no. I can't fall off my hustle."
Waka's verbal acumen has been a constant flash point throughout his career. He immediately became the poster boy for a new crop of adrenalized young guns who were supposedly taking hip-hop in an "ignorant" direction — partly because his songs bluntly chronicled drug dealing and getting wasted. But also because Waka was a Southern rapper who shunned complexity (sparring with Method Man over the relative importance of lyrics), he was branded, by both rap lovers and haters, with centuries-old stereotypes about the region as an uneducated backwater. After experiencing such a critical shitstorm, he's remarkably at ease with his place in the genre.
"I just think it's God," he says. "It's gotta be 'cause this shit is not talent. … But evidently, it's a hidden talent!" He smiles. "I feel like it is God 'cause this is nothing I ever had planned on doing. I don't feel like an artist. But I feel like a rapper!" He laughs. "People love the music, but they enjoy the person, too."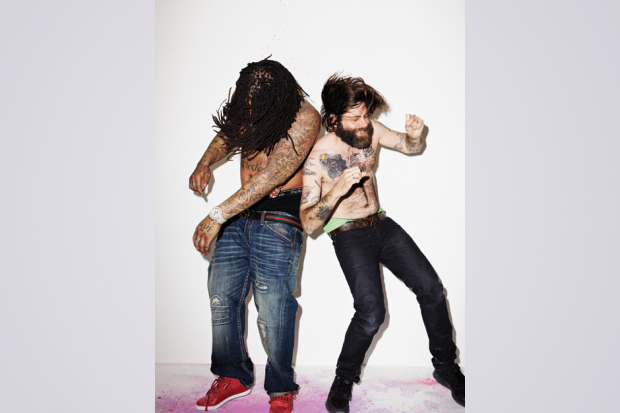 Regardless, Waka has a genuine fan's love of music, in general, and as a result, he's able to relate to a variety of artists. The first two singles from Triple F are collaborations with well-manicured heartthrobs Drake ("Round of Applause") and Trey Songz ("I Don't Really Care"), while he also cut a one-off track with pop-techno duo the Cataracs ("All You"). "There's nothing about Waka that's contrived," says Joie Manda, former head of Urban Music at Warner Bros. and now president of Def Jam. "He's a bright kid, and he's fearless — not in a tough-guy street way, but that he's doing the music he wants to do. When the first album came out, he was like, 'I'm not the greatest lyricist; I don't care, though. I make music that makes people crazy, and it makes me happy.'"
Waka's performance in Paris was a testament to his broad appeal. Launching into the exhilarating club track "Grove St. Party," he was unexpectedly joined by Mos Def, one of hip-hop's iconically "conscious" artists. Carrying a moped helmet in one hand, Mos grabbed a mic with the other and screamed out the yeeeeahhhs for Waka. Not to be outdone, another conscious-era rap godhead, Common, strolled onstage wearing a polka-dotted button-down and salmon-colored trousers. With no mic available, he clutched his champagne glass and stirred up the crowd, anyway. Once, fans of Mos and Common would have blanched at the thought of this unlikely trio. Now, the two inveterate rappers are Waka's enthusiastic hype men.
Later in the night, after Waka decamps to a rap-summit-style dinner at an African restaurant with Common and Clipse's Pusha T, a seemingly monied fiftysomething white man seated at the table asks Waka his age. "I'm 25, but I got an old man's soul," he says. "I just know how to camouflage it." Common, marveling, tells Waka to enjoy the spotlight now, saying 25 is one of the best years ever, and that he should know, since he's a venerable 39. Waka turns, wide-eyed and earnest, then says, "Man, I wish I could last that long."
Sometimes, it seems as if Waka can't fully acknowledge where his career is taking him. He'll still show up at an Atlanta shopping mall and get mad when he's mobbed. His guilelessness about fame worries Bear, Waka's mild-mannered but mountainous security guard. "He's just a big kid who had to grow up too fast," he says. "And I think the reason he brought me in, and no one else, is that I don't ask nothin' of him. But I told him, you gotta dial it back, because I'm done putting on a black suit."
Bear is referring to the death of Mario Hamilton, a.k.a. Slim Dunkin, Waka's fellow rapper and best friend, who was shot in the chest and killed on December 16, 2011, outside a Gucci Mane video shoot in Atlanta; he was 24. Whatever the reasons for Hamilton's death (Young Vito, another Atlanta rapper, has been charged with the murder, which allegedly stemmed from a dispute over studio space), Waka won't speak on them, mainly because he physically can't. When I mention Hamilton in our first interview, Waka gets choked up, covers his teary eyes with his hand, and has to excuse himself. The second time, he says, "I'm not gonna have no peace. I'm just not gonna accept it. If I accept it, it fucks with me. I ain't gonna accept it. I never talk about it. Slim, and my little brother, man. That is my brother. That shit crazy. I love him, though. I can't talk about this shit." His voice cracks, and his eyes well up again.
Waka's career has been beset by such conflict. Gucci Mane, his mentor, has been dispatched repeatedly to prison, rehab, or psychiatric hospitals. In January 2010, Waka was shot in the arm at an Atlanta car wash when he was attacked by a robber going for his Brick Squad chains. In March 2010, he was arrested for violating his parole by traveling outside the state to play a concert. In December of the same year, his home was raided by suburban Atlanta police, who claimed to be looking for evidence of drugs and gang activity. Waka's mother and Gucci were taken into custody, then released. Waka, who was not present, was never charged.