Though Waka claims never to have had aspirations to be a rapper, it was during these teen years in the early 2000s that his style germinated. He was influenced both by the hyped-up aggression and minimalist noise of crunk, the music that ruled Atlanta at the time, and by his life as a restless kid trolling the streets.
"In Riverdale, shit wild," he says intently, still gnawing on gummy alligators. "It could be fights every day. Shootings. Like, you go to parties, some people don't come home after the party. That's serious, that's life. But I'm not saying that to be hard. That's just how we grew up. Like, people looking in? It's dangerous, it's crazy, it's a zoo. But that's normal for us. … If [a party] didn't get shot up, that shit was kinda dead. It might be dumb as hell to say that now, but that was the truth — as a kid. Young girls booty-poppin' like crazy. I still never partied better than I did then. Lil Jon days. T.I. first came out. OutKast was poppin'. [Hitman] Sammy Sam. Jermaine Dupri. When Ludacris was [radio DJ] Chris Lova Lova."
In retrospect, Waka's early tracks uncannily echo this sort of chaotic mind-set, where the rush of teen partying bumps into the darkness of violent mischief and petty crime. But as his mother began to make headway with her dream of a music-management career — often serving as a surrogate mom to her clients — Waka's perspective shifted.
"If you put yourself in a good situation, you in luck," he says. "If you hang around people with a lot of money, you gonna have a lot of money. You hang around killers and robbers, you gonna be one of them killers and robbers. You choose what you wanna live."
One day in 2006, just after being released from a brief jail stint (for possession of a sawed-off shotgun), Waka was hanging with friends on Arrowhead Boulevard in Jonesboro, a small town near his mom's Riverdale home. A yellow drop-top Crown Vic pulled up next to him — in the driver's seat was Gucci Mane, a local MC who had a gleaming street hit called "Icy," featuring reigning Atlanta thug rapper Young Jeezy. Waka's mother had helped Gucci with some charity projects — later, she'd become his manager through her company, Mizay Entertainment (Nicki Minaj was also a client for a time) — and Gucci had made the trip specifically to give Waka a pep talk.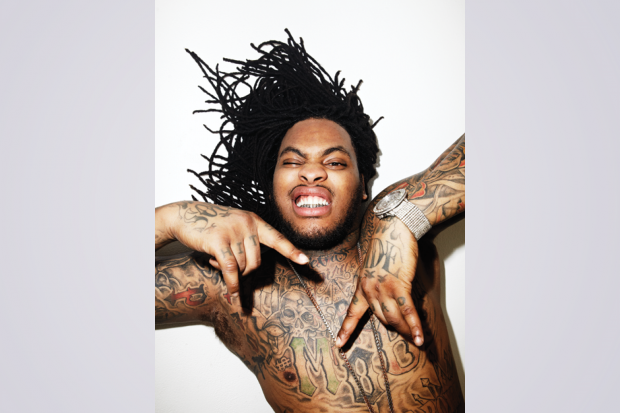 "He just pulled up," says Waka, "like, 'Whattup man, stay out of trouble. Y'all gotta stop your mother from worryin'. Matter fact, I got a show tonight on the east side. I want you to come.' I'm, like, bet. I was just turnt up on the stage, getting crunk. And from then on, I rocked at all his shows." Waka, along with one of his older brothers, an aspiring rapper dubbed Wooh Da Kid, became official members of Gucci's So Icey Boys crew. (Gucci later inspired Waka's Brick Squad Monopoly — a label and recording team, which includes Wooh Da Kid, Frenchie, Tay Don, Lex Luger, and others — telling him that "you always got to be your own boss.") For the next few years, he served as Gucci's "A&R slash best friend slash goon slash, just, That's my boy. He showed me music. He wasn't like, 'Yo Waka, get some beats.' I would just get him beats. I knew this was his craft, and if he's good, I'm good, we good. That's the motto."
But in late 2008, their roles reversed: Gucci was locked up (on a parole violation after serving six months for assaulting a club promoter), and Waka was left hanging. "I was like, 'Damn, I can't go back to what I normally did. It's over. Like, what the fuck am I gonna do?" At first, he thought he'd become an audio engineer, setting up a little recording rig in his family's garage, with a PC and a crappy mic wrapped in one of his mom's stockings to cut down on sibilance. But when he practiced recording by cutting a track — "We on the Way," which appeared on Salute Me or Shoot Me — his friends wanted more. By the time Gucci was free six months later, "O Let's Do It" was a hit, and Deb Antney's Mizay Entertainment was blessed with a hot new client. Despite rocky moments since Waka's rise (in 2010, Gucci severed ties with Mizay), he says Gucci "will always be my brother."