Last year SPIN hiked up to eastern Washington, where, on the crest of the state's Gorge Amphitheatre, the Sasquatch! Festival celebrated its tenth anniversary. The lineup for its eleventh this past weekend wasn't altogether too different from the other approximately two jillion hootenannies this summer, but 'Squatch has the advantage of being situated somewhere between "the wild blue yonder" and "just around the riverbend," which makes it perhaps America's most majestic fest — and, of course, worth the four- to five-hour drive from the nearest metropolitan area (depending on whether you're coming from Seattle or Portland) for a sold-out crowd of 25,000. Here's how the 2012 fest broke down:
See our 30 best live photos from Sasquatch! 2012 here now!
MOST CREATIVE STAGE SHOW
Santigold was flanked by her usual pair of neon-skirted, mesmerizingly dispassionate backup dancers, and, of course, people dressed as a big white horse. The only downside of her set was the fact that so many people missed it — thousands of would-be fans sat in miles-long car lines outside the venue and campgrounds instead of dancing on the blacktop. Honorable mention in this category goes to Tenacious D, who brought along their enormous, inflatable (and phallic) pet "fenix" and held a showdown with their Satan-possessed guitarist.
MOST-TRIBUTED: ADAM "MCA" YAUCH
Girl Talk, the Roots, and Deer Tick all tipped their hats to the late Beastie with covers (or "covers," in Girl Talk's case) of songs like "Intergalactic" (GT), "Time to Get Ill" (Roots) and "Fight For Your Right" (Deer Tick).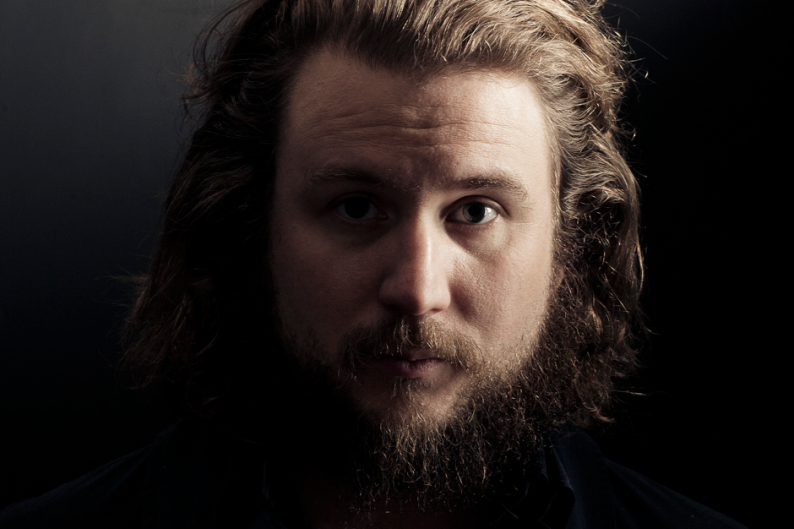 WORST "GOING ROGUE" MOMENT
Comedian Rob Delaney decided to go off-book during his Saturday stand-up set at the Banana Shack and dove unceremoniously face-first into diatribes about various excremental/sexual escapades. Which isn't to say that his shtick hasn't always been potty-mouthed, but judging by the crowd's relative silence (broken once in awhile by, mysteriously, shouts of "I want to have sex with you!"), leaving the scripted jokes behind was decidedly the most awkward performance of the weekend.
MOST EPIC CROWD SURF BY A FAN
It may have been at one of Sasquatch!'s smaller stages, but Craft Spells' deadpan set Saturday whipped its fans into a (partially heat-assisted) frenzy, so much so that one fan managed not only to get hoisted by his friends and carried over heads all the way to the rear of the sizable crowd, he also made it all the way back to the front, too.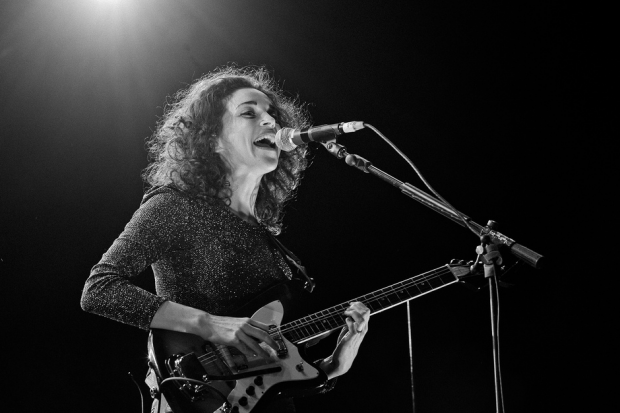 MOST BEAUTIFUL ACCIDENT
Annie Clark, a.k.a. our 2011 fashion issue cover star St. Vincent, had some serious beef with her guitar tech during her Sunday set on the Honda Big Foot stage. Furiously stretching her left arm toward off-stage and the sound booth behind the crowd, jabbing her index finger viciously (she was practically snarling) upwards, she repeatedly, and we mean repeatedly, demanded more volume throughout (she's one of our 100 Greatest Guitarists, man, give her what she wants!). While this move might've been unprofessional or even ruinous for another act, however, the anger in each jab actually amplified the intensity of her otherwise spot-on performance, which had her shuffling animatedly back and forth across the stage, finally launching herself violently into the crowd, writhing and somersaulting for a full few minutes at the end of the set.
BEST HOMECOMING SHOW
The Head and the Heart have come a long way since their first Sasquatch!, as demonstrated by the fact that this year the sextet played to the masses of mildly interested hill-perchers on the Gorge Amphitheatre stage Sunday afternoon. As locals (based in Seattle, a short three hours away), they were welcomed by screams as vocalist/violinist Charity Thielen thanked those "who have been with us from the beginning."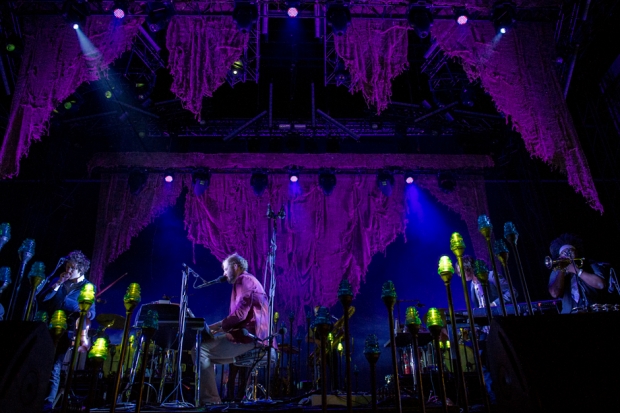 BEST LIGHT SHOW
Hats off to the lighting designer and technicians for Bon Iver's Gorge-appropriate 90-minute set on Sunday night; even fans only perched on the side of the grassy (tall boy-strewn) hillside to hear the band play "Skinny Love" were vocally impressed by the show. A highlight: horizontal strips of white light that gave the stage the air of being hidden behind cracked blinds in the middle of the day. (As for the performance itself, Justin Vernon, particularly effusive between song breaks, seemed — and probably was — more grateful to be on the Gorge stage than he did on the Grammys'.)
MOST IRONIC SHOW
This one was a tie between Sub Poppers THEESatisfaction and Shabazz Palaces, both of whose quasi-racial/political lyrical bent (both acts performed songs with lines like "We are black" or "What it means to be black" proclaimed loudly and in repetition, amidst others dissecting social issues) found a strange home in the ears of blissed-out, sunburnt white kids who bobbed along, some even fist-pumping between posing for group photos and applying more chapstick.
WORTH THE EARLY ARRIVAL: PICKWICK
We almost hate to let the cat out of the bag on these Seattlites, but the way the quintet, led by the hurricane-force vocals of frontman Galen Disston, commanded the mainstage and its surprisingly deep crowd made Pickwick (think Cold War Kids meets a soul-infused Black Keys) absolutely worth the extra 50 minutes of betakeratin — and absolutely a secret worth spreading.
MOST UNFORTUNATE MISHAP
Dum Dum Girls were dealt a mean blow during their Saturday set when, in addition to the feedback that plagued many of the performers on the Honda Big Foot stage over the weekend, frontwoman Dee Dee seemed to have lost most of her voice. While the quartet's instruments delivered a hyper-charged, poundingly excellent performance, her vocals hardly ever rose above a forceful whisper and had a hard time convincing audiences to stay.
BIGGEST STAGING MISCALCULATION
The organizers of Sasquatch! have probably had the weekend's schedule locked in weeks before "We Are Young," took off on top-40 radio, but fun.'s set on the Honda Big Foot stage Monday easily attracted at least a third of the festival's attendees (though many left promptly after screaming along with "We Are Young"); frontman Nate Ruess proclaimed it "the biggest crowd we've ever played to." Though the Joy Formidable's concurrent set was perfectly suited for its home on the Gorge Ampitheater, the two acts probably should've swapped stage space. (Sidenote: fun.'s set also wins the award for Most Crowd-Surfing Inflatable Animals — we spotted a dinosaur, shark, flamingo, giraffe, penguin and unicorn bouncing around, with a bonus Gumby on a stick.)
SASQUATCH 2012 PINCH HITTERS
Glasgow-native Mogwai had to cancel their late Monday evening appearance due to visa issues, so instead of leaving the Honda Big Foot stage empty for an hour, Spiritualized pushed their neon-vibe set into the Scottish band's time slot, and the ever-reliable (yet, somehow, simultaneously ever-drunk) Deer Tick rolled onstage for a second time that weekend, pulling out possibly every cover they've ever performed, including songs by the Beatles, Chuck Berry, the Replacements, and Nirvana.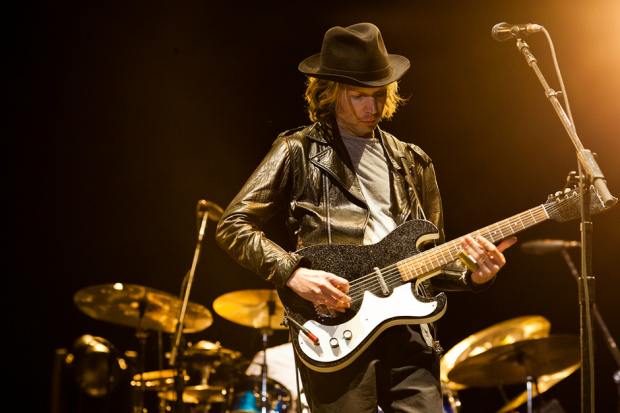 BEST OVERHEARD:
"So, Beck is the Bob Dylan of the '90s?"
BEST ONSTAGE BANTER
"It's great to be here in this White Snake wind-tunnel video." — Carrie Brownstein of Wild Flag (It was pretty breezy.)
BEST SET AT WHICH TO SPOT A TRIBE OF TOP-HATTED, SHIRTLESS STEAMPUNK HIPPIES:
The War on Drugs