I've been meaning to talk about RJ Smith's The One: The Life and Music Of James Brown for a few months now. I guess it's a biography of James Brown, though it's more like a very long essay about J.B. that moves through his life chronologically but doesn't feel the need to touch on every moment, assumes that you know some things about the legend, and will jump into these poignant asides about, like, shamans, and the wrestler Gorgeous George, or give you a quick history of the Cracker political party, and then dive right back into the R&B/soul/funk icon's life. I want to call it a "post-biography," but that's the worst thing I've ever typed. Have you, by any chance, read David Thomson's The Whole Equation: A History of Hollywood? It has that same kind of discursive approach where hard "facts" are important, but no more important than opinions and super interesting digressions.
Smith is particularly delicate about handling Brown's politics: A sloppy, though not exactly contradictory, mix of rugged individualism, '60s liberalism, and cutthroat looking-out-for-number-one egomania. Probably common knowledge to plenty of you reading out there, but I wasn't aware of some of Brown's business ventures until I read the book. He founded a fast-food franchise called James Brown's Gold Platter with the idea to encourage black business owners and to provide young African-Americans with the chance to move up. He also created a James Brown food stamp/coupon in the Los Angeles area, which was given out in stores run by African-Americans, further encouraging support for black-owned businesses. The state of California quickly put a stop to that idea, though.
I think there are a lot of connections between the talk you hear from so many rappers-turned-businessmen and Brown's attempts to merge self-sustaining capitalist ventures with pull-up-the-people business plans. Whether Brown's failed fast-food gambit proves that Jay-Z is a noble entrepreneur or just making himself feel better about his millions is for each of us to decide, but it's worth noting that the values espoused on Watch the Throne aren't new to black superstardom. Because it isn't tethered by typical music-bio expectations, The One really encourages this kind of thought riffing. I highly recommend it.
50 Cent feat. Kidd Kidd "O.J."
If you have a small child, or if you're a 27 year-old rap blogger who likes to get high and play video games designed for babies, then you might recognize the sample on this Mike Will Made It production. It's composer Tomoya Tomita's title screen theme to Kirby's Epic Yarn, for the Nintendo Wii. At least I think it is? Like, 75 percent sure. Mr. Will Made It didn't answer my tweet, but he has been known to swipe a sound or two from a video game (Gucci Mane's Tetris-sampling "Get It Back"). On The Lost Tape, which is supposed to be 50 Cent's return to mixtape prominence, he either raps his ass off or gets goofy. On "O.J.," he just does the latter, thanks to a hook that's in poor taste, like something off 50 Cent Is the Future: "Put on my O.J. gloves and watch me kill this shit…I'm pullin' off an O.J., I'm killin' these bitches!" And new buddy Kidd Kidd, whoever that is, has some LOLZ-worthy, damn-near-dada non sequiturs here: "Tell the pigs to kiss my shitter / Yeah, I'm kind of thinner, but goddamn your jeans are slimmer / I don't want you 'round my child, you look like a sex offender." The whole thing is ridiculous. 2012 finally has its "Zan with That Lean."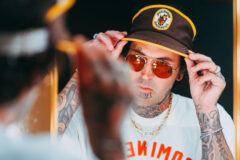 Camp Lo "52 Pick-Up"
Another version of Fort Apache was released back in 2006. There's probably some mildly interesting reason why that version has been erased from the Internet and replaced with this "mixtape album" that's barely even an EP. The DD172 logo on the back cover has got me thinking I should chalk this one up as more Dame Dash fuckery in the style of the half-assed hard-drive purge that was Curren$y and Ski Beatz' Muscle Car Chronicles. Then again, isn't it kind of perfect for a group as mired in nostalgia as Camp Lo to resurrect their half-a-decade-old scraps? Are they the original hypnagogic poppers? Is there a group before them so thoroughly interested in evoking the feeling of their childhood years? 1996's Uptown Saturday Night was rakish street rap by way of blaxploitation soundtracks damaged by the hiss and pop of a cheap 16mm print. "52 Pick-Up" shares its name with the John Frankenheimer flick from the '80s that was trying to be a '70s flick, and Ski Beatz' beat kicks and claps like a lost Def Jam 12-inch — or a track from the second half of Clipse's Hell Hath No Fury. You decide. Man, we're just in a maze of misremembering here, aren't we?
https://youtube.com/watch?v=KrLUvWxDX1Q%3Fversion%3D3
G-Mane feat. ST 2 Lettaz "Money Machine"
The honeyed beat from Dave Luxe with G-Side's ST doing his best Max Julien impression and shouting-out 8Ball & MJG's "Break-A-Bitch College" should give you enough of a warning: This song is the latest in a long line of stone-cold, smoothed-out, pimp-talk rhymes. But nothing's ever that simple for Florence, Alabama's G-Mane, a sort of Bun B and Nate Dogg and Ice Cube all rolled into one (he's really a contemporary of all three, yet a nostalgia act if only for the reason that he refuses to adjust his style and knows how the Internet works). And so, right in the middle of "Money Machine" is Arthur Jensen's classic monologue from Network ("You are an old man who thinks in nations and peoples…"), halting the blazed-on-the-highway swerve, reminding you that our lives are dominated by evil corporations, and tying entry-level pimpin' to a world out of control with exploitation and abuse. ST goes in on this one, but it's G-Mane's laconic wisdom that keeps the song from being just one more pimp-slap rap: "I'm what they fear, America's nightmare / Black and educated with a little money to spare / Yeah, I know they don't like it, but I don't care / They can kiss my Gucci underwear."
Killer Mike "Reagan"
The best noises on R.A.P. Music aren't those cyborg cur- stomp drums or the dystopian synths. It's the juicy, comedic keyboard gurgles sloshing away in the background. They don't connote anger, but disgust, which is a far more appropriate response to what's detailed on "Reagan." As was the case with Ab-Soul's "Terrorist Threats" last week, I find the "Obama is exactly the same as all the rest of them" rhetoric pretty lazy and cynical. This song is far more effective when it's turning Reagan into the symbol and not just a symbol for political corruption. But I get the sense that if I told Mike any of this, he'd remind me that Robert Gates, number two in the C.I.A. during the Iran-Contra Scandal, is Obama's Secretary of Defense, so I should probably just STFU. More compelling than a Wikipedia entry and as insightful as the anti-Reagan chapters of Rachel Maddow's pop-thesis Drift, "Reagan" feels like a necessary intro to Iran-Contra and the alleged "dark alliance" that connects the C.I.A. to crack sales. Killer Mike should be a guest on Maddow's show, don't you think? I need to start a "KILLER MIKE ON MADDOW" Facebook group.
https://youtube.com/watch?v=xxf2kvyZFxY%3Fversion%3D3
Struggle feat. Yelawolf & Ounze Zilla "Satellites"
Look, I didn't expect Yelawolf's half-great, half-terrible Radioactive to move through the major-label system unscathed, but I was hoping that if it was going to pander, it would've been as this atrociously awesome, double-time rhyming, hard-rockin', tweaked-up, twangy, brostep explosion. There's a whole bunch of sad, weird, poor-ass white kids just dying for that shit! Plus, Yela's touched on country-fried dubstep before ("Growin' Up in the Gutter," "Animal," Trunk Muzik: 0-60's "Billy Crystal") and it's just a perfect fit. Had Yela gone full-on in that direction, it probably would've sounded a bit like "Satellite," from Waylon Jennings' grandson Struggle (maybe you remember last year's "Outlaw Shit"). At some point, it probably would've seemed "problematic" for there to be this narrowcasted white-trash rap scene, but now it feels necessary. There's a white middle-schooler somewhere getting made fun of because his shoes are from Payless who straight up needs a groaning post-Nickelback hook morphing into a sub-Skrillex getupgetupgetup to get through his day, you feel me?
https://youtube.com/watch?v=-sT1EIlUOtE%3Fversion%3D3