FIVE SONGS THAT COULDN'T EXIST WITHOUT HIM
1. Eazy-E – "Boyz-N-The-Hood" (1986)
One of the meanest gangsta rap songs in history mines the same restless nihilism as early Beasties: dodging moms, playing with guns, slapping girls, punching dads, driving drunk, wrecking cars. Memorably, the E calls in a sample of MCA himself to deliver the OE-soaked mantra that serves as the song's maniacal id: "Beer drinkin', breath stinkin', sniffin' glue!" C.W.
https://youtube.com/watch?v=fGeNDnYcQOA
2. Anthrax – "I'm The Man" (1987)
The line, "I'll steal your Pop-Tarts like I stole your bike" was a flip on a classic MCA rhyme, and originally the Beasties were supposed to do the rap themselves. Instead, Anthrax did their damnedest Beastie impression, essentially inventing rap-metal — "Bring the Noise," Rage Against the Machine, Judgment Night, and Korn would follow the leader. C.W.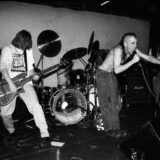 https://youtube.com/watch?v=WfQUuYY87fA
3. Public Enemy – "Party for Your Right to Fight" (1988)
By physically switching the words of their labelmates and tourmates, Public Enemy not only built solidarity within the Def Jam roster, but found a way to set themselves apart — yes, we'll share the energy of the Beasties, but we're spraying rhetoric before we spray PBR. And pretty soon, the Beasties would too. Either way, you can hear Yauch's hard-rock yell in here loud and clear. C.W.
4. Atmosphere – "Nothing But Sunshine" (Anticon, Music for the Advancement of Hip Hop, 1999)
After moving to L.A. and being spat out of the music-biz meat-grinder that consumed Paul's Boutique, Yauch basically spent the rest of his life on a spiritual quest, distancing himself from the group's early antics more starkly than his bandmates, creating a model from scratch for a white-rapping human who wasn't, at some level, perpetrating like a total chucklehead cartoon. Earnest, respectful, conscience of history (both social and cultural), devoted to his craft, aware of his impact on kids, self-deprecating but not in a corny, self-congratulatory way, etc., Yauch did the thankless work of seriously growing up in public when everybody was bugging him to just lighten up and do the wigger song and dance again. And for better or worse, he invented "emo rap" in the process, encouraging folks like Slug to sincerely pour out their hearts without having to yuck it up or lurk behind a shady alter ego. Though the bovine hi-jinks at the end of this track prove that it's always gonna be a bitch for whitey to shake bad habits. C.A.
https://youtube.com/watch?v=43kzb1lQz7o
5. Odd Future, "Swag Me Out" (2011)
No one better embodies the mischievous, juvie-hall abandon of early Beasties like hip-hop's current lexicon-warping enfant terribles, making making the influence explicit by actually sampling the end of Licensed to Ill's "The New Style" — a bunch of no-good kids you just don't understand shouting over a bunch of no-good kids your parents just don't understand. S.K.