THE FIVE BEST DEEP CUTS
1. Beastie Boys – "Riot Fight" (Pollywog Stew EP, 1982)
As the Beastie Boys' only truly legit musician on a traditional instrument (bass), Yauch was essential to enabling and anchoring the group's early hardcore-punk excursions. This is 26 seconds of pure stop-start jibber-jabber rabble-rousing, with Yauch's follow-the-bouncing-b-boy bass line leading the charge. C.A.
2. MCA & Burzootie – "Drum Machine" (1985)
One of the very first 12-inch singles released on a little label called Def Jam, this is a perfect mix of the era's concrete-jackhammering drum machines (courtesy of Burzootie), with a shouting-till-he's-hoarser MCA. Well before Rubin nailed them down to those Jimmy Page licks, this was a unique blend of Run-DMC-style bombast and the clubcentric sounds coming from Arthur Baker (who co-wrote the lyrics). C.W.
3. Beastie Boys – "B-Boy Bouillabaisse: A Year and A Day" (Paul's Boutique, 1989)
MCA's big solo turn on Paul's Boutique is a two-minute burner over a sizzling Isley Brothers lick, where he truly grasps his role as a complicated twentysomething. Now he could "mix the Bass Ale with the Guinness Stout" like the Yauch he was leaving behind and go "to the limits of my ultimate destiny" like the spiritually minded Yauch he would soon become. C.W.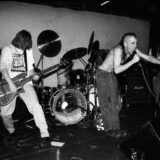 4. Beastie Boys – "Bodhisattva Vow" (Ill Communication, 1994)
Just as Check Your Head ended with Yauch's surprising (at the time) Zen benediction "Namaste," its follow-up wound down with the instrumental "Shambala," blending, somehow, funk with chanting monks, and morphing into this Yauch solo confessional, in which he fully renounces lunkheadedness and pledges allegiance to Buddhist tenets with the same gruff clip previously used to extol whip-its. Earnest aphorisms like, "The Bodhisattva path is one of power and strength / A strength from within to go the length / Seeing others are as important as myself / I strive for a happiness of mental wealth," would have sounded fortune-cookie trite coming out of any other mouth. S.K.
5. Beastie Boys – "I Don't Know" (Hello Nasty, 1999)
Hidden somewhere in the middle of the wildly diverse Hello Nasty is this gorgeous gem fueled by the Tropicalia records these tireless crate-diggers were snagging well before the Soul Jazz reissues. Alongside Miho Hatori of Cibo Matto, MCA sings, and certainly not perfectly, a fragile exhortation about the fruitless search for peace of mind — part Buddhist prayer, part Internet-era complaint. It's three minutes of partly cloudy sunshine. C.W.