After a long battle with cancer, pioneering rapper Adam "MCA" Yauch of the Beastie Boys has passed away at the age of 47. His trademark rasp spawned more than 30 years of boundary-pushing, body-moving music, as the three New York City co-conspirators evolved from egg-throwing teenage hardcore brats to beer-spraying hip-hop ambassadors to picket-crossing alternative-nation humanists to arena-headlining, Rock and Roll Hall of Fame-endorsed legends. Look back with us, as three SPIN editors plunge into MCA's legacy of sure shots, bonus beats, and the songs that wouldn't exist without him.
THE FIVE MOST IMPORTANT TRACKS
1. Beastie Boys – "Hold It, Now Hit It" (Licensed to Ill, 1986)
Debut album Licensed to Ill was advertised by Def Jam as "American rock'n'oll," and nowhere is that spirit better embodied than by MCA's belchy voice in the album's first single. From second one, his signature rasp embodied a sweaty, swarthy, crotch-grabbing, beer-drinking, breath-stinking, glue-sniffing dirtbag with an 8 o'clock shadow. Classic "rebel without a clue" fuck-uppery primed to steal shine from the legions of AquaNetted poodle rockers. Thanks to MCA's glass-gargling throat, hip-hop not only trampled suburbia's front lawn, it passed out on it. CHRISTOPHER R. WEINGARTEN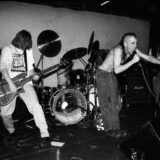 2. Beastie Boys – "No Sleep Till Brooklyn" (Licensed to Ill, 1986)
No white rap fan over the age of 35 doesn't have an extremely personally specific testimony about hearing some Beastie Boys song and how it exploded their worldview. My most vivid memory is of sitting in my tiny Park Slope, Brooklyn apartment just off 5th Avenue (when the area was still very mugger-friendly), gobbling pot brownies baked up by my roommate Chuck Reece, who'd also coincidentally brought home the vinyl gatefold of Licensed to Ill, which had just been released. Zoning out as the deep-massage brownie buzz worked its way through every inch of our pasty bodies, we somehow managed to drop the needle on the record, and by the time the thunderous riffs (played by Slayer's Kerry King) of "No Sleep" detonated the cheap furniture, we were both on the floor laughing like spastic fools, and I knew exactly why I'd moved to Brooklyn from Georgia after heedlessly dropping out of college. And it's the hungover-hangdog roar of Yauch, the group's only Brooklyn native, who will always define that moment, dropping perhaps the quintessential socially-fucking-retarded-or-satirically-genius? Beasties rhyme (for which he would do sincere penance for years): "They call me Adam Yauch, but I'm MCA / Like a lemon to a lime a lime to a lemon / I sip the def ale with all the fly women / Got limos, arenas, the TV shows / Autograph pictures and classy hos / Step off, homes, get out of my way / Taxing little girlies from here to L.A. / Waking up before I get to sleep / Cause I'll be rocking this party eight days a week." Namaste, yo. CHARLES AARON
3. Beastie Boys – "Shadrach" (Paul's Boutique, 1989)
For two reasons: 1) Yauch, in his Nathaniel Hornblower directorial guise, created the visually stunning, dizzyingly painterly "Abstract Expressionist" video; and 2) The single most hilarious New York-metropolitan-area Beasties boast ever: "I got more suits than Jacoby & Meyers!" Peace to those circa-'86 $25 initial consultations. C.A.
4. Beastie Boys – "Gratitude," (Check Your Head, 1992)
It was clear from the first three songs — hell, it was clear from the cover — of 1992's Check Your Head that the sample-happy shenanigans of Paul's Boutique had given way to live instrumentation that re-created meticulous crate-digging rather than merely display it. But it was the indelible, snarling fuzz-bass riff of the fourth track, courtesy of MCA, that felt like a frying pan in the face. No longer content with being reformed punks who reinvented rap, they got just bored enough to reinvent punk again, too, but just for a few minutes, and there was Yauch, holding down the bottom, but also right in the middle. STEVE KANDELL
5. Beastie Boys – "Sure Shot" (Ill Communication, 1994)
It had been only eight years since MCA's notorious "skeezing," but dude had matured about three times over. Here comes maybe the most sincere apology in rap history: "To all the mothers and the sisters and the wives and friends, I want to offer my love and respect to the end." His generosity of spirit would be felt everywhere from the Tibetan Freedom Concerts that he organized to bands like Sublime who carried his torch. The song is also notable for bragging about gray hairs years before Jay-Z attempted old-man rap on Kingdom Come. C.W.