Kanye West premiered Cruel Summer, a seven-screen art film inspired by the rapper's upcoming G.O.O.D. Music label compilation of the same name, yesterday at the Cannes Film Festival in France. Much of what has come out about the debut involves the lavish setting (the film was screened in a tent built like a pyramid) and the celebrities in attendance (current West squeeze Kim Kardashian; Jay-Z, but not Beyoncé, who performs her first post-baby shows in Atlantic City this weekend). Beneath all the the glitz, glamor, and spectacle, though, multiple reports confirm the presence of something arguably most exciting of all: new music.
All music in Cruel Summer is new, reports GQ senior editor Logan Hill, who spoke with one of the film's stars, Kid Cudi, at the event. Hill says the music was also "the best part — big complex production, huge beats." Assorted artists on Yeezy's G.O.O.D. imprint provide the soundtrack according to MTV, which describes the music as "rocking." In the fact, the nearly half-hour movie emphasizes sonic elements, according to the Hollywood Reporter, which says the bass frequently shook the audience's chairs. The roughly 200-person audience reportedly swayed along to the rhythm at multiple points.
The film reportedly stars Cudi as a car thief who falls for a blind woman. According to MTV, the seven screens came on and off at different times, alternating between showing different views of what was on the main screen and extending the main screen above, below, and around the viewers. In a speech before the film, West said he wanted to reflect the distracted, fragmented nature of contemporary life. "It related to a post-Steve Jobs, post-Windows era, where we're always on our BlackBerry in a ball game or at the movies," West's quoted as saying. "I was very particular about having the screens separate, where your mind puts the screens back together, the way you put memories together."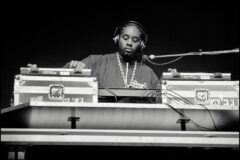 Cruel Summer works like "an extended music video," MTV notes, likening the project to West's 2010 "Runaway" online film. Alexandre Moors, who worked with West on that project and Watch the Throne's "Niggas in Paris" video, co-directed West's current film, which was shot earlier this year in Qatar. The script is based on a screenplay by Elot Rutberg, who served as a creative consultant to the "Paris" visuals.
As for when the rest of us will be able to watch and hear Cruel Summer, scant information is available. GQ's Hill reports that the film will screen on November 19 in Doha, the largest city in Qatar and the home of the Doha Film Institute, which worked with West on the project. Hill, rapper-singer Theophilus London, and fashion designer Ibn Jasper all posted plenty of photos of the event, including this shot of West talking to Jay-Z, while London's Telegraph has a brief red-carpet video.