Did you know you could sync up Dark Side of the Moon to… an actual solar eclipse? SPIN's final day at Alabama's Hangout Fest featured a psych-out, a legend, and lots of ass shaking. Catch up on our Friday (Jack White!) and Saturday (Skrillex!) reports, and glance back at our Hangout Music Festival preview to see how we did predicting the event's essential sets.
Don't miss SPIN's best live photos, straight from Hangout Fest's beautiful shores.
Flaming Lips
The Flaming Lips always go big in a festival setting, but this time they went absolutely celestial, timing their full album performance of Dark Side of the Moon to the heavens, allegedly hitting "Eclipse" right when there was an actual solar eclipse. Joked Wayne Coyne, "You tell your grandchildren that the Flaming Lips caused an eclipse to the sun." Their friends in Phantogram came out to help, dressed in all black and sporting frowns (come on, dudes, you're playing Pink Floyd songs on the beach!), and the collected psych-poppers did a shaggy run through the prog-pop classic, front to back. It was certainly stripped down (total lols at the Lips drummer playing Nick Mason's orchestrally tuned tom-tom parts on electronic drum pad) and not exactly faithful by any means (the ponderous "Any Colour You Like" was mercifully recast as a disco-funk rave-up), but people screamed out the lyrics like Floyd themselves had wished themselves here. Coyne spoke deeply and sincerely about Dark Side, praising "the songs that really do get to the emotional of our minds," but watching everyone sing all the words, maybe Lips love Dark Side just because its a piece of psych-rock populism that so many of us can share. The best part was Moon's most popular song, "Money," and not for the way the Lips played it (like a Tom Waits song, for what it's worth). Coyne tossed out giant confetti balloons that were filled with actual money, allegedly $10,000 donated by none other than Dave Matthews. And people were tripping billies trying to grab 'em. CHRISTOPHER R. WEINGARTEN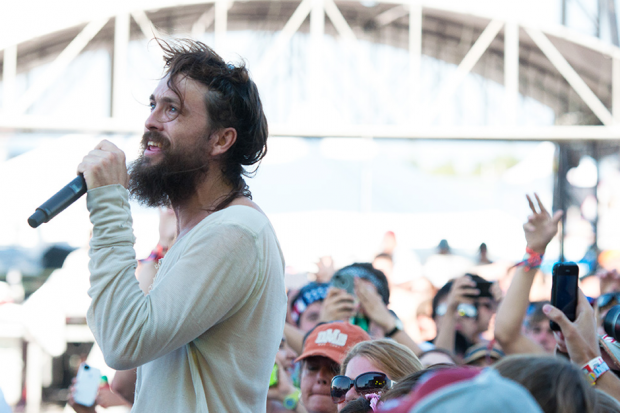 Edward Sharpe & the Magnetic Zeros
Edward Sharpe frontman Alex Ebert sauntered onstage barefoot, his long hair tied up above his head, hopped off the lip of the stage into the audience, whistling, and never looked back. He led the 12-piece band through an exuberant set, spending nearly as much time on the sand with audience as he did onstage. For a new track, "Man on Fire," which opens as somber folk-rock before it builds into a massive, choral rave-up, Ebert jumped down on to the beach and led a pack of fans in a ecstatic dance. When the next song, "Carries On," began, he was sitting on a fence partitioning the VIP section from the rest of the audience. Climbing atop the fence, he eventually took a spill but worked that into a spoken word breakdown: "Sometimes you fall in life but you get back up and do what? You carry on," he said, bursting back into the song's chorus.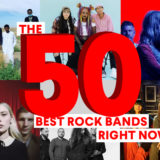 The band sounded huge throughout, adding odd but welcome flourishes like an extensive trumpet solo and a ragtime piano breakdown to the Ebert solo cut "Awake My Body," and some country-inflected banjo and fiddle parts to the shuffling new track, "I Don't Wanna Pray." During another new tune, a sort of George Jones/Tammy Wynette-style duet called "That's What's Up," Ebert and keyboardist/vocalist Jade Castrinos sang to each other and danced around, circling the rest of the band as they acted out the song. The crowd naturally saved their greatest enthusiasm for "Home," which besides being the closest thing the band has to a hit, also opens with the hometown-pleasing line, "Alabama, Arkansas, I do love my ma and pa." But by that time, the Zeros had pretty much charmed the masses anyway, and Ebert, who sometimes bristles when tagged as a hippie shaman, had definitely sprinkled a little magic dust around. DAVID PEISNER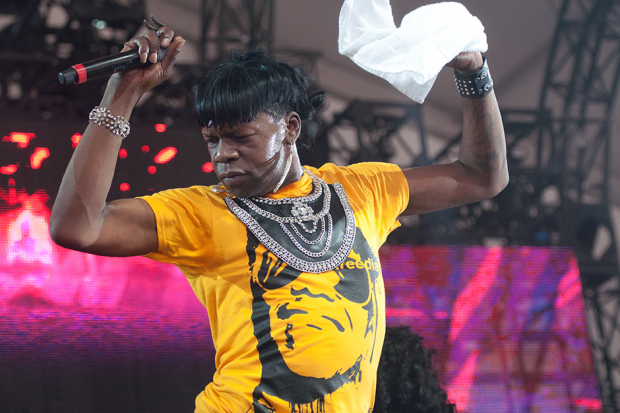 Big Freedia and the Divas
If songs like "Azz Everywhere" and "Make Ya Booty Go" weren't an indication, the New Orleans bounce star Big Freedia turned the Xbox Tent into Assapalooza in a manic 40-minute set. Five tireless dancers were shaking and shaking and shaking and shaking and shaking and shaking. Freedia sang to a dancer's ass like Mick Jagger sings to Keith Richards. Freedia said, "I want to see who can shake their ass like a basketball" and seven audience members obliged. A dancer standing on her head and shaking her ass brought the house down like the Chili Peppers playing "Under the Bridge." Some audience members took iPhone photos standing next to an ass like it was the Eiffel Tower.
"I don't have on the right shoes right now," Big Freedia told SPIN about joining the weekend's surfside shenanigans. "They're not beach shoes, they are stage shoes. [Sand] is all throughout the sequins!" Still, Freedia certainly got in the Hangout spirit on stage: "We Hanging Out today, baby," Freedia said. "Ass just hanging everywhere!" C.W.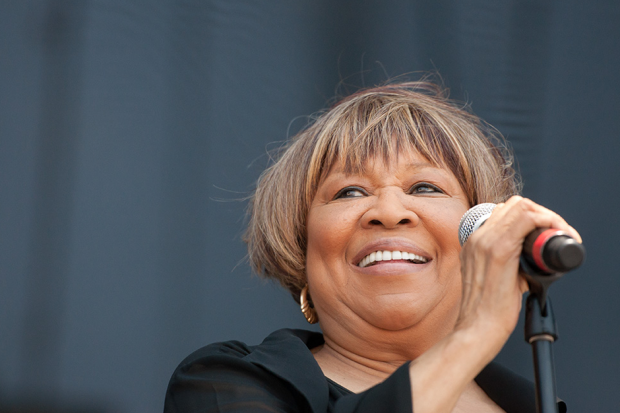 Mavis Staples
How do you define brave? How about 72-year old Mavis Staples testifying to a bleary-eyed crowd at the beach about her love for Jesus? How about the gospel icon finishing up an impassioned performance of Curtis Mayfield's "This Is My Country" and then launching into a full-throated defense of the president — south Alabama ain't exactly Obama Country — and a subsequent denunciation of the Tea Party? "You got people out there saying, 'Take our country back!' " she told the audience. "Back to what? The '50s and the '60s? I ain't going back to the back of the bus!" The crowd responded with a few cries of "Amen!" and maybe a little uncomfortable shuffling of feet in the sand. Not that Staples seemed concerned in the slightest. Her voice sounded startlingly great throughout the set, as if her 50-plus years on the job haven't strained her a bit. During an a cappella version of "Jesus Is Mine," she harmonized beautifully with her three backing singers. She tackled CCR's "Wrote a Song for Everyone," and the Band's "The Weight" — the latter a tribute to the recently departed Levon Helm — with warm growls and soaring wails, turning them from classic rock chestnuts into spirited gospels. Closing with the Staple Singers 1972 hit "I'll Take You There," she led the crowd in a call-and-response sing-along that made it clear that she'd won pretty much everyone over. D.P.
Steve Winwood
Here we were, all caught up in the narrative about Mr. "Back in the High Life" as the accidental godfather of chillwave, ready to laud him for his hazy feels and relaxed grooves as we stood mere feet away from the lapping waves of the Gulf of Mexico. Then he came out, and opened with a brawny version of 1967's "I'm a Man" from back in the Spencer Davis Group days, leaning into its muscular groove, reminding everyone that this man is rock fucking royalty: Spencer Davis! Traffic! Blind Faith! This wasn't some bullshit '80s nostalgia supermarket trip! Then a dude in a "SEA SEX AND SUN" shirt played a saxophone solo.
Despite a few meandering, luscious guitar solos ("exploratory" in '60s terms, "jammy" in modern parlance), Winwood's set was surprisingly rocking. "Gimme Some Lovin'" was one distortion level away from "My Sharona" and even more chillaxed fare like "Higher Love" or Traffic's "Dear Mr. Fantasy" was too skittery and manic to vibe out to, thanks to the ri-damn-diculous drumming of Richard Bailey, whose four independent octopus limbs traded latin percussion (right hand) and grooving ghost notes (left hand) over every song. And then he broke out the double-kick pedal. Steve Winwood: maybe the most metal thing at Hangout Fest. C.W.
Delta Spirit
One of the peculiar joys of playing first on a festival stage is soundchecking in front of an audience who came to see you play, and Delta Spirit made the best of it, with frontman Matt Vasquez growling out a few bars of the Jimmy Cliff classic "Many Rivers to Cross" to big applause from the assembled throngs. Once the band got going, the tunes pressed along at an insistent clip. "Empty House," from their latest self-titled album, opened quietly but then exploded into a rush of jangling guitars and a galloping backbeat; on "Tear It Up" multi-instrumentalist Kelly Winrich became a second drummer, adding some impressive heft to the bottom end. Live, the songs seemed to grow bigger and more aggressive. "California," which sounds like a sweet, wistful indie-rock shuffle on record became an angry kiss-off here, and "Bushwick Blues" transformed into a thrashing Springsteen-ian anthem. Vasquez exhorted the audience to clap along to just about every tune, and they didn't need much encouragement. As Vasquez told me after the show, "I love the crowd in Gulf Shores. We played here one time four years ago and had one of the craziest times. I can't really tell you what happened — that's how crazy it was." D.P.