SPIN Rating:
Release Date:
May 22, 2012
Label:
Columbia
Without question, Beth Ditto is an icon. How many women weighing more than 200 pounds can land and brand a clothing line? Especially as a reward for stripping down onstage and jiggling unrepentantly in an age of indie waifs? A one-woman It Gets Better campaign long before that was a thing, she avoided squirrel-eating life in small-town Arkansas to become an out lesbian in Portland (so out in fact that she shot some honest-to-blog XXX with her partner for a women's erotica magazine). Ultimately, her Kill Rock Stars-tailored garage-soul trio Gossip won an unexpected Euro audience with "Standing in the Way of Control," a dance-friendly tirade against gay marriage bans.
If Ditto's celebrity was notoriety in disguise, then a lot of people were conspiring — in 2007, NME nominated her for Sexiest Woman of the Year. But those sorts of suspicions might not exist if her band's musical output had been less shaky. For punks with soul aspirations — they even covered Aaliyah's "Are You That Somebody?" live — Gossip lacked dimension (and criminally, bass), as their crude, riotous blooze evolved into slightly less crude Gang of Four thump. Ditto's lung power was impressive until you tried to remember later what she was emitting.
But now it's 2012, the president supports gay marriage, Ditto is getting hitched herself, and the most kinetic song on her band's second major-label album is cheeky titled "Move in the Right Direction." Finally, bass lines are in surplus. While Ditto tried to transition into divahood on 2009's chrome-plated Music for Men, A Joyful Noise marks the band's first strides toward a meaningful record, and leaves their previous output in the dust. Right from the opening track — "Melody Emergency," ha — Ditto focuses on song-building and hookcraft rather than raw allusions and signifiers, creating her own expressive version of punky disco. The production's tech-y, but nothing fancy: LCD Soundsystem fans won't necessarily fawn over the palm-muted ping-pong of "Involved" or the house pianos of "Get Lost." But the sound of A Joyful Noise certainly could compete with the Scissor Sisters circa 2004. The trio delights in the simple pleasures of horns (on "Horns") and bass, though the latter sounds like it was run through a cement mixer on the cavernous Cyndi Lauper-ish ballad "Into the Wild." Ditto's voice stretches out too on the anthemic single "Perfect World," with a perfect "ohohohohohoh-oh-whoa" glissando.
Now, all that stands in the way of Ditto and control — er, legitimate artistic success — is her lyrics. Gossip records have struggled to offer much insight; luckily, it's easier to gloss over clichés like "You might've won the battle / But not the war / What goes around / Comes around" with dance music than blues-punk agitprop. Ditto clearly wants to say something, and she should. But it's only on the nutty, Lily Allen-esque "Get a Job" that she succeeds in making you think; unfortunately, that means you end trying to figure out how subversive it is to chide, "girl, you've gotta get a job," when we're still in an unemployment crisis. But just when you decide the woman chanting, "You've got to try, try, try / I know it's hard," seems a bit disconnected, Ditto unleashes the most vicious couplet of her career: "Who's gonna hire you with your lack of experience? / Who's gonna wire you the last of your inheritance?"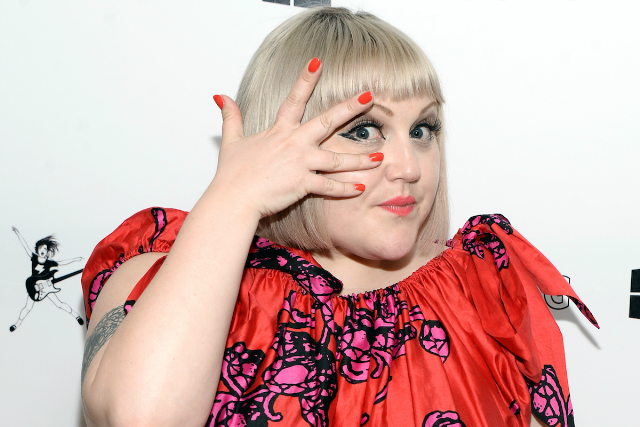 For a bunch of kids who started out as Sleater-Kinney wannabes with no guitar sound, Gossip take a crucial, if overdue step forward with A Joyful Noise. They aren't just happy enough this time, they're angry enough, too.