Let's begin with, well, SPIN. November 1997. "The Girl Issue." Fiona Apple's face is on the cover. "She's Been a Bad, Bad Girl," reads the cover line. Photographed by rutting porn auteur Terry Richardson — Apple choking herself, burrowing under some orange-red couch cushions. "Give me sexy, seduce me," Richardson says to her. Apple tells the writer, John Weir: "If you want to see me cry, just come to a photo shoot."
The article is redolent of the '90s. It contains this sentence: "A backstage pass hung from her navel ring." Apple's boyfriend at the time, a 24-year-old named David Blaine, is described as "the downtown New York card-tricks fixture." Apple calls her future Lilith tour-mate Tori Amos "a poster girl for rape," whatever that means. She tells Weir she's "going to help some little girl out there," and then, once that girl is saved by knowing that Fiona is human, and has bunions, "I'm going to die."
Apple ends up being so hurt by the way she's portrayed in the piece that she writes a 90-word poem about the experience and uses it as the title for her platinum second album, When the Pawn…, the length of which briefly lands her a spot in the Guinness Book of World Records.
But she doesn't stop talking to journalists. She doesn't even stop talking to SPIN. "I love her I-don't-give-a-fuck attitude," says Missy "Misdemeanor" Elliott, in a February 2000 follow-up profile, titled "The Miseducation of Fiona Apple." In between, Apple does a Rolling Stone interview in which she talks about being raped at the age of 12 and gives the writer, Chris Heath, the name and current phone number of the Rollerblading teenage boyfriend who broke her heart and inspired many of the songs that ended up on Tidal.
"I did?!" She's staring at me incredulously.
Yeah. He proceeds to call, and there are quotes from the guy in the feature. And I'm looking at that, and I'm like, "Why would you ever give…"
"Wow. I don't even remember who I gave the number to, whose number it was, or why I would do that."
You just seemed really unguarded. You didn't need to give the journalist the number of that guy, but you did.
"I didn't need to, but it doesn't sound that crazy. Because the only thing that I'd have to be afraid of is whatever that ex-boyfriend would say about me. And if I'm being honest, I don't think I have an ex-boyfriend who would have something mean to say about me. I think that I probably knew that it would be okay."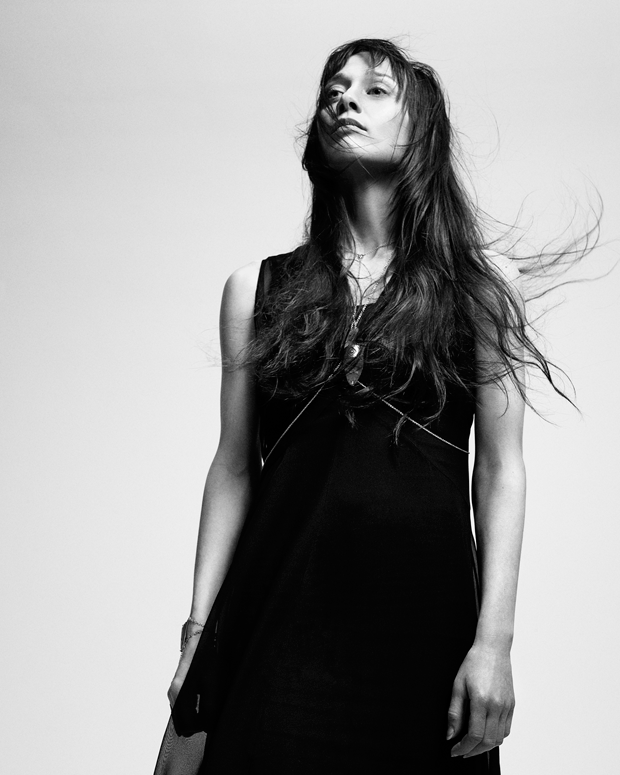 We talk for a little while about this, the idea that a person in her position might choose to hold back as many details of her personal life as she could. That she spent the first five years of her career speaking her mind in public and being criticized for it. That many people who have sold far fewer records than she has might have figured out ways to be savvy and self-protecting around people who don't necessarily have their best interests at heart.
"How would I be more savvy right now?" she asks. She's genuinely perplexed. The failing light from the window outside is putting huge shadows around her huge eyes. Her hair is dyed red, and it's brushing her shoulders. She's wearing a camouflage green tank top and a long skirt and boots. And but for the fact that she looks like an adult now, and not a walking indictment of an industry that happily put a scantily dressed teenager on the cover of more magazines than she cares to remember, you could be talking to the same 19-year-old of all those years ago.
"Would I redirect the conversation? Or just talk about" — you can hear the disdainful quotation marks — "the 'new track' coming up? What do you do, except answer the questions honestly? What's the point if you're not going to? What's the point of any of this?"
As it happens, the new track "Every Single Night," the first single from Idler Wheel (which is great, by the way, stripped-down and savage and full of pointillist little stories and jagged, sticky images; it's maybe the best, or at least most complete, thing she's ever done), premieres on the Internet just a few hours before we sit down. Apple has no idea that the song is in the world until I mention it an hour later, when we're saying our goodbyes.