Five months after Kele Okereke confirmed his band would be releasing a new album following a two-and-a-half-year hiatus, Bloc Party's frontman has reached out directly to fans with more information — it's going to be called Four (or is it four? We can't tell, Kele uses no capitalization) and has been fully mixed — as well as elaborated on what the band has been doing in the interim, why they decided to reunite, and what fans can expect from the material they came up with, material that may be coming long after, as many have speculated, Bloc Party's heyday passed with 2005's Silent Alarm debut.
"In the past we have tried to hide the passion with which we perform, tried to obscure it, manipulate it so it didn't resemble us anymore," Okereke wrote in a blog post published this morning, assuring fans that the new record doesn't "rely on ProTools or the invisible grid that seems to be mapping out all of popular music these days." Among the other revelations he shared:
After releasing his solo record The Boxer in 2010, Okereke tried to "have a year without music in a different part of the world." His proverbial desert island records (despite the whole "without music" part) were Led Zeppelin IV, the Deftones' White Pony, Al Green's Greatest Hits, and Nicki Minaj's Beam Me Up, Scotty mixtape.
One of the reasons the band reunited was 2011 was, for Okereke, "in terms of global history, the most dramatic year I have experienced in my entire life." Which, of course, translated into songwriting, which translated into assembling the team, who "felt the same."
Since 2009, guitarist Russell Lissack toured with Irish band Ash, as did bassist Gordon Moakes, who also had a kid; drummer Matt Tong built a recording studio in his basement, and Okereke supposedly worked on "a book that [he] had been writing for the last three years." Someone also had "breakdowns, tantrums and hospitalizations," but Okereke doesn't elaborate.
The new record will sound like "four people in a room, loving what they do and doing it to the best of their ability." Which, Okereke implies, means that the group felt no pressure in regards to "so much written about what [Bloc Party's] records have meant, so much context and back story."
The album is due August 20 and Bloc Party will be playing summer and fall tour dates (including LA's HARD Summer Fest, Montreal's Osheaga Fest, and a three-night "residency" at New York's Terminal 5), when new music will likely get to see daylight (or glowstick light, depending on set times).
https://youtube.com/watch?v=s4M5EqOGsMA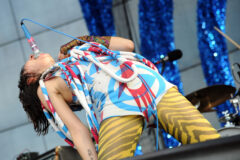 Bloc Party 2012 Tour Dates:
June 19 – Glasgow, Scotland @ Garage
June 20 – Manchester, England @ The Ritz
June 21 – London, England @ Koko
June 24 – Tokyo, Japan @ Ebisu Garden Hall
June 29 – Borlange, Sweden @ Peace & Love Festival
July 04 – Gdynia, Poland @ Heineken Opener Festival
July 05 – Sesimbra, Portugal @ Super Bock Super Rock
July 06 – Gdynia, Poland @ Open'er Festival
July 08 – Turku, Finland @ Ruisrock Festival
July 12 – Bilbao, Spain @ BBK Live
July 13 – Ferropolis, Germany @ Melt Festival
July 20 – Charrues, France @ Festival Les Vieilles
July 21 – Nyon, Switzerland @ Paleo Fest
July 28 – Byron Bay, Australia @ Splendour in the Grass
July 30 – Honolulu, HI @ The Republik
August 03 – Los Angeles, CA @ Hard Festival
August 04 – Chicago, IL @ Lollapalooza
August 05 – Montreal, Quebec @ Osheaga Festival
August 07 – New York, NY @ Terminal 5
August 08 – New York, NY @ Terminal 5
August 09 – New York, NY @ Terminal 5
August 11 – Las Vegas, NV @ The Pool at the Cosmopolitan
August 12 – San Francisco, CA @ Outside Lands
August 16 – St. Polten, Austria @ Frequency
August 17 – Biddinghuizen, Netherlands @ Lowlands
August 18 St. Polten, Austria @ Frequency
August 24 – Saint-Cloud, France @ Rock en Seine
August 25 – Zurich, Switzerland @ Open Air Festival
September 04 – Mallorca, Spain @ Mallorca Rocks
September 05 – Ibiza, Spain @ Ibiza Rocks
November 03 – Nantes, France @ Le Stereolux
November 04 – Lyon, France @ Le Transbordeur
November 05 – Bordeaux, France @ Le Rocher de Palmer
November 07 – Toulouse, France @ Le Bikini
November 08 – Milan, Italy @ Acatrax
November 11 – Hamburg, Germany @ Docks
November 12 – Stuttgart, Germany @ Theatrehause
November 13 – Dresden, Germany @ Eventwerk
November 14 – Munich, Germany @ Tonhalle
November 18 – Copenhagen, Denmark @ Vega
November 19 – Stockholm, Sweden @ Munich Brewery
November 20 – Oslo, Norway @ Rockafeller