"There was something a bit wrong about the bands we were playing with," says Jimmy Lee, guitarist for Trailer Trash Tracys, four hazy London dream-catchers who felt suffocated by the fashion-first factions of U.K. dance-punk. "I think those bands were too shy or too afraid to be slightly romantic or talk about love. We wanted to be unashamed about all those concepts. We're suckers for ballads."
In turn, the Tracys' breakthrough 2009 single, "Candy Girl," was a soft bomb of slow-motion, slow-dance swoon, sharing no small patch of moonlight with Julee Cruise's sensual "Falling," from her 1989 album Floating Into the Night, repurposed as an instrumental the following year for the iconic Twin Peaks theme. You can hear the resonant Stratocaster-style twang, the truffle-rich drones, and the reverb-saturated vocals of Susanne Aztoria all landing in the sensual spot between spectral detachment and soap-opera melodrama. "We made it very sparse, kept it very minimal, put a tremolo in there, and realized it sounded like a Julee Cruise track," says Jimmy Lee. "We kind of figured nobody's going to notice…but it's become the main thing about our music!"
Ever since, by accident or design, a multitude of mostly female-led indie heartachers have been lurking in the shadows of the Twin Peaks Roadhouse, the paranormal passion pit created by David Lynch. Much like Cruise's iconic turn as the balladeer in the series' episode 14 — Twin Peaks' emotional climax — these artists are ill-lit, swaddled in red curtains of reverb, and bedeviled by girl-group ghosts. You hear it in their bleakly reverberating voices that at once embody rapture and distance; in deep hums that confuse the romantically ominous with the ominously romantic.
The most mainstream glints of the sound have come from Bat for Lashes' supernatural siren songs and Beach House's teen dreams — artists owing to Cruise, as well as Kate Bush, Nico, and various fuzzy corners of 4ADevotion. But in the past year or so, there has been a washed-out wash of ethereality covering the indie landscape: Cults, Nite Jewel, Widowspeak, Still Corners, Memoryhouse, Chelsea Wolfe, or even Karen O doing her best Cruise ooze on Lynch's creeptacular hauntabilly debut album, Crazy Clown Time. You can find the same idea rolled flat into expressionist, Rothko-style paintings in the angelic spirals of Julianna Barwick and the otherworldly mush of Sleep ∞ Over. Zola Jesus, already a formidable gothscrew belter, was recently remixed by Lynch himself. Something tells us Mazzy Star is not exactly going to have much trouble with that comeback bid.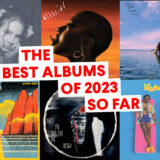 It's safe to describe these bands as "Lynchian," even if they don't exactly meet the "academic definition" provided by David Foster Wallace in 1996: "A particular kind of irony where the very macabre and the very mundane combine in such a way as to reveal the former's perpetual containment within the latter." But after two decades of watering-down and swagger-jacking — see ABC mini­series Wild Palms, A Nightmare on Elm Street 6, Soundgarden and Anthrax videos, the narrative strands buried under the manicured lawns of Donnie Darko — the "Lynchian" plot has been reduced to an easy shorthand for "mysterious" or "dreamlike" or "high-minded noir" or "tragic romanticism that recalls the Chris Isaak era before that defaulted to the pejorative 'emo.'"
'50s music held a happiness, for sure," says David Lynch, "but Elvis also sings 'Heartbreak Hotel.' There's a sweet sadness that could go either way. — David Lynch
Both musicians and publicists have been working diligently to cloak themselves in the smell of Douglas firs, cultivating mysteries by borrowing the ones implied by Lynch. VHS funkateer James Pants describes his most recent album of water-damaged sexx-lawbreakers as "that Twin Peaks sound." Tool's Maynard James Keenan calls the latest from his twangy, gauzy Puscifer project "Twin Peaks in the desert." The press release for breezy Vivian Girl side project La Sera describes the song "Drive On" as "full of hidden menace, like a David Lynch film," and the publicist for '90s frustration corporation Garbage described one particularly shimmering track off their forthcoming fifth album as "the David Lynch one."
In addition, there are bands whose entire aesthetic parrots the unsettling drifts of Lynch collaborator Angelo Badalamenti, creeping like a dark weed from overseas: German depressants Bohren and der Club of Gore, pan-European septet Kilimanjaro Darkjazz Ensemble, and the French crew Dale Cooper Quartet and the Dictaphones, a band who, at the very least, deserve the Godsmack Memorial Award for proudly advertising your influences. Lo-fi agoraphobe Mount Eerie built huge swaths of his recent album, Wind's Poem, around an attempt to evoke the murky air, coffee residue, and swinging traffic lights of Twin Peaks, overtly copping the synths from Cruise's "Falling."
The slurriest and bleariest laptop-to-Tumblr projects, already the artists most obsessed with pop-culture regurgitation, wear their Peaks obsessions as proudly as Deputy Andy Brennan sports his badge (see hypnogogic misremembered-dream weavers Pwin Δ Δ Teaks or blogger-based "neu electronic emotions band" Silent Drape Runners, possibly a well-constructed parody of the former). But ask the bands who are currently the most adept at slinking into Julee Cruise territory, and they'll tell you that they've actually tumbled backward into the red spotlight.