It may have been a sluggish week for Internet goodies, but it was a great one for cover songs. From the excellent and deliberate to the spontaneous and cringe-worthy, here are the week's nine most noteworthy:
The Blog-Baiting:
1. Azealia Banks on Lana Del Rey's "Blue Jeans," as Remixed by Smims&Belle
We already showed you this today, but Azealia Banks did the inevitable and put herself on a Lana Del Rey song. As some have put it, kind of genius move for Foster the People dudes, though.
2. d'Eon on Blink-182's "What's My Age Again," 14 Times
As AdHoc noted, this dude is really fucking with your shit right now. This underground synth guy from Montreal has figured out how to make the entire twenty-something, pop-punk-nostalgic corner of the Internet lose its mind over 14 simple piano variations on a Blink-182 melody. It is pretty awesome (not to mention a little more relaxing), however. His full-length debut comes out June 5 via Hippos in Tanks (via Stereogum).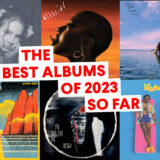 The Classics:
3. Santigold on Creedence Clearwater Revival's "Proud Mary"
Santi brought her whine and dance beats to this CCR classic for Zane Lowe's BBC Radio 1 show the other day. If you like your blues bluesy, you might want to skip this — it's a little too tinny for a purist's ear. If you're feeling adventurous, though, listen at the NJ Underground. By the way, props to Popdust for their headline on this, "Santigoldin', Goldin', Goldin' on the River."
4. Black Hippy on the Temptations' "My Girl"
Okay, so this one isn't a formal cover, so what? The guys in Kendrick Lamar's Black Hippy crew stopped outside to whip out a painfully tone-deaf-yet-totally-endearing cover of "My Girl" for a BET.com host's video series. Schoolboy Q is mysteriously chosen to be on lead, which… okay. The whole thing clocks in under a minute, so we don't have to suffer too long (via NahRight). https://www.youtube.com/embed/3icgfLy55w0
5. Best Coast on Fleetwood Mac's "Storms"
Best Coast's sophomore LP, The Only Place, is supposedly going to be steeped in references to Fleetwood Mac, Bethany Cosentino's self-professed favorite band, so it's unsurprising that she's just taken to BBC Radio to prove her love is real. The cover is supposedly coming out as a 7-inch, too, that'll come with the LP when you buy it at an independent record shop. Listen to the whole show from today here, or just start near the 58:10 mark for the cover itself (via Pitchfork).
6. Laura Marling on the Allman Brothers Band's "Whipping Post"
Lest you forget what an awesome song "Whipping Post" is (here's the original for reference), Marling brought her own brand of gentle, Appalachia-style bittersweetness (emphasis on the "sweet") to the song earlier this month in Vancouver; TwentyFourBit found it earlier this week. Why wasn't this on the Hunger Games soundtrack, again? https://www.youtube.com/embed/EA9CWPIXvGk
The, Well, Non-Traditional?
7. Your Australian Grandma on the Black Keys' "Lonely Boy"
This one almost fell in the Blog-Baiting area, but it was just barely (and weirdly) too sincere for it. This Australian percussionist, named Deb "Spoons" Perry, does her badass cover of the "great little rock n' roll track" after feeding (because duh, Australia) a herd (a peck? a gang?) of kangaroos. We're a little disappointed in the way her son Steven has been treating (read: trolling) her though, by apparently telling her he's "had it on his playlists for years"; the song only came out last October (via the Daily Swarm). https://www.youtube.com/embed/ZNY3i6MybpU
8. Chinese Instrumentalists (Matteo) on Talking Heads' "This Must Be the Place (Naive Melody)"
This band Matteo has a Kickstarter to raise funds for an artist-in-residency invitation they recently got to bring this baby to Sichuan University in China. They'll record an EP with your money. Boing Boing pointed us to this one. https://www.youtube.com/embed/iY7zPXfUzXc
The Place Where Cover-ers Won't Be Invited Back, Probably
9. Glee on Gotye's "Somebody that I Used to Know"
Though the cover happened a bit ago, it was Gotye's back-and-forth comments about his feelings on the zeitgeisty cover that won this video about a bazillion more YouTube hits this week (it's currently at 9.7 million views). Confused? We already told you about this one, too.
https://youtube.com/watch?v=0cay2dnuhcs