Over the course of 13 years and six studio albums, Canadian twin-sister duo Tegan and Sara Quin have almost invariably been described as "indie rock." They're doing all they can to change that for album number seven. "We've made everything different," explains Tegan. "The sound, the process, and the people we're working with are all different. If we could change our band name we would. We've been making music for a while now. It was time to shake things up."
Currently on a break before heading back into the studio in L.A., the 31-year-old pair has been hard at work with producers Greg Kurstin (Kelly Clarkson, Foster the People) and Mike Elizondo (Dr. Dre, Maroon 5), doing their best to incorporate the aforementioned pair's gift for pop and hip-hop hit-making into their distinct, harmony-laden sound. "No matter how we've written songs in the past," says Sara, "we'd fall back on our old patterns and techniques. We wanted to work with people who would break us out of that. We were determined to make our most accessible and poppiest album. Every day in the studio has been a big surprise."
Along those lines, below are the five most important lessons Tegan and Sara have learned while working on the as-yet-untitled album, tentatively due out in late 2012 or early 2013.
Changing Takes Practice
"When I started to write for this record," says Tegan, "I wrote a couple songs and sent them to Sara, and she was like, 'You've done this before. Can you try using different words? Can you try changing direction?' " To achieve that, Tegan turned herself into a student. "I'm not the type of person to keep a journal, but I started writing down things that caught my eye that I really liked. Or I'd demo songs two or three different times and write the lyrics from a difference perspective each time. I also got a book [by Brian Kiteley] called The 3 A.M. Epiphany that has a bunch of weird writing exercises. I was really diligent about doing them all. I was just so determined to not keep writing the same songs. So the last year was like enrolling in my own songwriting university."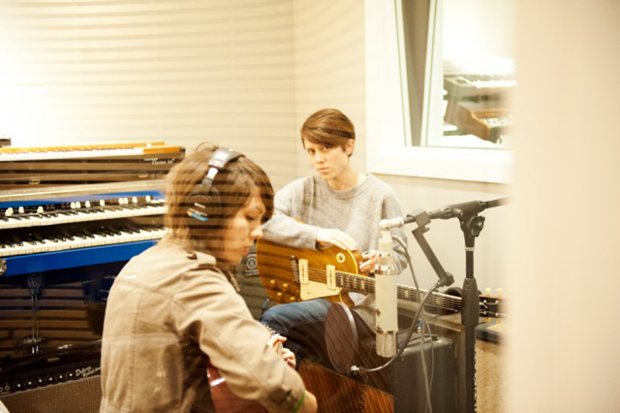 Demos Aren't the Final Version
"A lot of why this record is sounding so different is because we changed our attitude toward demos," says Sara. "For our old records, we'd pretty much make a demo and then flesh it out in the studio and that was it. Basically the final versions were bigger versions of what Tegan and I did by ourselves on the demos. This time, we actively took other paths. Greg [Kurstin] would take a track and then go off for two hours and head in some crazy direction with beats and programming. It's so exciting to hear someone do that with your music. In the past I would've been apprehensive, but this time I'm just, like, 'Wow!' It's great. Nobody will hear this record and wonder if they're hearing our last record or our record from 2004."
The Suits Aren't Evil
"We let our A&R people come into the studio for the first time," shares Tegan. "We used to be really precious about it. Our attitude was that we'd give Warner [Music Group] our finished record and they'd leave us alone. But if you ignore everybody long enough they start ignoring you. So we've been including people because we want everyone at the label to be invested in what we're doing." And have the business folks given any feedback? "Mostly they've been, like, 'Holy shit this is awesome!' " says Tegan.
The Teenage Years Last Forever
In addition to more hip-hop-oriented production ("Don't worry, we don't do any rapping," promises Tegan), the new music is heavily influenced by the ladies' earliest musical loves. "If we're making our attempt at a big pop record, it only makes sense that we'll be thinking about and listening to the pop records that made the biggest impression on us," says Sara. "That's the stuff we first heard when we were kids and teenagers: Bruce Springsteen, U2, Peter Gabriel." Kate Bush's sonic shadow also looms large. "We definitely took elements from her early records," admits Tegan. "All the weird keyboards and drum sounds, the interplay between instruments. We lifted a lot."
Word Mole Rules
"It could get a bit boring when Greg would be tinkering on stuff," says Tegan. "You can't be interested at the mixing board for eight hours a day. So to help pass the time in a way that still allowed us to be listening to the music, Sara and I got obsessed with Word Mole. It's a word game for Blackberries. One day Greg was like, 'That's what you two have been doing the whole time?'" Sara adds: "It's such an addictive game. I got so good at it. I'll kill anybody. You can't even get close to my score!"