As Phillip over at Control Voltage observed, Record Store Day doesn't tend to be too exciting for fans of stuff that doesn't have guitars. And Record Store Day has a particularly dicey relationship with rap music. As I mentioned in my rant about that moronic New York Times Magazine piece, "record store" has come to mean "indie rock-friendly chillspot," and those places, which RSD mostly services (and rewards with the coolest, best stuff) are quite different from the "mom and pop" places that'll sell you mixtapes and might stock the latest Z-Ro album. There's also last year's controversy in which many of the independent record stores involved with RSD signed an open letter to Jay-Z and Kanye West about their decision to release Watch The Throne exclusively on iTunes and Best Buy for the first two weeks, before indie shops got to sell it. The uproar seemed a bit disingenuous and publicity-grabbing, given how little most these stores usually care about rap fans.
That said, there's a decent selection of rap releases this year: the collaboration between Aesop Rock and Kimya Dawson, a Childish Gambino single, Common's The Dreamer, The Believer on vinyl, and something from Ninja Tune's DJ Food. There's also a "covers" seven-inch with the Carolina Chocolate Drops doing Run-DMC's "You Be Illin'," which, like, no. Just no. Depending on how much cash I bring with me or what I do or don't find tomorrow, I may grab some of these: Bruce Springsteen's "Rocky Ground" seven-Inch, the rappy single from his sorta kinda rap album (to my ears anyway) Wrecking Ball; Death Grips' major-label debut The Money Store; Gorillaz's "Do Ya Thing" ten-Inch featuring Andre 3000 in total freakout mode; and Shabazz Palaces' Live At KEXP LP. Below, though, are my five picks that could justify waking up early and enduring a line full of deal-seeking dads and Ebay parasites.
Afrika Bambaataa/MC5, "Kick Out the Jams" seven-Inch (Warner Brothers)
This is not as exciting or even as interesting as you'd imagine a Bambaataa cover of "Kick Out the Jams" would be, but it's a strange mid-1980s artifact from an era when rap-rock fusion was first gaining its footing, in the wake of "Walk This Way." And it remains, however cheesy, really fascinating. Bambaataa swirls up the MC5's song into a noisy stew of echos and guitar loops, as if he's trying to hammer the 1969 revolutionary rock classic into the super clean, hard-rockin' cheez of Billy Squier's "The Big Beat," or something off WWF's The Wrestling Album. It's dying to have say, the Beasties shouting and belching over it. The solos are very Miami Vice soundtrack. I don't know, man, it's weird. Aren't you sold on it, yet?
Chuck Person, "A.D.D. Complete" seven-Inch (Software)
Chopping and screwing is easy to do with computer technology, but doing it well still remains as elusive a skill as ever. Some of the most effective and interesting C&S isn't being done by OG Ron C or the other big names, it's coming from Daniel Lopatin, a.k.a. Oneohtrix Point Never, a.k.a. Chuck Person. He calls them "ecco jams," and they are patient, considered slowed-up manipulations of every type of genre or style. If you've heard Ecco Jams Vol. 1, you know how it bounces from Simply Red to Tupac, which echoes the eccentric and genre-be-damned approach of DJ Screw himself, who gave the C&S treatment to something like Junior's "Mama Used To Say," along with Fat Pat, and the radio hits of the time. My dream is that the next Drake record features a few Lopatin productions.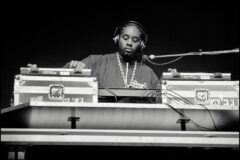 Danny Brown, XXX LP with bonus seven-inch (Fool's Gold)
What's left to say about this amazing mixtape? It received a quiet CD release recently, and now, it's finally out on vinyl for Record Store Day. The format is perfect for the album, which is really a set of conceptually connected song suites; on four sides of vinyl, it almost chops XXX into different dramatic acts. This is the thing that I'm intent on finding, even if it means driving around the entire state tomorrow. If you're in New York, the Fool's Gold store will have the XXX vinyl, as well, and they're giving away free 12-inches with every purchase. And if you don't want to speed around like a maniac, and you're cool with not getting that "XXXapellas" seven-inch, XXX will be getting a wider, conventional vinyl release later in the year.
Odd Future, The OF Tape, Vol. 2 LP (Odd Future Records)
I've come to really enjoy this Odd Future album. It's amazing how little they've changed their approach or style and how insider they've remained. They sprinted out of their meme potential, out-lived all the thinkpieces that dudes like me were penning, and here we are, about one year after the "Yonkers" video, the game-changing appearance on Late Night With Jimmy Fallon, and the release of Goblin, and The OF Tape, Vol. 2, is more of the same, for the most part. Like XXX, The OF Tape Vol. 2 will benefit from the vinyl release, giving you a break when you need it. It's exciting to think about that massive ten-minute track, "Oldie," taking up almost an entire side of vinyl.
The Pharcyde, Bizarre Ride II: The Singles Collection seven-Inch/double-CD box set (Delicious Vinyl)
The 20th anniversary edition of this regular-guy, rap-nerd classic, with a whole lot of really fun and unnecessary extras. You get the singles spread across seven seven-inches with original art (the "Ya Mama" cover illustration is worth it, for sure), and two CDs with instrumentals, a cappellas, remixes, and liner notes by producer J-Sw!ft. Plus, It's in a box that says "Oh shit!" when you open it, and it has both a poster and a puzzle of the iconic cover. The real purpose of these anniversary sets, though, is simply to relocate an old record back into history, and Bizarre Ride II deserves it. Kanye West has called it his favorite album, and given how so much of 2012 rap stems from Kanye's early-2000s, self-deprecating nerd shtick, itself retrofitted from Bizarre Ride II, it's a good time to go back to this one.