SPIN Rating:
Release Date:
April 17, 2012
Label:
Jagjaguwar
Spencer Krug presents his work directly. Since adopting his Moonface moniker, the ultra-prolific, increasingly nomadic Canadian singer-songwriter (formerly of Wolf Parade and Sunset Rubdown) has used the titles of his yearly releases more as explicit labels. His 2010 Dreamland EP came with the vivid tagline marimba and shit-drums. Last year, he unveiled Organ Music Not Vibraphone Like I'd Hoped. And now, for the project's first proper full-length, the fairly literal With Siinai: Heartbreaking Bravery. Written and recorded with Finnish krautrock innovators Siinai in Helsinki shortly after the end of Krug's relationship with Sunset Rubdown bandmate Camilla Wynne Ingr (which took that group down with it), the result is indeed both heartbreaking and brave. It's also Krug's finest work to date.
If those other records felt a bit more like deadpanned in-jokes than grand artistic statements, that was in keeping with their scaffolded, slapdash feel. Krug was exploring. Heartbreaking Bravery, though fully realized, is no exception. It is an exorcism on tape. It is a headlong, electric leap into a pit of despair so black and bottomless as to be indefinable, like the ocean floor. And though much of it sounds as charred and tarred as former Frog Eyes bandmate Carey Mercer's Blackout Beach work (see the red-eyed whorl of "Faraway Lightning" here), it's also being pushed along by a guest-starring band whose most recent (and SPIN Essential'd) full-length, Olympic Games, is a fount of cloud-parting uplift. Siinai take kraut's cyclical, often psychedelic structures and coat them in new colors and textures; melting together with Krug, be it via the incandescent hum of "Shitty City" or the synth-fueled swirl of the Stevie Nicks-referencing rave-up "Teary Eyes and Bloody Lips," they make a terrific team. Go back to those other Moonface records (or even the towering, Byzantine arrangements of his Sunset Rubdown catalog), and you'll find Krug gone wild in keyboard mazes of his own design: breathtaking, but not always lucid.
Conversely, on this album's titular opener, our baby-faced British Columbian hero is buttressed by aching drones, suspended in air with drizzles of guitars, and smeared across every mesmeric surface of the recording. Siinai provides him all kinds of room to let it all out; and he does. Krug's polarizing vocal style (rich in both hiccups and bellows) often sounds like someone is beating words out of him with a cane, usually lending them a rousing upward force in the process. Luxuriate, for example, in the skyward misery that is "Yesterday's Fire" and its closing yowls: "But I will never forget / Oh no I will never forget about the way we played the Fall / And broke your plates against the wall as the sun rose." Or consider "Quickfire, I Tried," as he levitates amid a double helix of yawning synths not unlike those that made so much of Olympic Games soar, taking it up another thousand feet, his voice quickly closing the gap between abstract incantations and full-blown crying. It's sublime: The result is one in a spate of torch-songs-turned-anthems as enveloping and immediate as anything he's written since Wolf Parade's "I'll Believe in Anything."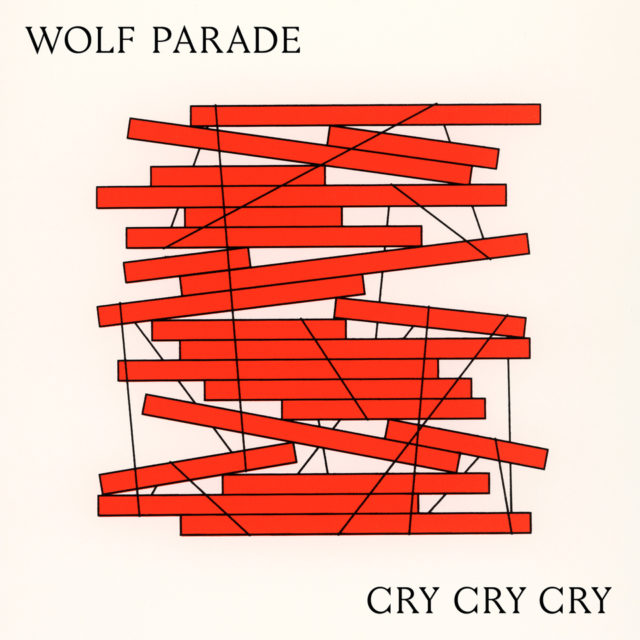 In fact, for an album so elegiac in tone, it teems with implacable, irrepressible life. Even eight-minute dirge "Headed for the Door," which in addition to working in a chilling spoken-word interlude addressed to a young Goth, juices up its "bloody" scenes of lovers' quarrels with swell after world-beating swell. (It also includes the album's best line, plucked from the back-and-forth of that fight: "There was a forest fire inside of her.") It's not a break-up album of a thousand lyrical darts like Dylan's Blood on the Tracks, nor a gauzy meditation on learning to stay warm on your own like Bon Iver's For Emma, Forever Ago. Instead, it's a distant relative to Kanye West's 808s and Heartbreak: a bold, uncompromising act of self-immolation. The howling, fist-to-piano coda of closer "Lay Your Cheek on Down," in particular, sounds like a man on fire, his insides bare by the time it's done. Heartbreaking Bravery is both entryway and endpoint, a listening experience that's harrowing and gripping and, no matter how you come at it, moving. In other words, it remains true to its title.