"It's our favorite holiday," Yo La Tengo's Ira Kaplan declared from the Le Poisson Rouge stage, "Lambchop Comes to New York Day." It was a quiet celebration, but a celebration nonetheless. Friends with Kurt Wagner's countrypolitan soul-squad for nearly two decades, Yo La Tengo kicked off the festivities with a surprise 45-minute acoustic set billed as Charlie Horse, a fellow hand-puppet from the same Shari Lewis show where Lambchop cribbed their own sheepish name.
With drummer Georgia Hubley center-stage behind a snare/cymbal set-up, her warmly grained voice anchoring the band's whispered harmonies, Yo La Tengo was joined for five songs by Lambchop's Tony Crow on the venue's baby grand piano, including Sun Ra's "Dreaming" and Ernie Chaffin's "Feelin' Low." Delivering spare rearrangements of originals including "Sugarcube" and "Nothing to Hide," and covers that ranged from Columbus lo-fi trio Times New Viking ("Move To California") to their beloved Kinks ("There Is No Life Without Love'), Yo La Tengo brought the dinner-theater-like Le Poisson Rouge to a whisper.
Not that the low-key Hobokenites were trying, however, but nobody could upstage — or play quieter than — Lambchop. Kurt Wagner's collective arrived fresh on the back of an elegiac new album,Mr. M, and almost two months of touring in Europe, where they find significant portion of their fanbase. Once containing nearly a dozen-and-a-half members, including horns and auxiliary percussion, the Mr. M edition of Lambchop is down to a slim quintet, the band's motley grace having shed the "motley" somewhere along the line.
Seated in a horseshoe — Wagner and his acoustic guitar all the way to the right under a face-dimming baseball cap — Lambchop made music that was quieter than a hush, even, so familiar as to sound entirely inside the listener's head and filled with devastating intimacy. Some of the effect came from Wagner's voice, microphone turned up to catch every teeth-on-tongue syllable of his stylized enunciations. Some came from Wagner's words, emanating a confidential ease with language that rambled beyond the bounds of individually graspable couplets and into a warm, flowing profundity, Wagner often sounding less like a singer singing a song and more like a benevolent consciousness communicating itself directly. Some of the effect, too, came from the construction the music, a rich strain of idiosyncratic country-soul somewhere between the complex melancholy of Pet Sounds and the cosmic wisdom of John Wesley Harding. But mostly it came from Lambchop themselves.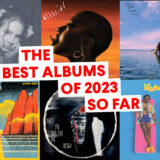 In place of Mr. M's string arrangements, the quintet moved with oblique and nimble purpose, each song an amassment of small, tactile parts — an ambient snare roll, a taped-down organ key, a tremor of guitar reverb — all rotating together. There were rarely vocal harmonies, but the effect was the same, an instinctive blend that turned words and music into something greater and more mysterious. When Yo La Tengo's Ira Kaplan and James McNew joined their friends on stage for Bob Dylan's "I Threw It All Away" — Kaplan adding to the harmonies on guitar, McNew on keyboard — the celebration grew more communal, if not exactly more festive. Some holidays, it seems, are made for reflection.
Yo La Tengo:
  "Alyda" "Move To California" (Times New Viking)
"I'm On My Way" "There Is No Life Without Love" (The Kinks)
"Nothing To Hide"
"One PM Again" (with Tony Crow)
"Dreaming" (Sun Ra) (with Tony Crow)
"Feelin' Low" (Ernie Chaffin) (with Tony Crow)
"Sugarcube" (with Tony Crow) "Our Way To Fall" (with Tony Crow)
Lambchop:
"Give It"
"If Not I'll Just Die"
"2B2"
"The Good Life (Is Wasted)"
 "Kind Of"
"Gone Tomorrow"
"Betty's Overture"
"Mr. Met"
"Nice Without Mercy"
"Buttons"
"Never My Love"
"Greylines In Heaven"
"My Blue Wave"
"Soaky In The Pooper"
Encore:

"Guess I'm Dumb" (Brian Wilson)
"Squidbillies Theme" (Billy Joe Shaver)
"I Threw It All Away" (Bob Dylan) (with Ira Kaplan & James McNew)