Face it, mensches: The concept of Teutonic technologists Kraftwerk performing eight live shows, each based on a single album, at New York's Museum of Modern Art could have packed all the surprises of Wagner's Ring cycle — just substitute robots with computers for the fat lady and the symphony. If you'd tinkered even slightly with any rhythm music made since 1975 (minimalism, disco, hip-hop, EDM), or dabbled in dime-store futurism aesthetics of any other discipline, Kraftwerk's devices have infiltrated your world, either first-hand or via your favorite composer/DJ/producer/developer/designer. Which is why you could reliably assume that what the MoMA shows might lack in innovation (especially since co-founding mastermind Florian Schneider would not be taking part) it would make up for in production. And wouldn't that be just like Kraftwerk — for whom technology wasn't simply a set of tools but content — to let the process become the focus.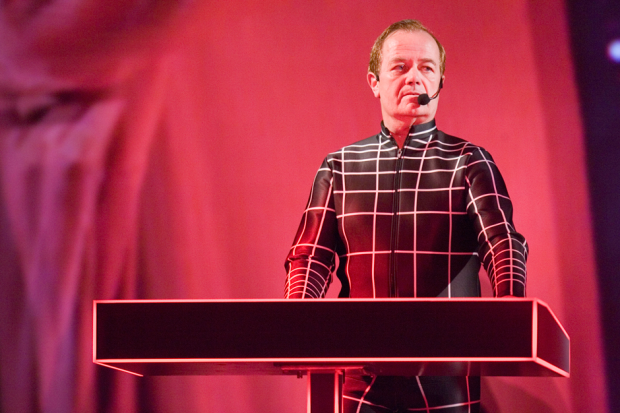 At Kraftwerk's MoMA performances, that process is 3D. And you don't get any more cheapie futurist than the glasses that tony audience members received upon entry into the museum lobby, swathed in the blue-light of Autobahn, the 1974 album advertised as this evening's centerpiece but ended up as only about a third of the 90-minute program. As gimmicks go, "Kraftwerk in 3D" seems like a "Laser Floyd"-style one-liner you've heard before; though in the hands of the A/V designers of the group's Kling Klang Studios and the techs of MoMA (and generously funded by that other model of German engineering, Volkswagen) the result elevated the form into something subtle, rich and, at times, emotional.
From the opening pulses of the group's manifesto "We Are the Robots," the familiar visual trappings of the songs came to life not as Hollywood CGI hurricanes, but like slightly more colorful phrases in a tonally familiar conversation, affecting everything around it. Warm in locution, analog in texture, empathetic in timbre, it was a spectacle that could only be made possible in the digital age, but had none of its hyperactivity, radiating like an older soul. For instance, the graphic-versions of musical notations (flowing from the car radio in the animated "Autobahn," scrolling through deep space during the excellently ambient "Kometenmelodie," and sliding down what looked like a shower-drain in the "Techno-Pop/Music Non-Stop" finale) all spoke to music as a multi-dimensional, all-purpose soundtrack to any sort of action and behavior. It was an iPod metaphor, a philosophy of modern programming, and a convenient notion for musicians who were now trying to take their life's work into a final resting place, the museum. That it was deeply true on each level only gave it more power. (The presentation also, for the moment, put Kraftwerk back on top in their decade-long arms race with Daft Punk, for live electronic show production supremacy.)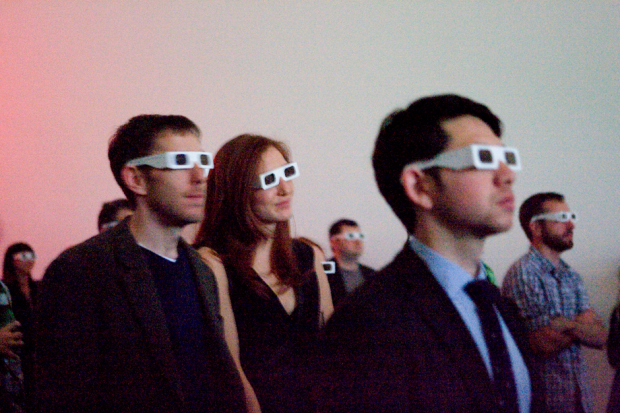 Yet what of the circus of the event, the one that the Internet's calendar-keepers-cum-meme-builders deemed as April's see-or-die ticket? Is there a kernel of truth to be gained from seeing four aging musicians move effortlessly from performing for 80,000 candy-ravers at Miami's Ultra to the Donald B. and Catherine C. Marron Atrium? Well, it is funny seeing 450 media-pop socialites in 3D glasses, and, as expected, most of the audience had little interest in letting the beat move them — despite the space's excellent live sound — leading one to believe that a club is still this music's natural habitat. So, if there was anything special to gleam here, it was that, in the world Kraftwerk helped shape, music's epiphanies are not the provenance of old-style exclusivity. For all its modern communication cul de sacs, the age of robots beats the age of the fat lady for democratization. And that might have been part of Kraftwerk's point all along.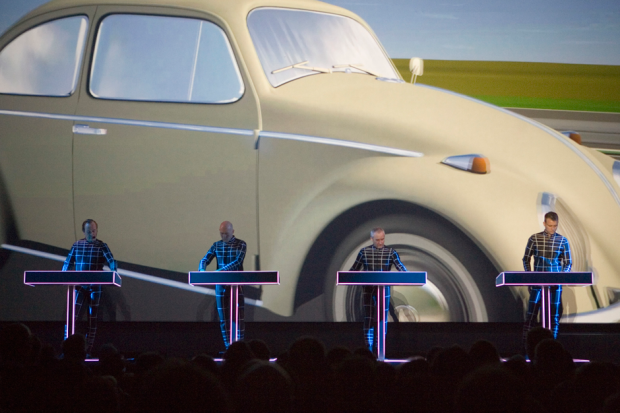 Set List:
"We Are the Robots"
"Autobahn"
"Kometenmelodie 1 & 2"
"Mitternacht" / "Morgenspaziergang"
"Radioactivity"
"Trans-Europe Express"
"The Model"
"Man-Machine"
"Numbers" / "Computer World"
"Computer Love" (The Mix version)
"Home Computer" (The Mix version)
"Tour de France" / "Aerodynamik"
"Expo 2000"
"Boing Boom Tschak" / "Techno Pop" / "Musique Non-Stop"