Delawarians celebrate: You are getting your own music fest! The Firefly Music Festival will debut July 20-22 at the 87-acre Dover International Speedway with an all-star cast: Jack White, the Killers, and the Black Keys are slated as headliners, while the Flaming Lips, John Legend, Death Cab for Cutie, Passion Pit, and Girl Talk will also add some pizzazz to the inauguration (via CoS).
According to Delaware Online blog Pulp Culture, locals are already canceling their road trip plans to Bonnaroo and the like to save a bunch of gas and ticket money and see the 40+ acts at home, where three-day passes are a paltry $178 (in comparison with the $285 they'd have spent on Coachella).
The 17th annual Gathering of the Vibes has also announced its lineup. This morning, Deadheads were surprised with the sort-of-good news that the surviving four members of the Grateful Dead (Bob Weir, Phil Lesh, Bill Kreutzman, and Mickey Hart) will appear — but individually, with their newer projects only… officially, anyway. The festival was started back in 1996, the year following Jerry Garcia's death. Other acts slated for the four-day adventure in Bridgeport, Connecticut's Seaside Park include the Avett Brothers, Primus, Zappa Plays Zappa, Lettuce, and Soundtribe Sector 9 — not a whole lot of mainstream rock or indie this year, as the fest's organizers have experimented in the past. "Last year we had Jane's Addiction and Elvis Costello and people loved it," Vibes fest founder Ken Hays told Billboard, "but I think this is a little bit more back towards the foundation of our roots in terms of the music."
But there's plenty of mainstream music to be found at KROQ's Weenie Roast. The Los Angeles radio station's 20th anniversary event is scheduled for May 5 at Irvine, California's Verizon Wireless Amphitheater. This year it's anchored by Coldplay, and there's plenty of '90s rock (Garbage) and bands that love '90s rock (Silversun Pickups) on the bill.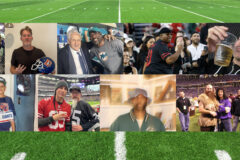 Firefly 2012 Announced Lineup:
The Killers, The Black Keys, Jack White, Death Cab for Cutie, John Legend, The Flaming Lips, Passion Pit, Cake, Lupe Fiasco, Girl Talk, Young the Giant, OK Go, Michael Franti & Spearhead, Cold War Kids, Tinie Tempah, The Wallflowers, Chiddy Bang, AWOLNATION, The Head and the Heart, Grouplove, Trampled By Turtles, Charles Bradley and His Extraordinaires, Bombay Bicycle Club, Mayer Hawthorne & The County, Cults, Graffiti6, Allen Stone, Walk the Moon, Blind Pilot, The Felice Brothers, Heartless Bastards, Mariachi El Bronx, Matt Costa, J Roddy Walston and the Business, Ra Ra Riot, Imagine Dragons, Kids These Days, Penguin Prison
Gathering of the Vibes 2012 Announced Lineup:
July 19: Dark Star Orchestra, Yonder Mountain String Band, Zach Deputy, Royal Family Ball featuring Soulive and Lettuce
July 20: Phil Lesh & Friends, Bob Weir, Bruce Hornsby & Branford Marsalis, 7 Walkers, Greyboy Allstars, Conspirator, Kung Fu
July 21: Mickey Hart Band, Primus, Zappa Plays Zappa, Sound Tribe Sector 9, Deep Banana Blackout, Ryan Montbleau Band, Strangefolk, McLovins
July 22: Avett Brothers, Steel Pulse, Band Together
KROQ Weenie Roast Lineup:
Coldplay, Incubus, The Offspring, Silversun Pickups, Pennywise, Angels & Airwaves, the Dirty Heads, Garbage, Awolnation, Grouplove, Of Monsters and Men, Walk the Moon