A Helpful Guide to Spring 2012's Finest Men's Skirts
Matt Korvette urges you to free yourself and treat yourself.
It's not just 2012, but spring of 2012 — men of all orientations, ethnicities and cultural backgrounds should exercise their freedom to wear skirts. And I'm not talking about women's skirts, but skirts specifically designed for men. We don't wear women's jeans (Attack Attack excluded), why settle for women's skirts? The good ones don't come cheap, but trust me: you're worth it. Here's a quick buyer's guide.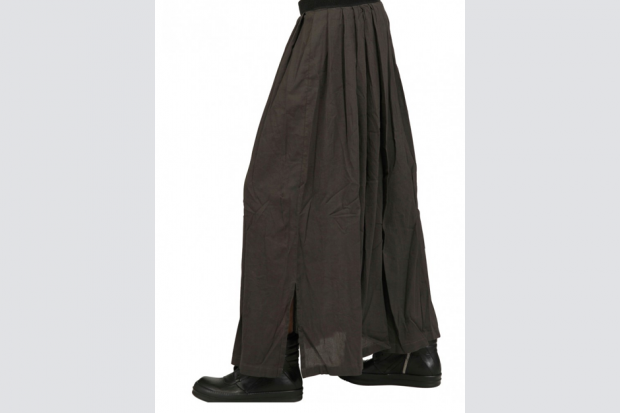 Silent by Damir Doma — Viscose Canvas Pleated Skirt
Damir Doma's diffusion line Silent has been my go-to for thoughtfully-considered basics as of late, which now includes this long-ass skirt. The pleats eventually fade into chaos as they crawl down the leg, resulting in a look that will have passersby wondering if you're an organic farmer from some exotic country they've never visited. Lightweight and beach-ready.$416.00, Luisaviaroma.com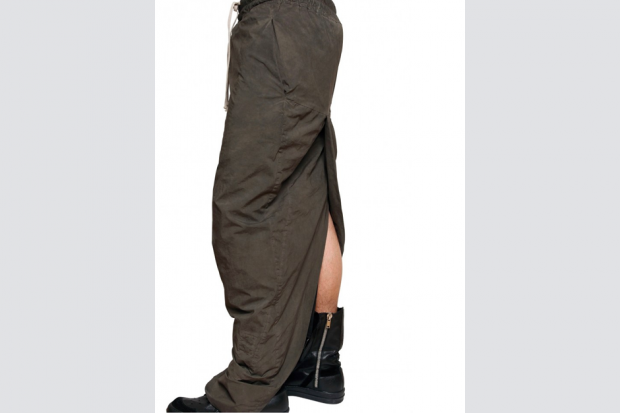 Rick Owens — Double Stretch Poplin Skirt
It's clear that ankle-length skirts are the way to go this season (your thighs are safe… for now), and this Rick Owens piece pretty much steals the show. It looks like the wearer is a victim of mummification via poplin, leg motion tightly restricted, but the vent in the back allows for quick escape from gangs of harassing schoolchildren. Pair it with some strappy sandals and convince a retirement home that you're Jesus Christ Jr. — the possibilities are endless. $573.00, Luisaviaroma.com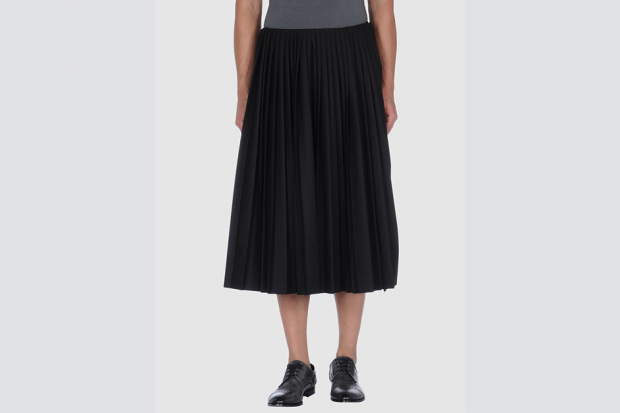 Giuliano Fujiwara — Divided Skirt
For those who've tried hiding behind a curtain only to get busted by the cuffs of their jeans, this Fujiwara skirt will keep your location safe. The pleats on this one put the Silent skirt to shame, maintaining their rigid form from waist to hem, and their 100% wool composition will keep you warm in even the chilliest gusts of wind. If you've been wondering who your true friends are, this skirt will provide the perfect litmus test. $890, Yoox.com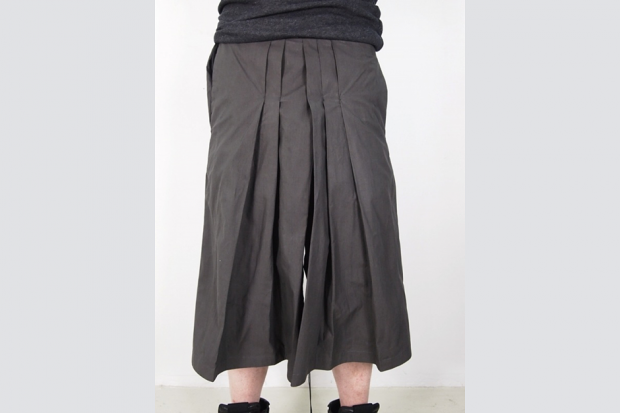 Lumen et Umbra — "Shorts"
Want to test the waters of skirt-wearing without taking a plunge in the deep end? These Lumen et Umbra "shorts" are practically skorts, flowing like the best of 'em while still retaining some semblance of a crotch. Lumen et Umbra has been one of my favorite designers lately, their unusual cuts and fascinating materials quickly becoming their trademark, so it's no surprise their skirting was on point. $506,