Go Inside M83's '80s Sanctuary
Anthony Gonzalez takes us on a tour of his apartment in the Hollywood Hills. Judd Nelson and stuffed rabbits await.
"Eat my finger, motherfucker!" says Anthony Gonzalez, speaking to the Venus flytrap that his girlfriend, Kim, gave him for his 31st birthday. The mastermind behind dreamy synth-pop project M83 started his career in his native France with the 2001 debut M83. But last year's Hurry Up, We're Dreaming, a double-CD set that swells with go-for-baroque populism, was his true breakthrough. "I feel ?emotional making my albums," he ?confesses. "If I dance alone and cry ?in my studio, there's a good chance other people are going to feel that way listening to my music."
??
Surveying the scene from the balcony of his Hollywood Hills home, Gonzalez says, "I feel like the sound of this album is influenced by L.A. There's something so cliché about living in Hollywood, but awesome for a French dude who knows the city from movies and TV shows. This is how I envisioned America."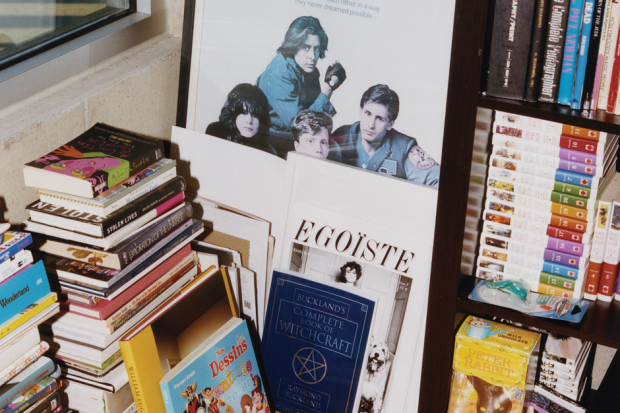 Once inside, he takes a swig from his West Coast IPA, pointing out the posters for The Breakfast Club and Say Anything: "To me, the '80s were the starting point to the future: colorful, creative, inspiring." A framed, specially customized Pretty in Pink one-sheet takes pride of place in the boudoir. He explains: "John Hughes movies were so close to reality. They speak to you directly in a very genuine way."
Like M83's music, Gonzalez's home décor is a collision of nostalgia and futurism. The entire second floor is stacked with the vintage synthesizers he used to create Hurry Up, and an antique bookshelf sticks out in his otherwise contemporary living room. "I love the idea of having different time periods exist in the same place. This bookshelf is the property of my aunt's godfather. She lived in Toulouse in a huge castle, and when I was very young, I would visit her in the summer. There were rabbits everywhere."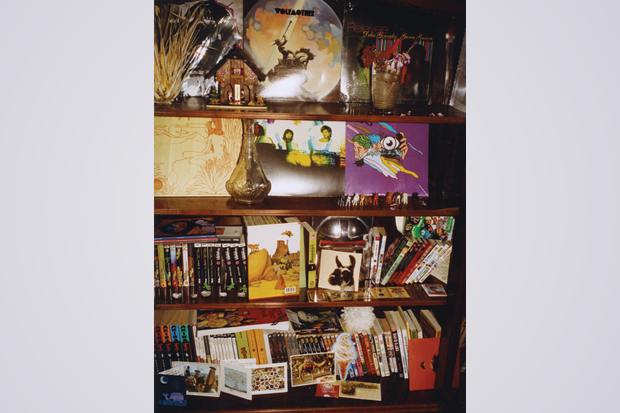 Today, the bookshelf serves as a shrine housing his massive collection of anime and sci-fi: "I'm a huge fan of Japanese comics. No. 5 is my favorite comic of all time — it's about a superhero who becomes an outcast when he falls in love with a normal woman. It was the first time I ever cried reading a comic book."
An ominous Cylon mask from the cover of a Battlestar Galactica DVD box set also stares out from the shelf: It's a not-surprising possession for a guy who named his band after the spiral galaxy Messier 83, located 15 million light years from Earth. "I grew up watching a lot of science fiction, and it's still important to me," he says. "I'm of the generation that thinks ?it's important to be connected to space, that wonders what's out there."
He gestures to a vinyl copy of Ash Ra Tempel's trippy 1972 kosmische classic Schwingungen. "This is my first album ever," he says. "My older brother got me into great krautrock bands like Ash Ra Tempel and Can. I bought this for super cheap. I was already into Tangerine Dream and Jean Michel Jarre, whom I discovered on French television. It sounded like the music of the future."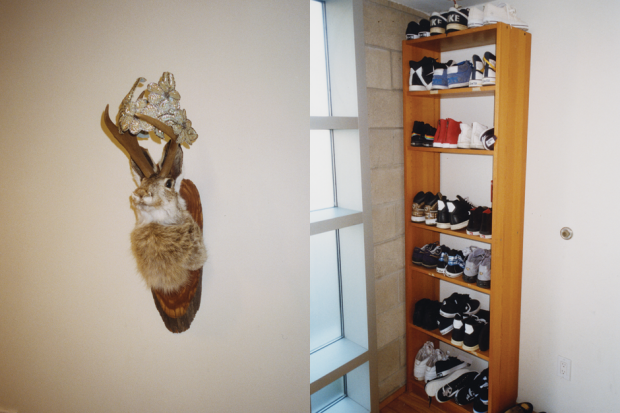 Gonzalez's apartment is as much a temple to youth culture as it is a home. Going downstairs, you pass an enormous floor-to-ceiling cabinet filled with Converse sneakers in every possible hue and style. "Converse are timeless," he says. "They represent the American dream to me. I have the Pink Floyd Chuck Taylors here and the Metallica ones, too. I would love to do an M83 pair."
Gonzalez grabs an '80s-era Vision skateboard leaning against the wall as he opens the door to his private garage. "It was my fantasy to have my own mini ramp," he says. "I got into skateboarding when I was 13 or 14. I was part of this great group — some were punk, some were death metal, but we all connected. We would hang out with homeless friends, take drugs all the time, and get drunk at three in the afternoon in the public square in the middle of the city. Those were the best years of my life!"