Austin Sherbanenko's Odyn Vovk label is one of the few American design houses to mesh with my personal aesthetic tastes. His designs are dark and rugged, conjuring images of hard-fought battles on Tatooine, that sand planet's gritty deserts amiss with barbed wire and shrapnel. I've always picked up on an ostensible metal influence in his work, from the label's name (sounds like a Southern Lord signee) to the black cloaks and hooded robes he creates, so I managed to get in touch and ask him some questions about his musical inspirations — his answers have led me to appreciate Odyn Vovk even more.
To what extent has music influenced Odyn Vovk's aesthetic? When you look at your clothes on the whole, what sort of music plays in your head?
Music is a huge inspiration for the entire brand. Music is always playing in our studio, and in the office all day. One of our in-house sewers is in band and plays a twelve-string guitar. He rules, and plays acoustic around the studio at lunch time. Since a young age, I've always been attracted to heavier music influences along with rap, oddly. Mostly hardcore and metal/black metal. No, not Slayer or Slipknot! Heavier like Gorgoroth, Mayhem, Dark Throne and Marduk. The energy I feel is very empowering and motivating. When I look at the collection as a whole, or envision looks going down the runway, I have to hear something that flows a little better though! A friend's band in Brooklyn called EUC (Electric Umbilical Chord) played live at the AW12 runway show in NYC, and they are more underground instrumental, dark techno-ish I guess you could say. They really have their own thing going on and I still can't quite put my finger on it, which is why I like it so much.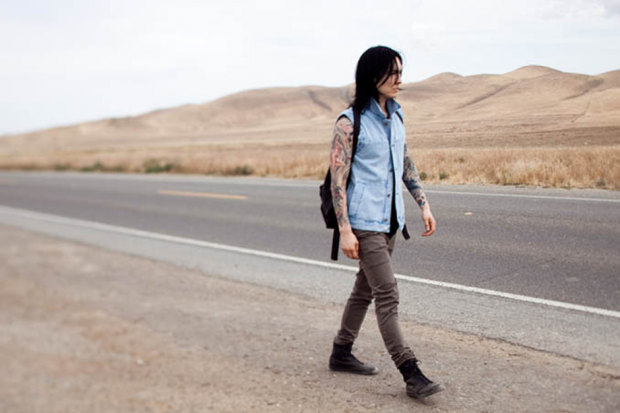 Has your taste in music evolved along with your fashion style, from a teenager to an adult? Is there any parallel there?
My appreciation for music has definitely evolved and grown, and I'm constantly discovering new music with the help of the Internet. I still listen to the same bands and music over and over again though. I'll get sick of something and go back to it; it's a nice feeling to be able to do that and still enjoy it. I don't listen to the radio either, and when I do hear it, I rarely hear anything I like (except for Lil Wayne!). I do like a pretty wide variety of music, just depends what I'm doing or where I am. For instance, I like to ride my motorcycle and listen to Roky Erickson. "Night of The Vampire" is one of my favorite songs. When designing I need some metal, SUUNS or Avalanche…
How do you go about choosing music for your runway shows?
I usually have a vibe in mind that I want to accomplish. I try to have something that allows people to sort of zone out and really focus on the clothes. The last show we just did in the Ukraine during Mercedes-Benz Kiev Fashion Days I mixed three songs together. URFAUST as the intro, because it had a perfect 35-second build into a nice BOOM to start the first model. Then going into EUC's "Land of Ashes," and finishing with SUUNS. The finale songs, when all the models walk out, I always do something more fun — this time I did Black Sabbath's "Paranoid"! I think people were really hyped and left in good moods.
If there's a musician, living or dead, you could create a full look for, who would it be?
Oh I don't know, I never think about those kinds of things… I never have one person in mind when designing a collection, it's all about the fabrics and shapes, and whatever comes to mind first.