Damon Albarn's most famous projects may not make it to see 2013. The British musician all but destroyed Blur and Gorillaz fans' hopes of new material, seemingly to divert attention to his new-ish solo project Dr. Dee, in a recent, particularly intimate interview with the Guardian.
In the interview, Albarn explains that Blur will most likely end its run following their Hyde Park show at this summer's Olympics' closing ceremonies, citing difficulties carrying on with the band creatively after having been apart for five years (from 2003 to 2008). "I find it very easy to record with Graham [Coxon]. He's a daily musician," he says of the band recently honored at the 2012 Brit Awards for its achievements. "With the other two, it's harder for them to reconnect. You know what I mean? It's fine when we play live — it's really magical still — but actually recording new stuff, and swapping musical influences… it's quite difficult."
Gorillaz' fate seems even bleaker. Albarn refers to the project at first with pretty much ludicrous casualness: "Gorillaz was a really wonderful, spontaneous thing. It started with two people sitting on a sofa, going, 'Let's make a band.' 'All right, I'll go into my studio and draw some characters.' 'I'll go in mine and make a tune, and we'll put them together.'" But as for whether the band will put out new music following their recent Converse collaboration track with James Murphy and Andre 3000, Albarn's answer is a definitive "er… unlikely," explaining that during the project's last record Plastic Beach, he and illustrator Jamie Hewlett were "at odds" — during the band's 2010 tour, for example, "the music and the videos weren't working as well together, but I felt we'd made a really good record, and I was into it. So we went and played it." He said the pair have had a sort-of fall out since then.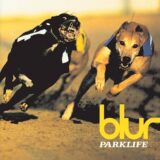 Still, the door isn't slammed shut quite yet. Consider that fact that Albarn is now friendly with Noel Gallagher, who wished Albarn would "catch AIDS and die" in 1995. Translation? Damon can make peace with just about anyone on the planet, even a disgruntled Hewlett (someday, anyway, probably). Furthermore, in the interview, Albarn doesn't use absolutes like some dream-killing artists. As he said himself, "I hope that's the truth, that [the Hyde Park show] is how we end it…[but] one thing I've learned…is that everything I think I've got totally sorted out, and I know exactly what's going to happen — it never works out that way."