Frustratingly, and perhaps ironically, given my profession, I don't find time to listen to a lot of DJ mixes. There's always a promo to be checked out, an album to be reviewed, research to be done — and by "research" I mean an hour spent plummeting down a YouTube rabbit hole, until you've forgotten what you went looking for in the first place. My listening habits are maddeningly disjointed these days, and I'd guess it's not just other music critics who might share my situation.
So there's nothing like unplugging from the data stream and handing over the controls to a trusted DJ. For the following hour or so, you don't have to make any decisions about what to listen to; you're just along for the ride. Here are five of the most transporting sessions I've come across in the past couple of weeks. (And, as a bonus, a sixth: DjRUM's spellbinding bass-music foray for Resident Advisor, which I only discovered as I was wrapping up this post. Back to the first problem: finding the time to listen to all of it.)
Four Tet, "Conference of the Birds"
Let's take a moment to praise the "blind" DJ mix, the session with no tracklisting. Don't get me wrong, set lists are important: especially now, with the music industry in the tank, they offer crucial exposure for artists and labels. (As those LP stickers in the 1980s put it, "If you play it, say it!") And, with the glut of mixtapes available online, they're also pretty key for listeners, who don't have much time to muck about. But when you trust the DJ enough to invest an hour in his or her wares without knowing what's in store, the results can be profoundly gratifying. Rather than ticking off boxes on a list, you're swept up in a kind of narrative, with no idea of where you'll go or how it will end. Such is the case with Four Tet's astonishing new mix, "Conference of the Birds." It doesn't hurt that it's an evocative title, capturing not just the mix's soaring arc but also Kieran Hebden's preference for chirping melodies and rhythms that intricately overlap like feathers. In just 43 minutes, Hebden takes us through African chants, disco funk, deep house, and ambient pop, judiciously accompanied by actual birdsong. According to a tweet from Hebden, he has two unreleased tracks in the mix; I'm guessing that one comes in around the 27-minute mark and the other 10 minutes later. (There's also a remix of Four Tet by the New York producer Anthony Naples, whose debut EP is about to come out on the Mister Saturday Night label.)
Beyond its stylistic scope, what impresses me is how carefully knitted together it all is. You rarely know when a track is entering or leaving the mix; at any given point, it's virtually impossible to tease out the intertwined elements. But it's a loose weave, too, befitting the rippling hand percussion and wonky, off-time programming that Hebden favors. The mix feels unusually porous — like a nest. Live in it for a while.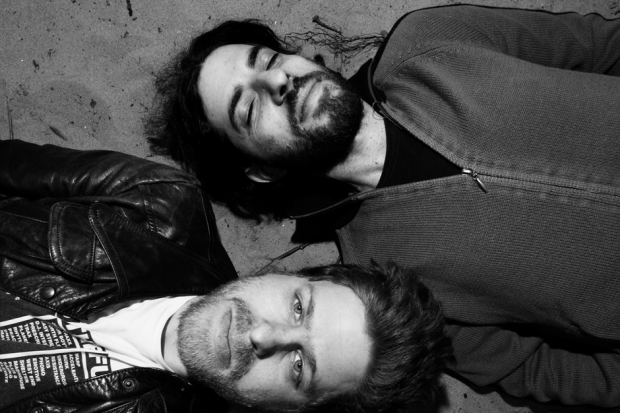 Juju & Jordash, "Live Improv @ Control Club, Bucharest 22-03-12"
Most "live" sets today have about as much in common with real-time performance as that Tupac hologram did to a carbon-based life form. That's not the case with Amsterdam's Juju & Jordash, however. They perform music much the same way they record it: plugging in a mess of gear and jamming like mad. For a recent set at Bucharest's Control Club, they lugged a handful of machines onstage (Roland Juno 60 and Yamaha DX 11 synthesizers, a Roland TR-707 drum machine, even a pair of guitars), and let loose in an extended improv session. Taking in menacing Belgian New Beat vibes, Terry Riley-inspired pulsations, and stoner-friendly Balearic house, the mix covers plenty of ground, but its focus never wavers from the matter of getting down and getting deep. For more in the same vein, check out archived sets from Magic Mountain High, their trio with German house legend Move D.
DVS1, "Addicted Podcast #6"
Whey my colleague Justin Farrar recommends a techno mix, I prick up my ears. Farrar's also a noise guy, and when he writes about electronic dance music, he often zeroes in on its fringes.
This excerpt of a recent San Francisco DJ set by Minneapolis' DVS1 (Zak Khutoretsky) is as pure as techno gets, stripped down to truncated drum loops and bleepy patterns that spin like clockworks. Tracks like that are often called "tools," sometimes disparagingly, but Khutoretsky embraces the concept, "I prefer tools to use in my sets…. I use everything as a part of the whole, and it is only intended to be that, a part. Sometimes the beauty of the track isn't even realized until it's in the mix with another one."
Appropriately, his mixing style emphasizes seamless fusions and subtle shifts in tone, with overlapping passages kicking up the hazy friction of a moiré pattern; it's all driven forward with the insistence of a drill bit. The overwhelming mechanical quality of the music, paradoxically, makes the moments where DVS1's interventions are audible — quickly speeding up the pitch of one record to lock in the groove — all the more electrifying.
Axel Boman, "Nylon Guys Mix"
It was love at first listen with Axel Boman. His Holy Love EP for DJ Koze's Pampa label suggested a producer who had the fundamentals of deep house down pat, but also wasn't afraid to fly in the face of convention. His subsequent releases have borne out that impression — warm, enveloping, and sensual, but also a little bit off, like a happy drunk. (That's not to say he can't smarten up when the job requires: just consider last year's Radioactive Orchestra project, in which Boman and Kristofer Habgard translated the energies of radioactive isotopes into abstract techno.) Stockholm's Studio Barnhus, the label that Boman runs alongside Kornél Kovács and Petter Nordkvist, is just as idiosyncratic, with an unusually colorful, naïve, occasionally zany approach to deep house and disco.
This mix for Nylon Guys magazine shows how Boman's oddball aesthetic plays out in the mix, with bumpy disco grooves underpinning bright baubles of melody. It actually feels a little like an overstuffed DJ bag, with the sounds dogeared and torn, and disparate eras and moods jammed together with rough affection. Cybotron's "Alleys of Your Mind" bumps up against the breakbeats of John Swing's "Slightly Jacking"; Omar-S's subaquatic house bleeds into Jon McMillion's liquid funk, and not long after that we re-surface in an Afrodisco dance party. On his Facebook page, Boman acknowledged that the mix is "a bit messy here and there," but for my money, it's that seat-of-the-pants quality that makes it so engaging. The brushstrokes may be sloppy, but the picture that emerges across the whole mix is all the more vivid for it.
Beautiful Swimmers, "OHM Dedication Series #1: Beautiful Swimmers Present Don Cherry"
Washington, D.C.'s Beautiful Swimmers could have titled this mix, "Everything You Ever Wanted to Know About Don Cherry, But Were Afraid to Ask." I'm not completely unschooled in the late cornetist's work, having dipped into albums like his Don Cherry (a.k.a. Brown Rice) and encountered his playing on records like Bengt Berger's Bitter Funeral Beer; he also plays on Tullio De Piscopo's 1984 single "Stop Bajon," one of my favorite disco songs of all time. But I can't claim to have really done my homework, and, as with most jazz, there's a serious intimidation factor, too.
Credit Beautiful Swimmers (Future Times label co-founder Andrew Field-Pickering, a.k.a., Maxmillion Dunbar, and Ari Goldman) with laying out Cherry's work in such an appealing, intuitive fashion. It's very much a DJ mix, with long blends, extensive EQ work, and occasional effects; appropriately, they emphasize Cherry's jazz-funk side, with plenty of driving grooves and shaggy African rhythms (and, yes, the ecstatic chug of "Stop Bajon"), laying out a solid rhythmic foundation for all the modal fireworks and astral projections above. Set aside an hour for it; it'll melt away the rest of your afternoon.