I'd hoped to spend this week talking about the new Pepe Bradock EP, the first in a trilogy from the extraordinary French house producer (and his first new solo material since 2009). But I'm still waiting for my copy of the record to arrive, so that'll have to wait until next week. To give you an indication of my excitement: I ordered the record without even listening to the samples, so as not to ruin the surprise when I finally get my hands on the thing. Bradock's that kind of producer. Anyway, more on that later! For now, let's run down some other examples of esoteric house music, from head-scratchers to crowd-pleasers (and sometimes both at once).
Jeremy Greenspan "Crown Princess" / "Guu" (Jiaolong)
Barely a week seems to go by that I don't mention Caribou's Dan Snaith in some capacity, and hot on the heels of Snaith's mindbending Emeralds remixes, his Jiaolong label throws us another cosmic curveball, this time from Junior Boys' Jeremy Greenspan. It's unlike anything Junior Boys have ever done — long, undulating club jams performed on modular synthesizers and analog drum machine. "Crown Princess" is space disco with a debt to Carl Craig and Edgar Froese; "Guu" sounds like a hand-soldered update of Plastikman's "Spastik," slowed down and gummed up.
The shift in style, says Greenspan, stems directly from his growing obsession with modular synthesizers — small, esoteric components, usually featuring just a handful of knobs, that can be combined in staggeringly complex arrays. "Being locked in a studio with modulars has been extremely liberating," Greenspan told me in an email. "Even new Junior Boys basically sounds like this.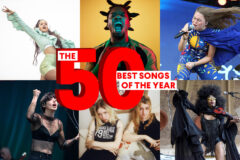 "We will also probably release new [Junior Boys material] as vinyl-only 12-inches," he continued. "I've made four proper albums which I'm really happy with and proud of, but I'm sick of it. When we started out, doing proper songwriting with electronics seemed novel, but now everyone, including dance acts, do it to be serious or whatever. It's liberating to just make music that is about one thing and one thing only: gearlust."
Greenspan isn't the only one under the sway of gearlust: a number of musicians from across the spectrum recently have spoken about their obsession with modular synthesis. Earlier this year Martin Gore told SPIN, "I've become a complete Eurorack junkie," and Luke Abbott detailed his love of the format in an extensive interview with Resident Advisor. More surprisingly, even Magnetic Fields' Stephin Merritt turns out to be a Eurorack addict, rhapsodizing to the Village Voice about arcane devices like Buchla's Source of Uncertainty.
"One thing I like about the modular world is the sense of community," says Greenspan. "And because everybody has a different modular setup from everyone else, it creates a sort of individuality within that community. I think it really brings back the notion that the hardware itself writes electronic music, and that producers are more like tastemakers, curating the possibilities of hardware."
Fhloston Paradigm "Chasing Rainbows" (Hyperdub)
King Britt is another artist who's been bitten by the modular bug. Under his new alias Fhloston Paradigm, the Philadelphia deep-house fixture does a stylistic 180 and delves deep into rough, unvarnished techno with a distinctly analog sound. The short "Chasing Rainbows" and the long "The Chase" both go at distorted 808s like a dog worries a bone, with rapid-fire delay bursts notched into the groove like teeth marks; "Lilloos Seduction" is a pulsing, 10-minute ambient jam that sounds more like an emanation from the Midwestern cassette underground than something you'd expect from the label that brought us Burial — or a former member of Digable Planets. The short snippets below don't do the music justice, but they give you an idea.
Totally Enormous Extinct Dinosaurs, "Tapes & Money (John Talabot's Ritual Reconstruction) " [Polydor]
The Barcelona producer John Talabot just keeps getting better and better. His recently released debut album, Fin, marked a major step forward from his 12-inches, leading his sample-heavy house down a more ruminative path — and sometimes a poppier one, too. Now, remixing Totally Enormous Extinct Dinosaurs' new single "Tapes & Money," he hits an emotive high on par with his stunning Mario & Vidis remix from last year. As per Talabot's usual wont, he fills out the track as though blowing up a balloon, with layer upon airy layer rising steadily higher. He smooths the original's boisterous groove into a slow-motion approximation of U.K. garage, feathery and hesitant, and he tones down its slightly cartoonish hues, honing in on vocal loops with a distinctly melancholy cast. The sub bass is to die for, and it's all topped off with a countermelody as sweet as honey from God's private apiary.
Joe Goddard, "Gabriel (Soulwax Remix)" (DFA)
Now, over to Hot Chip's Joe Goddard, whose Greco-Roman label is home to Totally Enormous Extinct Dinosaurs — not too surprising, considering that both musicians are working a similar seam of oddball, pop-infused dance music. His single "Gabriel" probably didn't need any more remixes; Seiji had the last word when he turned it into perfectly proportioned contemporary U.K. garage, tough but doe-eyed, and Peach Melba (a.k.a., the Juan MacLean) turned in a dizzying deep-house rework with a murky, late-1990s vibe. But Soulwax manage to put an entirely new spin on the original, drawing out a wonky, percussive groove, adding lots of druggy vocal effects and wrapping it up with a gnarly, acid-inspired bass line. Without ever losing the original's winsome pop charm, it's perfectly suited to an outdoor festival, preferably with the sunset strafing like lasers through the dust kicked up by the ecstatic throng.
DJ Sotofett, "Pulehouse" [Wania]
DJ Sotofett is one of the masterminds behind Moss, Norway's Sex Tags Mania label, and his new single for the Sex Tags sub-label Wania is a perfect introduction to their singular aesthetic: analog, raw, and a little bit wrong. "Pulehouse," the A-side track, is actually the dreamiest thing I've ever heard from Sex Tags (even if the title does translate as "Fuckhouse"), with sunrise pads and synthetic birdsong over a crisply stepping 909 pattern; it almost could be a lost Pal Joey track. On the B-side, "Stå Opp Med Sola" ("Stand Up with the Sun") is a murky boom-bap instrumental that sounds like it was recorded to tape and then left in a vat of pickled herring for two decades. Featuring the Moss hip-hop producer Don Papa and Acido Records' Dynamo Dreesen, it underscores the collective nature of much of Sex Tags' output. Finally, there's "Åsså Med Den Derre Fløyta (Video Bootleg Med Den Elektriske Fløyta)," which Sotofett tells me translates as "And with that Flute (Video Bootleg with the Electric Flute)." ("But I have a special dialect," he adds.) With lots of hand percussion and kalimba, as well as a long, modal flute solo, it might loosely be described as a kind of tribal house, but at the woolliest end of the spectrum, where artists like Four Tet are also operating. It feels frayed at the edges, all the moreso for a layer of squealing, gurgling radio interference. As with Sex Tags' best work, the record feels less like a new recording than a forgotten artifact from the fringes of dance music's official history. Check out audio samples of all three tracks on Sex Tags Mania's cheerfully named online shop, shitfuckyou.com.