The Shins
The latest incarnation of this initially unassuming indie-rock band no longer looks or even sounds like the one that set Zach Braff and Natalie Portman's hearts aflutter in Garden State. This one is akin to the expanded incarnation of Talking Heads circa Stop Making Sense; a grander, more flexible edition far more capable of fulfilling its frontman's internal vision. At times swelling to eight musicians including a violinist/pedal steel guitarist and two background singers, these Shins certainly followed James Mercer's lead, but always did so in service of the songs. Kicking off with "Kissing the Lipless" but often focusing on the new album Port of Morrow, Saturday night's set slipped from a giddy "So Says I" to a note-perfect and suitably somber rendition of "Breathe" from Pink Floyd's Dark Side of the Moon with nary a pause or word of warning. B.W.
A$AP Rocky
Midnight brought yet another massive debut from across 110th Street: rapper A$AP Rocky who, at 23 and reportedly sitting on $3 million after signing with RCA, had plenty to prove and everything to lose. He knew it too. "I love y'all," he gushed in sharp contrast to his crew's militant street demon vibes. "I couldn't wait to be here. It's so beautiful. You know, we're just a bunch of kids from Harlem. All we ever wanted to do was tear shit up." And that they did. A$AP smartly hyped his fan base first, bringing out an unwieldy posse of ten-plus dudes dressed in all black, jumping and shouting mostly out of time with their music. But with A$AP at their helm, the rising tide of chaotic swag rolled back, revealing a group of dudes whose vibe was a perfect storm of N.W.A., Public Enemy and Bone Thugs — scary, smart, and a little superstitious (chalk that one up to the sizzurp and purp'). Soon, the A$AP Mob quietly receded to the back of the stage, allowing their one true star to shine, and songs like "Peso," "Wassup" and "Purple Swag" glistened with a level of professionalism that matched their goopy, stoned luminescence. C.M.
Flying Lotus
Los Angeles beat beast Flying Lotus received a king's welcome on Saturday night. With a large bottle of whiskey at his side, he took the audience on a wild genre-crushing journey, and they followed his every move with the kind of glee usually reserved for the rave tent. It helped, of course, that a handful of the Odd Future crew — including Earl Sweatshirt and Taco — were cheerleading from within the throng, chanting and crowd-surfing the entire time. Lotus repaid the favor by folding bits of Tyler the Creator's "Goblin" and Domo Genesis' "Doms" into a heady but head-knocking mix that also made room for errant bits of quiet storm, pleasantly strange forays into free jazz, beats that sounded beamed in from an ancient Nintendo, grit-caked bass drops and a snippet of a Wu-Tang banger that actually inspired a mosh pit. This was Lotus' first real rock star moment, and he responded in kind. Toward the end, he brought out his label mate, bass virtuoso Thundercat, and drummer Ronald Bruner, Jr. — who also moonlight as Suicidal Tendencies' rhythm section — for a thumping live remix of Waka Flocka Flame's "Hard in the Paint." Before shaking out his booze all over the stage, Lotus had an announcement: "Sometimes the shit that I do is deep and emotional. Sometimes it's fucked and crazy. But I always go hard." Duly noted. C.M.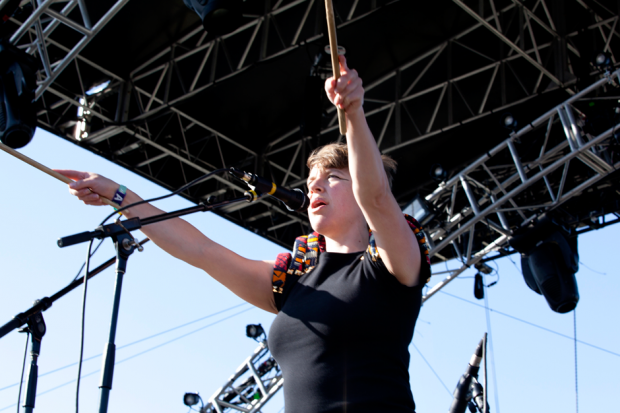 tUnE-yArDs
Straddling her tom-toms with various African whatsits siting on her unlikely but highly capable shoulders, Merrill Garbus sings and plays with the glee of a child who hasn't yet been taught the cruel lessons of cool. She makes funny vocal sounds, loops them, and turns them into music while feeding her ukulele through so much digital processing that it resembles a distorted electric guitar. Her squawking supported by bass guitar and two emphatically honking alto and tenor saxes, Garbus sometimes recalled the post-punk skronk of Essential Logic and sometimes various Afrobeat styles but mostly sounded totally free. Because she does without much in the way of traditional pop/rock instrumentation, there's plenty of space in her groove, space filled by joy. The result felt exactly right as the Coachella desert sun shone down on snow in the nearby mountains. It was as if anything could happen. B.W.
Destroyer
For his most recent and best album Kaputt, singer-songwriter and part-time New Pornographer Dan Bejar has fully embraced the Europeanisms of his band Destroyer and reshaped/remodeled them in the form of latter-day Roxy Music. It was this sophisticated end of '80s pop that he brought to Coachella Saturday afternoon complete with swanky sax solos. The downside was that Bejar decidedly lacked Bryan Ferry's debonair flair; mostly he looked downward at nothing in particular as multiple plaid shirttails of Bejar and his bandmates flapped in the desert wind. C'mon, guys: Make an effort. Ennui and sloppy grooming do not match. B.W.
You're almost through our rundown of the first weekend's 30 best sets! Read on about Sunday's top shows here!