Didn't make it to Coachella but want to know what you missed? Heading to Coachella's first-ever second weekend and need to know who to catch? In addition to our list of 30 must-see acts at this year's fest, SPIN has compiled a rundown of each day's 10 best sets. Read up on Friday's greatest performances and Saturday's top shows. Or you can just click through to the next day's report at the end of each story.
See all 60 of our best Coachella 2012 live photos here!
Dr. Dre and Snoop Dogg
Every so often, we're reminded of just how grave a mistake it would be to forget about Dre, as it were. "Who you think brought you the oldies?" the good Doctor once famously queried accompanied by a then-fresh Detroit rapper named Eminem — a pair of feats which he recreated brilliantly while headlining the festival's closing night. He wrangled not only Slim Shady, but 50 Cent and Tony Yayo (G-Unit), Warren G and Kurupt (Dogg Pound), Wiz Khalifa and Snoop Dogg (make no mistake, this was Dre's showcase), and protégé Angeleno Kendrick Lamar — all of the oldies who survived the tumultuous '90s, essentially, with a couple youngins thrown in for good measure. But the greatest show of Dr. Dre's incredible might put him in the company of such infamous practitioners as doctors Jekyll and Frankenstein. As a lightning storm brewed on the screen behind the elaborate L.A.-inspired set, the unmistakable ominous opening bells of Makaveli's "Hail Mary" rang out, and who rose from beneath the stage but Tupac Shakur himself. It was a hologram, of course (one rumored to cost a cool million), but a convincing likeness which greeted with a "Whaddup, Coachella," before duetting with the Doggfather on the classic "2 of Amerikaz Most Wanted." Though wholly weird and arguably some sort of gangsta rap sacrilege, the resurrection was greeted with all the rapture you'd expect for a second coming. And with a move like that, Dr. Dre is guaranteed at least another five years of remembrance. Chris Martins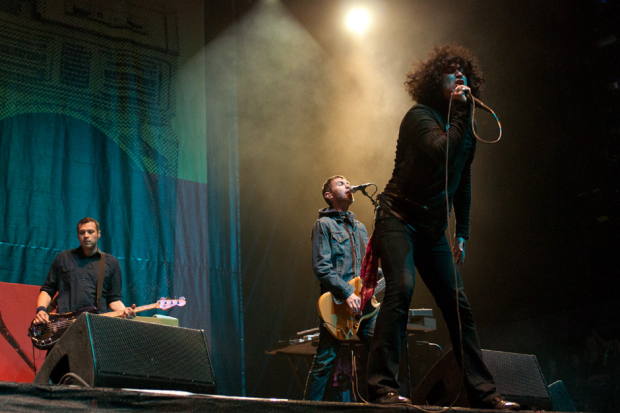 At the Drive-In
Mars Volta main brain Omar Rodríguez-López may have recently compared his former band to "an old T-shirt that doesn't fit anymore," but try telling that to the satisfied legions who witnessed one of At the Drive-In's first gigs in 11 years — a high-octane inferno of post-hardcore mania that cast a long shadow over the formerly feuding members' other projects. Cedric Bixler-Zavala and Sparta's Jim Ward were meant to sing together, the former's high paranoiac bark ever egged on by the latter's raspy sneer. And likewise for Ward's and ORL's guitars, which together summoned a sonic storm cloud perfectly accompanied by the thundering rhythm section, bassist Paul Hinojos and drummer Tony Hajjar. They mostly stuck to songs from 2000's revered Relationship of Command, and despite the decade-plus that's passed since, familiar furies like "Arcarsenal" and "Pattern Against User" sounded brand new. And though it was tough to tell whether or not Zavala-Bixler's in-between banter was mocking or sincere, his acrobatic leaps, handstands, loogie-launching and microphone tricks were apt analog to the electricity coursing through the audience. What's the sound of a "One Armed Scissor" cutting? Several thousand shrieking fans, turns out. C.M.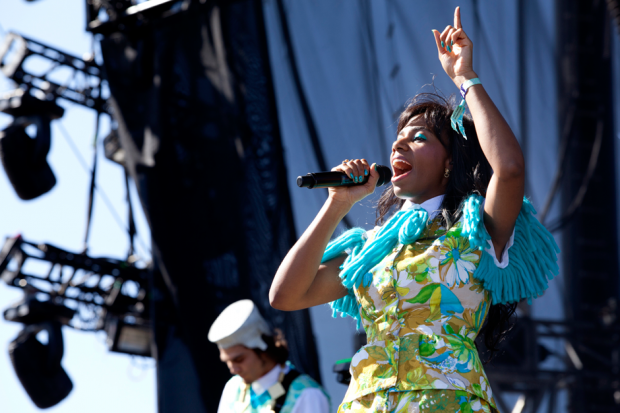 Santigold
Like her two dancers and three backing musicians, Santi White a.k.a. Santigold took her Sunday afternoon Coachella entrance in matching bright-blue-and-green Asian outfits. While she skanked and bopped Jamaican-style, her dancers busted out some emphatically stiff Egyptian moves as her band boomeranged from New Wave to ska to reggaeton and beyond. Santigold radiates multiculturalist cool, but isn't above caring about her audience ("Drink a lot of water, OK?") or milking applause when appropriate ("C'mon, it's a fucking horse," she cracked as two dancers left the stage dressed in a single pony costume). Combining enduring hits like "L.E.S. Artistes" with material from her soon-to-be released second album Master of My Make-Believe, she thoroughly enjoyed herself, as did the crowd, which she invited onstage for an undulating "Creator." "I'm so happy to be here," she beamed. Who wasn't? B.W.
Gotye
With mighty mixtape kings the Weeknd making their U.S. debut at one end of the festival and Gotye holding court at the other, the rest of Coachella was a ghost town. But while Abel Tesfaye's dark R&B lacked dynamism live and petered out partway down the field, the Aussie act with the biggest breakup hit of 2012 sounded great even from deep within the massive human traffic jam that stretched 50 yards in every possible direction from their tent. While none of Gotye's other songs packs the emotional punch of "Somebody That I Used to Know," his band kept the crowd riveted through a series of synth-dappled, often dubbed-out pop experiments that spoke to the songwriter's range and wealth of ideas. But that wasn't the real reason the masses had gathered. Supportive though they were, the fans were there for one song in particular, and when Gotye's charming foil Kimbra came out to sing it with him, the screams no doubt sent ripples through the outer ring of those trapped in the Weeknd's bleak gauze. It was a unifying moment, heartbreak apparently being the common denominator between hippies, hipsters, bros and ravers. C.M.
AraabMUZIK
While DJ after DJ held court to thousands of neon-wearing, nearly nude kids next door by hitting "play" on a laptop and twiddling a few virtual knobs, Providence producer araabMUZIK turned beat-making into an athletic art. With the screw-faced focus of some kind of psychic supervillain, he barely acknowledged the crowd as he reigned over his gleaming command center, whose well-used centerpiece was a line of three MPCs — drum machines sporting a set of sample-triggering rubber pads. He made every song from scratch, conducting a symphony of melody, effects and roiling percussion by beating the shit out of those boxes, soloing like a true virtuoso to the unerring metronome in his brain and never once losing the crowd's rapt attention. Among those gathered fans was none other than Skrillex, caught head-banging with an amped grin by the venue video cameras. Though his gaze never strayed far from the diamond-encrusted watch on his left wrist, araabMUZIK acknowledged the presence of EDM's crown prince by brutalizing versions of "Scary Monsters & Nice Sprites" and "Drop it Hard." C.M.
The Hives
If you only know the Hives from their early '00s garage-revival hits like "Hate to Say I Told You So," you might not guess that this Swedish quintet remains one of the most riveting live rock bands of the last dozen years. Some of this has to do with the comically self-aggrandizing showmanship of singer Howlin' Pelle Almqvist, who goaded the early Sunday evening Coachella crowd into proving that they loved him literally every other minute. Almqvist is every bit as charismatic as he thinks he is; a lot, and just as clever as his band. Like AC/DC, they excel at the exceedingly difficult task of nailing the most elemental grooves with surgical precision while flailing about the stage as if they could combust at any moment. Decked out in formal tuxes, the Hives reprised "Main Offender" and other hits between debuting tracks from their upcoming album, Les Hives, as Almqvist kept a roadie dressed up as a hooded ninja occupied with his constantly tangling microphone cord. "Give me some more," he begged for further applause. "You know I deserve it." The man does not lie. B.W.
Justice
The Gallic duo of Gaspard Augé and Xavier de Rosnay were one of many dance acts that drew Coachella crowds that rivaled all but the biggest rock acts: Nearly every name DJ attracted larger hordes than the ridiculously packed DJ tent could contain; Calvin Harris, for example, had people dancing both in and around the tent even after Rihanna made an unscheduled appearance to sing her shared smash with producer Harris, "We Found Love." Although Augé only briefly sat at a piano keyboard and otherwise tweaked his digital DJ gear alongside de Rosnay, Justice performed on the same Coachella main stage that previously hosted the Hives. Their aggressive yet uplifting sound now draws just as heavily from arena-rock as it does from the French house of Daft Punk, particularly on jams from last year's Audio, Video, Disco, which they remixed and overlayed Sunday night with earlier hits like "D.A.N.C.E." B.W.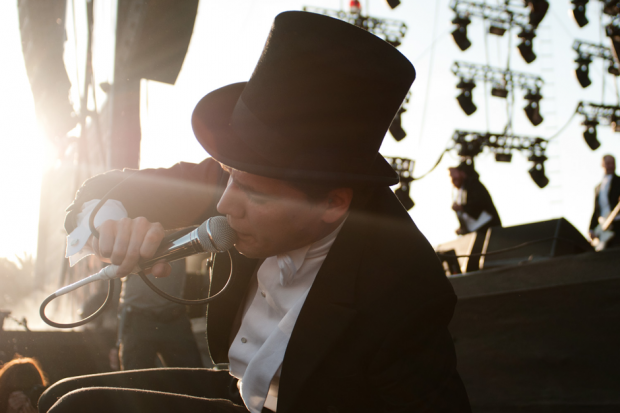 Florence + the Machine
As soon as the lights came up on Florence + the Machine Sunday night, it felt like a different Coachella. The stage was excessively lit the way TV pumps the watts on its performers, and Florence Welch was similarly overdressed in what first looked like a black evening gown but was soon revealed as an elaborate set of tights with massive sleeves that spun around her every time she twirled Stevie Nicks-style across the stage, which she did often. Her hand gestures have also grown similarly dramatic: Frequently she raised her arms like Eva Peron or a messianic silent film star. And whereas her Machine just one album ago evoked the gothic rock of Siouxsie & the Banshees, here her band suggested the glossy adult pop of Sarah McLachlan. Welch approached her Coachella set as a heavily scripted big-budget actor, not an improvising indie-minded confessor. We were within helicopter distance of Hollywood, after all. B.W.
Fitz & the Tantrums
Like the Hives, this Los Angeles soul sextet works too hard to be totally cool or indie-credible. Unlike their similarly retro R&B peer Mayer Hawthorne, they rarely indulge in self-deprecating humor, even if leader Michael Fitzpatrick looked a little overripe in his tomato-red suit under the blazing desert sun Sunday afternoon. But they nevertheless radiate a sense of fun that perfectly fit a Coachella Sunday afternoon: Their luminous hooks and Motown dance grooves hit even harder here than on record. Supporting singer Noelle Scaggs and multi-instrumentalist James King — who in one song flipped from sax to flute and back again — particularly earned the crowd's approval. Both wailed for the love of it. B.W.
Le Butcherettes
It's fitting that Le Butcherettes have opened for both the Dead Weather and the Yeah Yeah Yeahs in their native Mexico. To those who've never witnessed the fierce glory of female lead Teri Gender Bender firsthand, it's easiest to imagine her as a cross between Jack White (a shredder on the guitar with the high yawp of a born rock star) and Karen O (emotive, jittery, and owning the stage with captivating dramatic range). But the Guadalajara-hailing, Los Angeles-based singer proved that she should be considered in a class all her own when, following a ripping set accompanied by fulltime drummer Lia Braswell and sitting bassist Omar Rodríguez-López (At the Drive-In, Mars Volta), she jumped down from the stage and ran out into the field with her arms out like an airplane before collapsing in a small, sundress'd heap. Fans flocked, crouched low with her, gave her hugs and said sweet things in both Spanish and English before starting a chant—BOO! CHER! ETTS!—then lifting Teri and carrying her back to the safety of the stage. Even then, she hung out for another 10 minutes, bleary-eyed and speaking with fans. C.M.