To paraphrase Run-D.M.C., there were a whole lot of superstars onstage every night at South By Southwest 2012, but not one of them could claim that it was their house. Virtually every major rapper in the world was present (Lil Wayne, Kanye, Jay-Z, Eminem, 50 Cent, Nas, T.I., Rick Ross, etc.), not to mention rock legends (Bruce Springsteen), dance stars (Skrillex), and commuter-radio lifers (Train, Counting Crows), all commanding massive crowds of convention attendees and locals.
And while those oversize, superstar blowouts have their place, the best shows often happen in more unlikely places, or in settings that are unfamiliar for the artists or bands or fans. With that in mind, here are SPIN's best of 2012.
Find all of SPIN's SXSW 2012 coverage — daily reports, photos, and more! — in one spot.
1. Jack White (Friday, the Stage on Sixth)
Jack White's presentation was somewhat askew at the Stage on Sixth — the first set with an all-female backing band, the second with all-male band — but the music was fantastically direct. Out from under his previous guises, and playing songs from all phases of his career (White Stripes, upcoming solo debut Blunderbuss), White drew a line of swaggering melody and badass guitar throughout his catalogue. The names may change, but thankfully the man doesn't. DAVID MARCHESE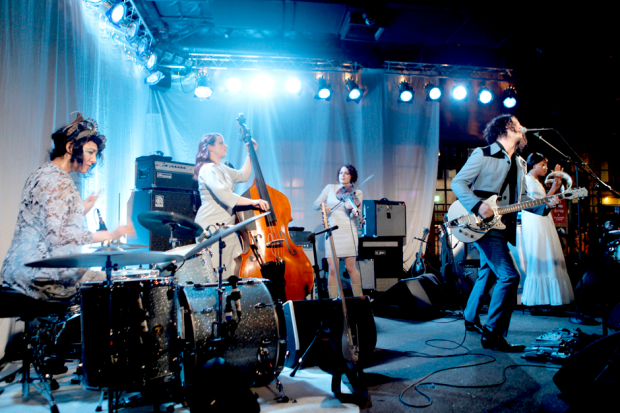 2. Kendrick Lamar (Thursday, Clive Bar)
Exuding effortless starpower, the compact, fiery Black Hippy leader turned a small, open-air gathering at this casual bar into a rowdy tent revival. CHARLES AARON
3. Girls (Thursday, Mess With Texas party)
Girls' transformation from a shy bedroom-pop caterpillar to a beautiful, brightly hued, rock'n'roll butterfly is complete — Christopher Owens and Co. showed again that they're now full-on high-volume world-beaters. DAVID BEVAN