In the March/April issue of SPIN, David Bevan ventured to Korea to explore the country's fruitful system for producing top-flight pop stars. He'll be writing additional K-pop stories right here at #1 Crush.
"I got off the plane, and there was a different scent in the air." That's how Jay Park remembers his first seconds in Seoul, in January of 2005, just months before he graduated from high school back home in suburban Seattle. Park had been flown over to begin training for JYP Entertainment, one of three major entertainment companies headquartered in the South Korean capital. Only 17 at the time, he spoke little Korean and knew even less about Korean pop music — his passion was b-boying, which he utilized during a local JYP audition he attended at the behest of his mother. "I met all these people and I couldn't really communicate with them," he says of that first day. "I didn't even know what to eat."
As part of JYP's trainee program, a highly calibrated system designed to prepare dozens of teenaged recruits for the demands of increasingly international pop stardom, Park essentially went back to school. He practiced choreographed dance. He took vocal lessons. He took intensive classes on acrobatics and Chinese. And in 2008, he eventually found himself on Korean television for the first time, as part of MNET's Hot-Blooded Men, a documentary series that allowed fans to watch him and fellow "trainees" as they vied for spots in what have become two of JYP's most successful bands/brands to date, 2PM and 2AM. "It's pretty cutthroat," he says of the trainee system. "You have a bunch of guys who are trying to debut, and you don't know who's going to make it or who they're going to choose. You have to be on top of your game." By the show's conclusion, fans would vote "Jaebeom", as he's known in Korea (also his birth name), to lead seven-member boy band 2PM in September of that year. "[My friends] made fun of the outfits and all that," he says. "They were used to seeing me chilling with sweatpants on. All of a sudden, I'm wearing eye makeup and crazy clothes."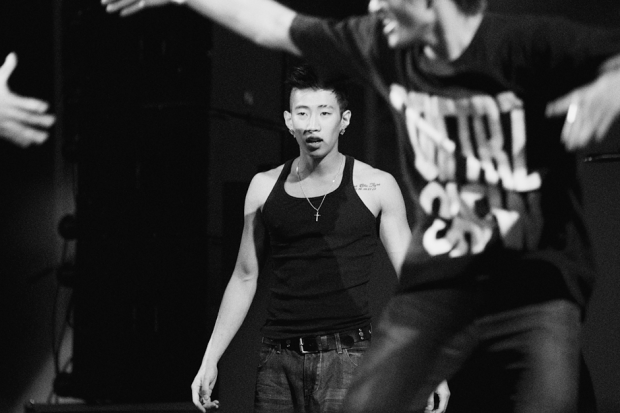 But in late 2009, an especially thorough fan spotted a frustrated comment ("korea is gay… I hate koreans..") Park had left behind on a friend's MySpace profile during his first confusing months as a trainee. Though JYP's CEO and founder, Park Jin-Young — whom Park has since credited with "raising" him "spiritually" and "creatively" — insisted amid ensuing protests that the embattled star would remain a member of 2PM, Park announced that he'd be leaving both the group and Korea. A public apology was issued. Tearful fans saw him off at Incheon International as he left. Weeks later he was living at home with his parents in Edmonton, working part-time in a used tire shop. When 2PM finally released their debut full-length album on November 10 of that year, they named it 1:59, in tribute to the member they lost.
Before long, Park began filming himself covering songs with a webcam at home. In March of 2010, fans already attuned to his every movement picked up immediately on a clip of him in a white tank-top, flashing his abs, breezing through B.o.B's Bruno Mars-enriched smash "Nothin' on You." It racked up two million views in two days, landing the original back in iTunes' most downloaded tracks chart and Park back on a plane to South Korea, where he had been invited to star in a breakdancing movie. Not long thereafter, Park signed to SidusHQ management, intent on writing and producing his own records as a solo artist. It's a comeback that demonstrates the overwhelming force that Korean pop devotees wield online: fans were able to resuscitate Park's career just as quickly as so-called "anti-fans" had killed it.
https://youtube.com/watch?v=GmGCM3pMNo8
The turnaround has placed Park in an interesting spot, one in which he finds himself with something all too few K-pop starlets &#8212 particularly those employed by JYP or its similarly influential rivals, S.M. and YG &#8212 full creative control and years of intense, Korean-designed pop education to aid him in delivering. He's since opted to write and record songs with an American swagger, in line with the club-friendly hip-hop and R&B he grew up with, like that of Swizz Beats, with whom Park exchanged tweets during the latter's recent, much-publicized trip to Seoul. And on Park's just released solo full-length debut, the aptly titled New Breed, silken, culturally acceptable (by decidedly more conservative, South Korean standards) singles bump up against "edgier" and more "provocative" fare Park compares to the pop staples currently lording over Stateside charts. "The rest of my songs are too explicit," he explains of the lion's share of the album he made for himself, rather than Korean TV and radio. "I talk about sex, I talk about drinking and going to the club. I express myself a lot more on the rest of the album." Upon its release, New Breedfound its way atop several iTunes R&B charts, including here in the United States, a market most K-pop groups, Park included, currently covet.
And though he points to Drake and even Chris Brown as American pop cultural benchmarks (both of whom he says he'd like to one day reference in a mixtape for the American market), Park has found inspiration in the NBA. "Jeremy Lin is crazy," he says of the recently meme-i-fied, Taiwanese-American, New York Knicks point guard. "He was off the radar and now he's playing with the best of the best. People can't hate on him even though they want to because he's so good. That's how a K-pop star has to be over in America if they want to succeed. They have to be so good in every single way that even if people hate, they can't really say anything. I don't dwell. If I'm not dead, there's still other things to do."
https://youtube.com/watch?v=BFyhdtuhZ6M