For those keeping score at home, Nas has notched two great songs in a row — hard-edged, hurtling New York Hip-Hop Master Classes that have mostly eluded him over the past decade-plus. Nine months ago, "Nasty" showed the '90s hip-hop legend could still do a virtuosic, no-hooks verbal tour de force over take-no-prisoners production. On his latest, "The Don," Nasir Jones stays in the NYC rap lane where he can still out-race just about everyone. It's a cause for celebration.
In recent years, Nas has frustrated his longtime followers with media-baiting album titles and empty political slogans, to the point where it's hard to know when it's safe to get excited. Still, consider the evidence: Over a fearsome ragga-tinged beat courtesy of the late Heavy D and with co-producers Salaam Remi and Da Internz, Nas rattles off an untouchable verbal barrage, expertly twisting words and inventing new tough-guy insta-quotables. The pressure only lets up once, with a pillowy keyboard bridge resembling some early-'90s R&B hit that's just out of our reach at the moment. Then it's back to the drum-shuffling blare and nimble bass line.
As Nas puts it: "Twenty years in this game, looking 17." Here, he sounds as hungry as a teenager, but as wise and grizzled as a 20-year veteran. It's unclear at this point when Nas' next album will arrive, but whatever happens, "The Don" should stand as yet another uncompromising triumph from a rapper with more of them than his spotty latter-day output would suggest. Too early to pop the corks?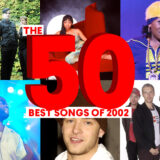 Hear the no-tags version over at Dajaz1.