The twin Reading and Leeds Festivals have announced their lineups today, and they are appropriately English: Headlining spots for the three-day U.K. summer fest belong to the Cure, Foo Fighters (as previewed by their old-timey gift this morning), and (yes) Kasabian. As the Guardian points out, the last time the Cure played a Reading fest was in 1979. Second-tier performers (as designated by the tour poster, below) include the relatively fresher Paramore, Florence + the Machine, and the Black Keys, the latter two of whom put out records last year. Odd Future, Katy B, Azealia Banks, and the reunited, surprisingly frank At The Drive-In are also on the bill.
While Reading was founded back in 1961 (originally as the U.K.'s National Jazz Festival), Leeds came around as a sister event in 1999. Since the latter's inception, the two locations have shared lineups with rotating acts between the two sets of stages over the fests' three-day duration. This year's lineup, which according to the poster is only a preliminary announcement ("many more" will be announced prior to August 24-26), features a striking number of artists who've gained a large percentage of their fandom online (significant numbers, believe it or not, come from their MySpace pages), notably Bombay Bicycle Club, Enter Shikari, and the Mercury Prize-winning Metronomy.
If you were hoping to see the lineup and ticketing information on the fests' website, it's pretty much hit or miss, as the site has been crashing on and off all day, but lucky for you, we have the details (via Slicing Up Eyeballs). The lineup is below; tickets are on sale here.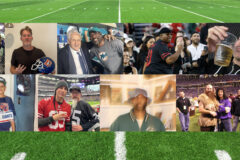 Reading and Leeds Festivals 2012 Initial Lineup: