Nile Rodgers has shaken your tailbone. From the deceptively smooth disco sounds he pioneered with Chic, to his songwriting and production work with Madonna (Like a Virgin) and David Bowie (Let's Dance), the guitarist and studio master has had a hand in music that drove millions to the dance floor. And the groove hasn't stopped. A Chic reunion concert hits Manhattan's Hammerstein Ballroom on March 31, and Rodgers, who released a memoir, Le Freak, in 2011, has been collaborating on new material with Daft Punk. The pop legend shares his thoughts about how he's kept the good times rolling.
There's never been a song that I just wrote and tried to send to an artist.
I'd probably be a super wealthy guy if I had sat around writing songs and getting them placed like everyone else I know. But I write songs about people or after I meet them and they're somewhat biographical — they're fiction but also non-fiction. All the hit records I've had, they've all been made custom after I met the artist. They were never just hit records lying on the shelf, waiting to be recorded.
At this age, I still feel like I'm auditioning.
Because I wrote for other people, I actually made a better living writing songs and staying in the studio [than from playing live]. The blessing part of it was that I was making a great living working in the studio. The curse part is that whenever I want to play live, people go, "But I don't know what he does. I don't know his songs." Half the reason why my live show seems so amazing to me is because I've never had to play live for a living since before we got a record deal.
Everything has happened as a result of me bumping into people.
Every collaboration came from a personal relationship. It didn't have to be a lengthy one — it could've been just walking down the street and running into a person and saying, "Holy shit, you're so and so!" I've never had a manager, so I've never had someone going out looking for jobs for me. With Daft Punk, I've known them for many years but we've never been close. When they released "One More Time" [in 2001], I was in Paris. We had set up a meeting but for some reason I was stranded in St. Tropez and I couldn't get back to Paris in time, so we spoke on the phone and that was it. Then I just recently got a phone call and they came over to my apartment and we hung out and laughed and joked.
I only sleep two or three hours a night.
I've had insomnia since I was five years old. I just don't require much sleep. I'm never tired. I can pay attention and I have great memory. Every now and then I'll sleep for five hours, but I'm reasonably healthy. At least for an ex-hippie-drug addict-party guy. I'm no saint now and probably wouldn't be happy living like one, but I try and look for balance.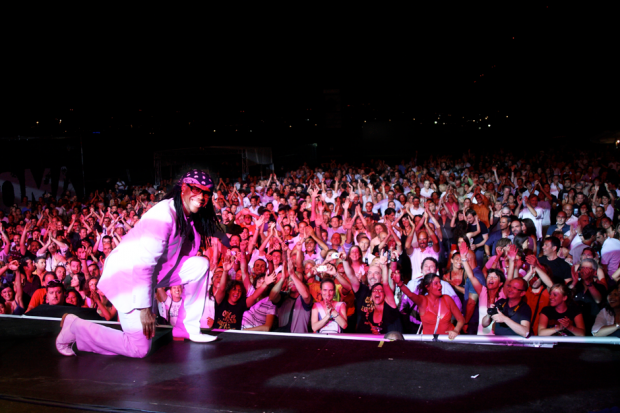 I don't think I've ever had a more exciting time in my life than right now.
I'm actually playing more shows with Chic ever. Even when we had "Le Freak." I'm playing more shows now than in 1978. It's pretty great. We just played in Australia for the very first time and it was absolute pandemonium. We did so many encores that I finally lost my voice. There's just never a dull moment.
I get weird when I have a couple of weeks off.
I wouldn't know how to retire. My Chic partner, [bassist] Bernard Edwards, died — he passed out onstage. We had a huge concert in Japan in 1996. We had Steve Winwood, Simon Le Bon, Slash, Chic, and Sister Sledge playing with us and my partner passed out midway through the show. After he was revived, he continued playing. After the show, we went back to our hotel and he passed away. As upset as I was, it was almost the most romantic type of death. If you're a musician, you want to go out doing what you love to do.