Billy Corgan has never been taken for a peaceful man (actually, we're reminded every few months or so he is, in fact, quite unsatisfied), so his harumphy, old-rock-guard appearances at SXSW Interactive yesterday were no surprise. In between throwing some mean names at the artists of this generation, the Smashing Pumpkins frontman made it clear that his Inner Corgan Jury was still decidedly out on "technology."
First, in Samsung's Blogger Lounge, he touted the age-old argument that technology is a tool the music business hasn't quite figured out how to use yet, but has great potential to aid artists. Frequent tweeter Corgan argued social media is good for artists and claimed to have been one of the first to say so. He and the Smashing Pumpkins did release their 44-song album Teargarden by Kaleidyscope for free online as a series of EPs in 2009, but as he made clear in the next conversation he had on the topic, a lot has happened — for technology and apparently Corgan — in three years.
In an onstage conversation with author Brian Solis just hours later, Corgan pulled a 180 and got back to his old grumpy-gills self, bemoaning the state of the music business and all the pesky kids who run it now, saying, "I was part of a generation that changed the world — and it was taken over by poseurs" (via Billboard). Far from applauding technology like he did mere hours before, he mourned the loss of artistry in the face of career-catapulting platforms like YouTube, citing Lana Del Rey's less-than-perfect SNL performance. Then in an oddly Limbaughian move, he compared artists of this generation to "strippers." While Ke$ha might take that as a compliment, we're not sure Skrillex would appreciate it.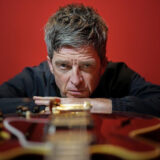 Corgan grumbled that young artists "have to set [themselves] on fire on YouTube" to get noticed in today's music world (you know, nothing like what happened in the 1990s, when the Smashing Pumpkins got their attention). He did admit that the '90s were no picnic for acts like his either, though. Corgan was most likely aiming his spite at buzz bands, because we're sure he didn't mean to call the seven-albums-deep, anti-streaming, now chart-topping Black Keys prostitutes (either that, or he'd advise us not to "call it rock'n'roll," as he told the SXSWi audience).
Watch his first, pro-technology interview below (the second, technology-damning conversation, coincidentally, hasn't appeared online yet).