Say Anything's Anarchy, My Dear, Max Bemis' outlying pop-punk outfit's first full-length effort for new (and independent) label home, Equal Vision Records, arrives March 13. It's a white-knuckled, sore-throated, open-hearted call to arms that Bemis recorded between Brooklyn and his recently adopted hometown of Tyler, Texas. SPIN spoke to the 27-year-old singer/songwriter about the label swap and how it changes his voice, as well his relationship with emo.

How much would you say that you feel heard?
It's hard for me to not to try to sum up my entire life with every single record and everything I stand for, but this one really does have more of a specific purpose: the idea that you can be a centered, moral, good person and still believe that subverting the norm is a good thing. We've been taught that being cool is to some extent to not do shit about anything. But this record is about destroying society and starting again, and that doesn't have to be a contrived, elitist notion. People who are good people and lead relatively normal lives can do this on a smaller level just by the choices they make and standing up for themselves and believing in what they do not based on what people tell them, but on what they think of it in their heart. I'd say I'm spoiled. There are kids across this country and in other countries and everywhere in the world, and you think about all the thousands and thousands of people who listen to my band and give what I say a chance, even just for a couple minutes, I am spoiled with the amount that I'm technically heard. After moving to Texas and getting married I needed to redefine who I was and that's a lot of where this record is rooted. Changing labels did have a lot of the do with the creative process, with feeling like I could really put my heart and soul into something without straining it or having to be something to somebody because being on an independent label seeing us for exactly what we are. There was a little less pressure to be something that was more mass consumption-ready.
Well, what sort of what sort of an audible effect would you say that de-pressurization had on this album?
You can hear it in my voice. It's funny, this was hard-ass work, and everyone who really puts themselves into a record does, I almost lost it at one point. But we were allowed to really make the record we wanted to make.
Your voice sounds so much more raw than it has in a long time.
On the past couple records I did a lot of punching in to try to make things sound perfect. We wanted to make a huge crossover rock record our last time out and on this one we were going for a Stones/Stooges/Clash feel. It's very important to Tim [O'Heir], our producer, that he records as much of a vocal as you can, and in our case we actually made a point of singing every song from front to back as if we were doing it live. That includes the state of mind I was in when I did it, to capture the exact experience you would have if I was playing the song live at a concert rather than laboring over it like a science experiment.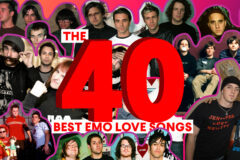 It fits really well, though, with what you're doing lyrically. How do you think that aligns with a lot of the other songwriters that you tour and work with?
I write lyrics in a fashion that I think any reasonable, intelligent person can connect with on a gut level. I mean, there's a sort of dark irony to a lot of it and that's what pleases me and that's what makes me laugh in my day-to-day life. My brother-in-law asked me yesterday, who's been one of the most influential lyricists in my life. And you know, I think he was expecting I'd say Dylan or something like. But honestly, I think the biggest influences on my lyrics are probably Woody Allen and Larry David. As a weird, neurotic Jewish guy, I just want to communicate the way I would if I was talking. And there's some poetry in there.
There's also this sort of seething in there that I don't know that I've felt from a "pop-punk" or "emo" record in a long time, if ever.
I mean, we were sort of on the periphery of that whole emo boom in our way, and that's definitely something we've associated with. But when we first started writing music and being a part of that, we were listening to music that was creepier, edgier. Refused and At the Drive-In were two really big bands for me, but then things did kind of become a little more safe as it progressed and we were on the outside and really weird the entire time. Now that it's all gone to some degree and faded off and we're still here doing our thing, I think I feel even more freedom to not be classifiable, and to kind of reach out and be the kind of quirky post-punk band that we are and not get lobbed in as something that's blowing up right now. Because it's not.
How have you seen your audience evolve over the years, though?
The odd thing is that there are all these new people finding out about our band, so our audience is like this weird mixture of young kids and people my age and the totally random, much older people. I'm an example of someone like that. There's tons of bands from say, 10 years ago that I discovered, that I loved at the time, but I honestly don't enjoy listening to now. The most dedicated Say Anything fans may have grown up listening to us and other bands all those years ago — kids who sort of moved on to greener pastures and discovered more interesting music, but then came to the realization, hopefully, that we are a band that stands the test of time. Because we're not just making new records for the sake of it; we're making new records to try to outdo our old records and hopefully continue to hold people's attention the same way bands like Modest Mouse have been for who-knows-how-long, you know?
At the same time, though, how much of a stigma do you have to overcome when you do come out of a scene like that? Saves the Day's Chris Conley, for example, is a fantastic songwriter that was completely eclipsed by that "emo" tag. Indie rock purists especially seem to have an allergy to those late-'90s, turn-of-the-century emo records that were also indie rock records.
They were. Some of my first understanding of what indie rock was came through bands that were influenced by Fugazi and Superchunk and bands that indie purists love. But because it became cool, because it blew up so big, and because it involved a bunch of attractive young men that a bunch of young girls started liking a lot, it became too safe for them. It had gone the other way. I remember going to those shows when I was that age, and it was mostly people my age who are now, literally, writing for Pitchfork. It was not a bunch of screaming young girls when I first went to go see the Get Up Kids and Saves the Day and bands like that. But again, thankfully, we arrived late. I mean that's why I wrote an entire album called In Defense of the Genre. That's always been a natural part of who we are as band and maybe its why, beyond timing, we've managed to sort of transcend those boxes placed around us for so long. That's just how I naturally write. Part of that is always going to be trying to remain current and play music that I would like to hear as like a 27 year-old grown man. It's going to be dark and twisted and a little scary.
How often are you able to kind of catch yourself when you're taking things in a darker, scarier direction?
I just let it flow: The darker and the scarier, the happier I am. I never stop myself from being too dark because there's some pretty low stuff in the scheme of the history of our music. This one's a little more uplifting, but it's still pretty scary.
Was there ever a point when you didn't let it flow, where you wanted to kind of fight it?
No, I just know that that sense of danger is pretty much all we're worth, and brutal honesty is the main appeal of our band. Censoring it would mean we wouldn't have much to offer.
I don't know if that's the case.
Hopefully we'll never know.