When SPIN saw Santigold debut new songs from her May 1 disc Master of My Make Believe last month, it only stoked our excitement in the album we'd put on our Must-Hear Albums of 2011 list last year (hey, we were excited!). Today, Santi did us a solid and dropped the second single from her forthcoming sophomore full-length via YouTube. "Disparate Youth" (which will arrive on iTunes tomorrow) is, as expected, distinctly Santi, as was first single "Big Mouth," though the second track gives us less Major Lazer booty-popping and more upbeat-Zola-Jesus art-pop. Dig its rolling beat, stabs of guitar, and Santi's earworm of a melody:
How long until some YouTube "DJ" delivers a mashup using "Disparate Youth," 311's "Amber" and Grimes' "Oblivion"? Or, just for the fun of it, something off TV on the Radio's Desperate Youth, Blood Thirsty Babes?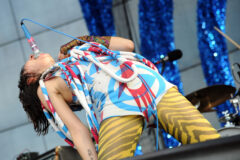 Continue to get psyched for what sounds like one of the year's best albums by looking back at our in the studio interview and Santi's list of her favorite things.