Beach Fossils frontman Dustin Payseur promises fans he's holed up in his Brooklyn home, toiling away on his band's second LP.
But as it turns out, inspiration is a fickle beast that's easily spooked by impromptu afternoon hangouts, the lingering bliss of a mid-winter Mexican vacation and flexible, self-imposed deadlines. In short, Payseur's life currently resembles the dreamy slacker manifestos (see "Lazy Day," "Vacation," "Daydream" from their self-titled debut) on which the band has built its reputation.
But that's all about to change.
"Indie rock has been so safe for so long," Payseur says, between sips of tea at a coffee shop in his Greenpoint neighborhood. "People have been playing this pretty music that's quiet and melodic and while there's beauty in that, in making this album I've just ended up wanting to rebel against myself and make something really noisy."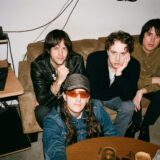 His first attempt at aggression: "Shallow," A-side to a new Beach Fossils 7-inch (due February 21 via Captured Tracks), culled from the dozens of tracks he's scrapped in his effort to craft an album. The cut, available exclusively below, features that familiar, yet impossibly bouncy guitar jangle, as well as Payseur's light and breezy vocals, still buried in heaps of fuzz.
Okay, so it's not exactly mosh pit-material, but Payseur plumbed the depths of his punk past, and the bizarrely raw live show it's produced, for reference. "A lot of people are surprised when they come to see us live that we perform way more aggressive than our sound is," he says. "I played in a lot of punk bands, so when I get on stage that's just kind of all I know. The more we're touring and playing shows that energy just kind of spreads across the stage and we all just get really into it."
Last time around the on-stage antics eased his angst, leading him to write the soft, mellow jams on last year's What A Pleasure EP. "I sort of ended up hating it," he admits. "Everything sounds so clean because that's just where my head was at."
And now?
"I'm just kind of chilling," he says. "I've been on vacation for the last few months, including a tour that was more like a vacation. Really relaxing. I'm just going with it. I just sort of let the songs happen."