Frank Ocean shared bummer news with his Tumblr following today. Don Henley — the Eagles frontman and co-writer of the song "Hotel California," which Ocean reinvented on his lauded 2011 album Nostalgia, Ultra as "American Wedding" &#8212 has done what we all expected since the second Ocean dropped the album: He threatened to sic his lawyers on the R&B hotshot should he croon "Wedding" ever again. "Don henley [sic] is apparently intimidated by my rendition of Hotel California," Ocean writes. "He threatened to sue if I perform it again. I think that's fuckin awesome."
Why is this such a bummer? "Wedding" has given "Hotel" an entirely new context. A whole new demographic has learned about the Eagles' hit (assuming these kids have never been to the dentist, where "Hotel California" plays on an endless loop on lite-FM stations worldwide). Ocean, it should be noted, made no money off the free album itself.
Henley's camp couldn't be reached in time to confirm or deny that the legal action will be taken if Ocean performs the song or if Frank was feeling hyperbolic online. Ocean, by the way, also "loves Don Henley…the Eagles…and John Walsh's immaculate guitar playing :)." Well, no shit, why else would he have used it as the canvas for one of his tracks? That said, copyright skater Ocean can't be totally surprised by this turn of events.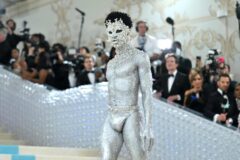 Watch Ocean perform "American Wedding," complete with Guitar Hero solo, at his debutant show in New Orleans last fall: