Chris Cornell had a really righteous evening yesterday. Last night in San Francisco, Blabbermouth reports that the Soundgarden/ex-Audioslave frontman played solo at a pricey ($100 to $7,500 a seat!) Obama fundraiser, where he paid tribute to Whitney Houston. Cornell's acoustic performance of Dolly Parton's Houston-made-infamous "I Will Always Love You," captured in the video below, was a refreshing take on the song that's been covered ad nauseam in the days following Houston's untimely passing.
Then, as Perez Hilton reported this morning, having just returned to Seattle and hanging out in the Alaska Airlines lounge, Cornell broke up an argument that involved some homophobic slurs. The fight was between two men, one of whom called the other a "queer," at which point, according to witnesses, Cornell stepped in, saying, "You're a prick. You deliberately called him a queer to make him feel uncomfortable in front of a lot of people." The homophobic d-bag then was escorted out by airport security, and Cornell was raised on the shoulders of the people of the villag… okay, fine, he was just thanked by airline personnel and the bullied guy.
Still, what a shining moment at a time when so many people in the music industry (see here and here, for starters) are acting like crazy people! And what great buzz-fodder for Chris Cornell, whose recent solo album Songbook (November 2011) could always use a sales boost, and whose first Soundgarden album since 1996 is set for some vague future release date, presumably this year. Also, whether his comments at the recent Big Day Out festival in Australia bitching about Kanye West were real or not, this goodwill certainly makes up for any PR crisis that might've been brewing back in January.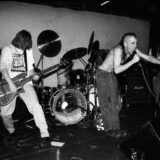 https://youtube.com/watch?v=7t4gxmEO-vk%3Ffeature%3Dplayer_embedded