The U.K. press is well-known for its ruthlessness, but last night at the Brit Awards, which took place at London's O2 Arena, they came off as far more forgiving than our own media. Not only did Adele, who naturally won top accolades for British Female Solo Artist and Mastercard British Album of the Year, get away with what M.I.A. could not in the U.S., but the Awards' prize for International Breakthrough Act went to the American media's favorite whipping girl, Lana Del Rey.
The Adele stunt in question occurred when the ludicrously successful singer, who just owned the Grammys, was giving her acceptance speech for British Album of the Year. According to the Telegraph, onstage host James Corden cut off her speech to introduce Blur (who were awarded an Outstanding Contribution to Music honor that night). The superstar, in retaliation, gave the finger to what she later called "the suits" of the awards ceremony. But, just to show up NBC and the NFL, who threatened M.I.A. after her similar Superbowl flip-off with a hefty fine, the Brit Awards organizers actually apologized to Adele instead, saying in a statement, "We send our deepest apologies to Adele that her big moment was cut short due to the live show over-running." Just goes to show that if you sell enough records and are amazingly charming, you can get away with anything.
Del Rey, on the other hand, beat out Bon Iver, Nicki Minaj, Aloe Blacc, and Foster the People to take home the breakthrough prize. Will.i.am presenting the prize, combined with the announcer pronouncing "gangster…. Nancy Sinatra," is totally enough to watch the video of her victory below, but the fact that Del Rey poignantly and bluntly thanks her British fans — "Without the support of everyone in the U.K., I'd be lost" — well, no kidding.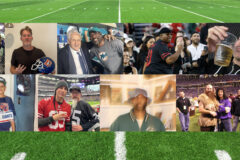 Blur's honor came with a set 1 billion times longer than any Grammy performance. Before launching into renditions of "Parklife," "Girls and Boys," "Song 2," "Tender," and "This Is a Low," the pioneering Britpop act's frontman Damon Albarn said, "The last time we were here was 17 years ago… it had a profound impact on our lives." Watch the speech below, as well as those five songs.
Other winners included Brit sensation Ed Sheeran (whose brand of beatboxing/acoustic guitar music hasn't translated to U.S. audiences just yet), Coldplay, and One Direction, who won British Male Solo Artist, British Group, and British Single, respectively. Bruno Mars, Rihanna, and the Foo Fighters won the International Male, Female, and Group awards. See the full list of winners, and watch Adele stick it to the man after the Blur concert:
Blur Win Outstanding Contribution to Music Award:
https://www.youtube.com/embed/KvvguQF_2yU
"Parklife":
https://www.youtube.com/embed/nm3m9iEnZJA
"Girls and Boys" / "Song 2":
https://www.youtube.com/embed/bp4yrSTUUII
"Tender":
https://www.youtube.com/embed/V1YP2ys2bKk
"This Is a Low":
https://www.youtube.com/embed/4RKxUFMc4Fg
Brit Awards 2012 Winners:
British Male Solo Artist – Ed Sheeran
British Female Solo Artist – Adele
British Breakthrough Act – Ed Sheeran
British Group – Coldplay
British Single – One Direction/What Makes You Beautiful
British Producer – Ethan Johns
Mastercard British Album Of The Year – Adele, 21
International Male Solo Artist – Bruno Mars
International Female Solo Artist – Rihanna
International Group – Foo Fighters
International Breakthrough Act – Lana Del Rey
Outstanding Contribution To Music Award – Blur
Critics' Choice – Emeli Sande
https://youtube.com/watch?v=H1KeVuNAAAc