Since December, newly minted Best New Artist Justin Vernon has found himself mired in a series of increasingly public briar patches, each stemming from Grammy-related comments the Wisconsin-based bard made in interviews as far back as one year ago (re: his chances of being nominated, the "importance" of the award itself) and as recently as last week (re: his exclusion from the list of last night's performers). So, obviously, an invitation to hang around with the 30-year-old Bon Iver frontman (and recent SPIN cover star) in Los Angeles with his friends and family during the festivities was too good to pass up. (See also: Our post-Grammy Q&A).
See our picks for the 2012 Grammys' highest — and lowest &#8212 moments.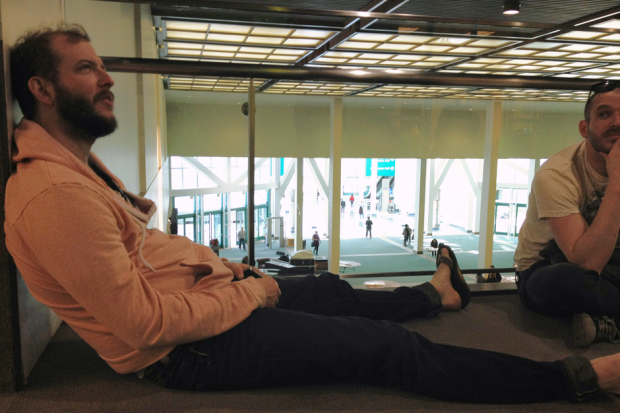 Saturday, 12:37 p.m., Los Angeles Convention Center, downtown Los Angeles
"You know what actually makes me nervous?" Justin Vernon asks while sitting on the L.A. Convention Center floor, moments after picking up tickets for tomorrow's ceremony. The envelope is marked "Diamond," confirming that the seats are within whispering distance from Lady Gaga. "Having cameras in my face, in that split-screen situation, right before they call someone's name. So nerve-wracking. I want to bring a bunch of friends' records with me to the show so I can hold those up instead."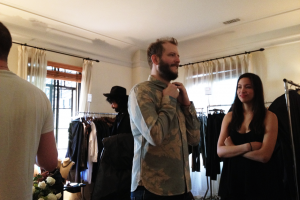 3:07 p.m., Chateau Marmont hotel, West Hollywood
Lana Del Rey looks as though she's learning to drive, rolling around the hotel's perimeter in, of course, a vintage convertible. The valet attendants appear to be baffled, but Vernon and his crew don't take notice — they're not especially familiar with Ms. Del Rey. Inside, AllSaints Spitalfield has booked a suite for pre-Grammy gifting. Since Vernon's younger brother and co-manager Nate recently appeared in a Bushmills ad campaign (alongside Justin and engineer Brian Joseph) wearing one of the line's T-shirts, Bon Iver's been invited to come through for a look. "Are you excited about tomorrow night?" asks the toothy blonde running the operation. "Eeeeh," Vernon says, as he eases into a blue Hawaiian button-down and sheepish non-answer. "You know."
5:14 p.m., Le Parc Suites Hotel, West Hollywood
"On the way [to L.A.] Thursday night, I was thinking, 'Holy shit, what am I going to say if I win?' And I had this thought: Whenever I first had the idea for whatever Bon Iver is, it wasn't supposed to be about me. If anything, it succeeds because I'm not making it about me. Some of the songs may be about personal trips, but the idea is to get something out there, out in front of you, so it can start to breathe on its own. How can I take credit for that? How can I not scoff at someone trying to give me credit for that? It's not me trying to be humble or shy. It's just not about me. If anything has gotten to to me over the past few weeks, it's that people started to think I was being a baby. It hurt a little bit. It's been the one time that I've felt hurt. They can talk about the cabin, they can make up bullshit about me or the band or mispronounce the name, but I really didn't like it that people were like, 'Man, shut the fuck up.' Because when you print things like they've been printed, I'd say shut the fuck up to me, too. I am not going to go up there and make a spectacle. For a lot of people there, the Grammys is a really important thing. I really, really regret coming off like I was disrespecting them."
6:24 p.m., Le Parc Suites
Vernon's phone is flashing. "Whitney," says the text, "is stealing your thunder right now." "What could this mean?" he asks. We agree it's a reference to either Whitney Houston or Whitney Cummings, but likely the latter. But that doesn't make sense: Her show airs on NBC and the Grammys are on CBS. Right?
7:01 p.m., Le Parc Suites
In the hotel lobby, the entire Bon Iver party is assembling for dinner. I share the news and the reason for that confusing text: Whitney Houston was found dead a few miles away, a few hours earlier. Vernon's mother, Justine, gasps. "Whoa," he says, and not much else.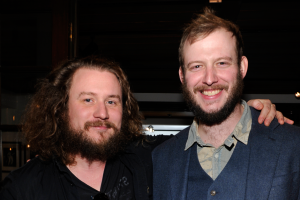 7:30 p.m., Haus of Strauss, West Hollywood
"To Whitney," booms My Morning Jacket drummer Patrick Hallahan, his glass raised to Justin and Nate's. "It's so crazy: Just this past Tuesday Jim [James, My Morning Jacket frontman] and I were playing records at this party we have with our friends back home in Louisville, and we were just whipping out Whitney records. Every song was slammin'." We're in the garden behind Levi's "Haus of Strauss," a cozy villa just around the corner from the Chateau Marmont that the denim juggernaut has converted into a showroom for the occasion. Vernon and James are meeting for the first time tonight, bonding from the start over their individual contributions to an ongoing collaboration with the Flaming Lips. "Is it an EP or an album?" James asks. "No idea!" Vernon replies as they both pivot into place for a photo together. Though Hallahan's tribute had Houston in mind, the evening itself was originally arranged to celebrate the Grammy nominations of Bon Iver, My Morning Jacket, and the beard-less Aussies of Cut Copy. Not counting the series of hors d'oeuvres making the rounds, chef Ludo Lefebvre has prepared a five-course meal. "Every time I have been nominated for something, I have lost," the Frenchman jokes as we're seated. "So I am crossing my fingers and hoping for you this weekend." Halfway through our entrées, Bon Iver's Song of the Year nominee, "Holocene", begins to drift from the speakers overhead. "Can't we get some different music?" asks Vernon's father, Gil, with a wink.
Saturday, 9:23 a.m., Urth Caffe, West Hollywood
Over breakfast, Vernon slips a twice-folded piece of white paper out from his pocket. "Parents… Jagjaguwar…. nominees" reads the list of thoughts he's organized in the event that he should win tonight. "I started saying something in my head and I decided to write it down," he says. "[Whitney] also puts it all into better perspective. I remember when my grandmother died. I made a mixtape off the radio, but just of 'I Will Always Love You.' And when she died, I put it on repeat and I just laid in my room and cried. I must have been 8 or 9." He laughs. We're sitting down for a morning meeting with Bon Iver's management and publicity team, going over the many options and obligations and scenarios tonight might bring. "I literally almost had an anxiety attack walking the red carpet at the Q Awards," he laughs. "Not into doing it here."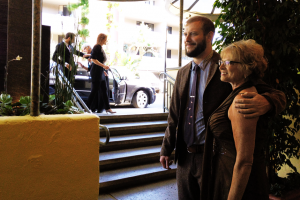 1:32 p.m., Hollywood
Our ride to the ceremonies is a burgundy SUV rental that Frenette and the Vernon boys picked upon landing Friday night. It's a family affair: Justin's driving, his father's sitting shotgun; Mom's in the back, as is Nate and fellow co-manager Kyle Frenette. In the way, way back sits Justin's girlfriend, singer-songwriter Kathleen Edwards, fresh off an early morning flight following a performance last night in Toronto. "Everybody good?" Justin asks the entire car before hitting the gas. "It's better if he drives," Gil says. "My mind is occupied. I'm nervous."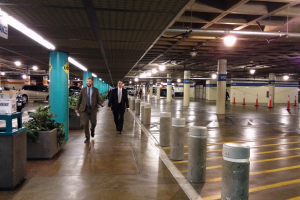 2:31 p.m., Los Angeles Convention Center
As we walk into the Convention Center for the pre-televised portion of the ceremony, Adele's "Rolling in the Deep" is being honored for its second Grammy, Short Form Music Video. "Kinda fitting that Adele's the first win we see, huh?" Vernon says.
2:58 p.m.
When Kanye West picks up three consecutive Grammys for "All of the Lights" — just one of the tracks on My Beautiful Dark Twisted Fantasy on which Vernon sang — the Bon Iver crew (Justin, Nate, Frenette and Joseph) meets each win with a silent fist pump and bursts of applause.
3:26 p.m.
Vernon is fidgeting in his folding chair, his legs up and down like pistons.
3:29 p.m.
Holy shit. Vernon and Joseph rush to the podium to accept the award for Alternative Music Album, their first Grammy. The former lets loose with a "Jagjaguwar!" salute to his label as the two head backstage. And as they re-emerge side-stage, it's hugs all around. Gil, a mite taller and broader than his son, has tears in his eyes. Justine is squealing as she throws her arms around everyone in the group: "This is so fun! This is so fun! This is so fun!" Amidst the handful of well-wishers and fans asking for photos, a small Japanese woman plants her feet square with Justin's. "My name is Lisa Kyoko and I voted for you!" He thanks her, breathlessly, as though the encounter's only compounded the shock all the more. "It's a trip," he says quietly, "it's cool." It's not until we walk through the front doors of the Staples Center a few minutes later that it seems to register. "We just won a Grammy, Jo," he says to the guy he deemed his "co-pilot" while accepting the award. Joseph nods, grins, and pats his back in return.
6:57 p.m., Staples Center, downtown Los Angeles
Adele's "Rolling in the Deep" beats out "Holocene" for Song of the Year honors, and Vernon's quick on his feet as she climbs the stage to accept her award.
7:27 p.m.
Bonnie Raitt crouches down in the aisle to pay Vernon and Edwards a visit just before Tony Bennett strides out with Carrie Underwood on his arm. Ken Ehrlich, executive producer of the Grammys, had initially suggested that Raitt and Vernon perform together during the evening's ceremonies, an offer that Vernon says he "respectfully" declined in hopes that he might be able to perform a Bon Iver original with his band instead. Alicia Keys did the duet instead. During the course of the evening, Drake will also stop by to say hello but Raitt's visit left an indelible impression it seems. "She kissed me on the lips!" he shouts later on in the night, making sure to apologize to Edwards immediately afterward.
7:34 p.m.
Vernon accepts the Grammy for Best New Artist, inserting a soft-throated "sorry" between thank yous and tributes. Upon returning to his seat, he returns a "holy shit" text with an ecstatic "hahahahahahaha."
9:22 p.m.
Waiting outside the Staples Center with the family as Justin and Nate re-emerge post-press conference, hugs abound. Jagjaguwar label head Darius Van Arman's mother, Farideh, approaches Justine to say she must have a photo with Justin. And when she does, Darius will have him sign it. And when he does, she will frame it and hang it on her wall. As we walk back to the parking garage, Justin let loose with small, falsetto-fied snippets of "Rolling in the Deep." "Fuckin' Adele, man," he says. "Killing it."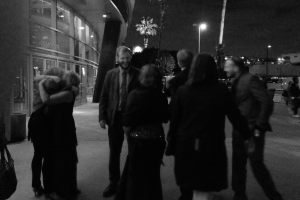 9:38 p.m., West Hollywood
Driving back to the hotel for makeshift, family-friendly afterparty at the hotel. "I saw Robert Horry tonight. Did you see those Lakers banners up in the rafters?" Gil asks as pulls away from the garage. "I took a piss in the Lakers' locker room," Justin responds.
10:23 p.m., Le Parc Suites
We're taking over the tiny hotel bar and restaurant to have our first meal since breakfast. The Grammys telecast is in full swing now on the West Coast. As we inch closer and closer to the Best New Artist win, Van Arman asks the bartender if she might turn up the volume. Justin's receiving congratulatory e-mails from Bill Hader and Superchunk's Mac McCaughan. "That was my favorite part of the night," says Justin, referring to the Band Perry and Blake Shelton's tribute to Glen Campbell. "That woman can sing her ass off." Gil and Justine stand up to slow dance as Tony Bennett and Carrie Underwood sink their teeth into "It Had To Be You." And as Justin's name is called again, this time on the television up in the corner, he grows nervous. "This is going to be super awkward," he says as he watches himself take the stage. "Damn, I'm balding." Everyone laughs, but no one louder than Vernon himself. More Grammys:
• Award Tour: 21 Times the Grammys Saluted the Underground
• Adele, Foo FIghters Dominate 2012 Grammy Awards
• Inside the Grammys: Could Somebody Please Refill the Coffee Pot?
• SPIN's 2012 Grammys Live Blog: It's Not Right, But It's Okay
• Grammys '12 FAQ: Everything You Need to Know About Music's Biggest Night
• Everything You Need To Know About the 54th Grammy Awards Nominations
• Grammys '12: Who Should Win the Major Categories
• Grammys '12: Who Should Win the Categories You Actually Care About
• Whitney Houston's Four-Decade History at the Grammy Awards